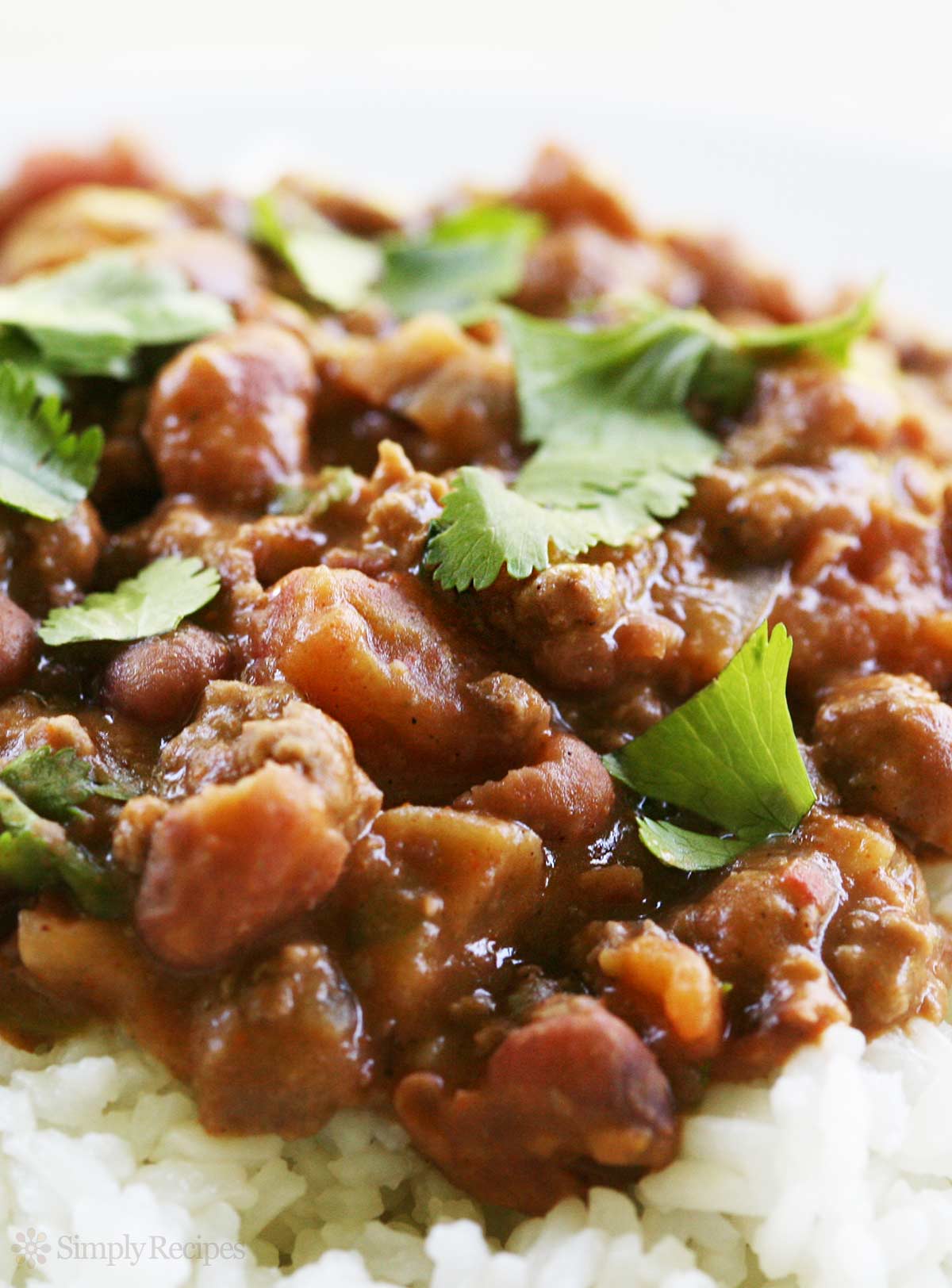 1 If using dry beans, cook the beans on the stove top or in the pressure cooker:
Stove Top Method – Put beans into a pot and cover with at least 3 inches of water—about 3 quarts for 2 1/2 cups of dry beans. Bring to a boil and then lower heat to simmer, covered, for about 2 1/2 hours.
The cooking time will vary depending on the batch of beans you have. The beans are done when they are soft and the skin is just beginning to break open.
Pressure Cooker Method – Put beans into a 4 quart or larger pressure cooker with a 15 lb weight. Fill the pressure cooker with water up to the line that indicates the capacity for the pot (about two thirds of the way). Cook for 30 to 35 minutes, until the beans are soft and the skins are barely breaking open.
Allow the pressure cooker to cool completely before opening. If there is resistance when attempting to open the cooker, do not open it, allow it to cool further. Follow the directions for your brand of pressure cooker. (See How to Make Fast No Soak Beans in a Pressure Cooker.)
Either method – Strain the beans from the cooking water.
2 Cook the rice: When you're ready to begin making the chili beans (after the dried beans are cooked), cook the rice according to the instructions on the rice package or following the boiling method. Add a tablespoon of butter to the rice while it is cooking for flavor.
3 Sauté the onions: In a large skillet, sauté onions in 2 Tbsp of olive oil until translucent on medium high heat, about 4 minutes. Add the garlic and chili powder and cook for a minute more.
Remove the onions to a bowl.
4 Brown the meat: Increase the heat to high, and add the meat to the same pan used to cook the onions. Let cook for a minute or two without moving so that the meat gets browned, then turn to brown on the other sides.
5 Combine meat and onions, add tomatoes and jalapeño: Add the onions and garlic back to the pan. Taste for spiciness and add more chili powder if desired.
Add one can of tomatoes, the sliced jalapeno pepper, the chopped parsley, 1 teaspoon of salt, and 1 teaspoon of sugar to counteract the acidity of the tomatoes. Stir to combine.
6 Add the cooked beans and simmer: Once the beans are cooked, drain them. Add the beans to the meat and onions, adding another teaspoon of salt as the beans go in.
Simmer for 5 to 10 minutes, tasting and adding more salt if needed to taste.
7 Serve: Stir in cilantro leaves right before serving, or sprinkle on top. Serve over rice or with warm corn tortillas.