This hearty Ham and Potato Soup is made with a ham shank or leftover ham bone and russet potatoes. Perfect for chilly weather!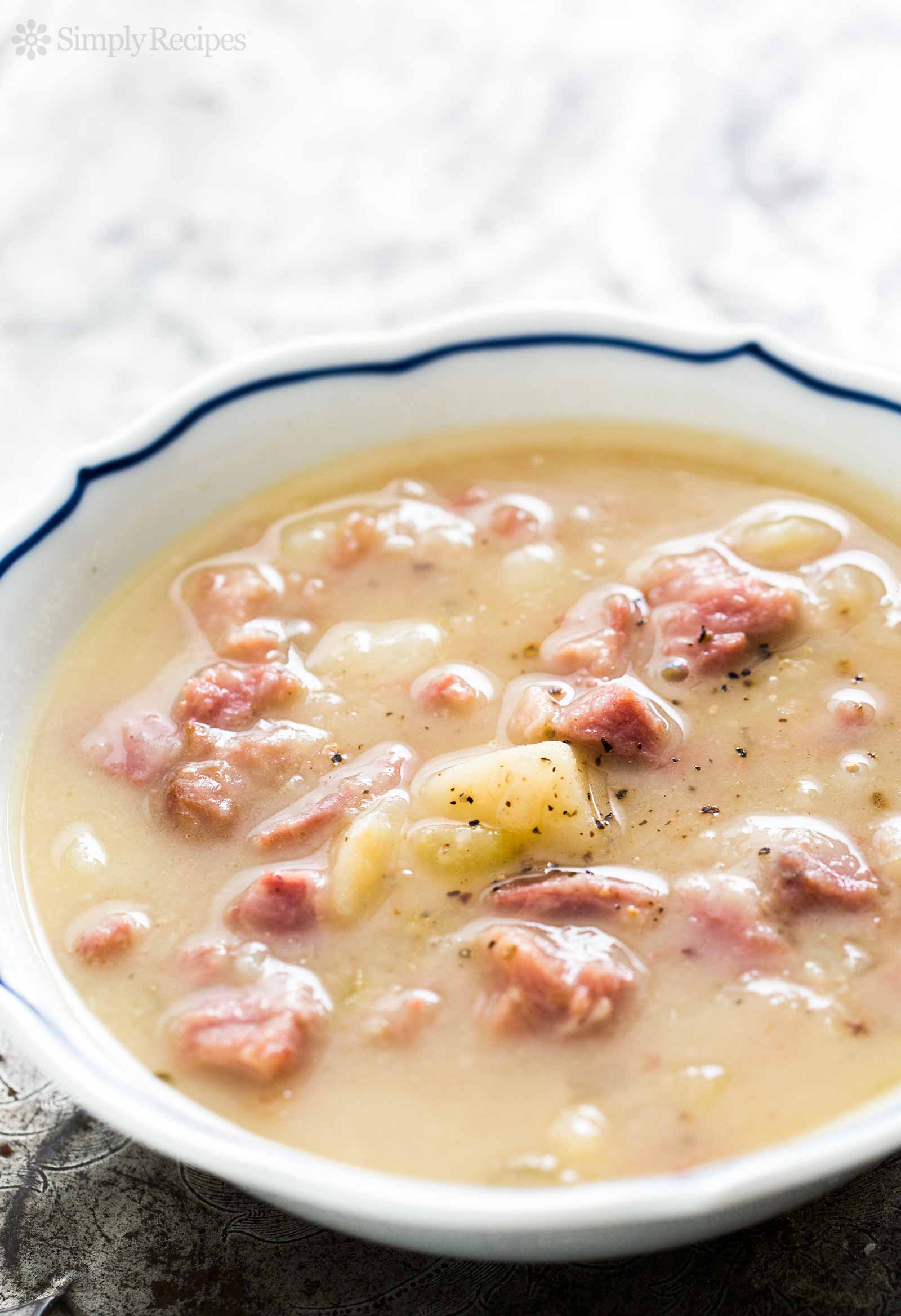 Photography Credit: Elise Bauer
Is there anything better on a cold winter day than a big bowl of hearty ham and potato soup?
True, there is some close competition from white bean and ham soup. Come to think about it, both versions are at the top of my list.
Use a Ham Shank or Leftover Ham
This recipe is for the potato and ham variety. You can use either a leftover ham bone and some ham from a glazed ham, or you can use a meaty ham shank.
You could even use a ham hock, but the hocks aren't as meaty as the shanks, so if you use hocks, you'll likely need extra ham.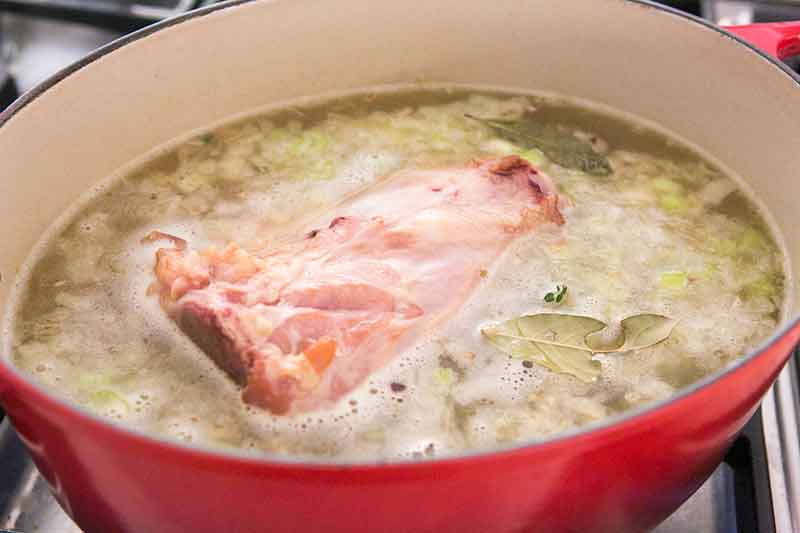 The Best Potatoes for This Soup
For this recipe, I'm using Russet potatoes. They become soft and creamy during cooking, absorbing all the delicious flavors in the broth. Russets are also really starchy, which helps thicken the soup a little bit.
For firmer, chunkier cubes of potato that hold their shape during cooking, you can swap the Russets for the same amount of red-skinned potatoes or Yukon golds.
Save Time by Using Chicken Stock
I'm using chicken stock for this soup, along with the broth that the ham bone or shank naturally creates while it cooks. I'm doing this to save time.
If you want to make the soup entirely with the broth that comes from a leftover ham bone, you can easily do that. Just cover the ham bone with water and pot, bring to a simmer, cover and let cook for an hour before starting the recipe.
You could probably also just put the bone in a slow cooker with some water overnight to make some ham stock.
Whether you use chicken stock or not, both methods work fine, you'll save an hour if you use chicken stock, and you will likely need to add less salt.

Salt to Taste!
Speaking of salt! Potatoes need more than a little salt to taste good. Ham has plenty of sodium. So, good match right?
Yes, this is one of the reasons they taste so good together. But you do need to taste and adjust for salt, every time. If the soup seems bland, add salt until it is no longer bland. If the soup is too salty for you, add more potatoes.
Want More Cozy Winter Soups?
Updated January 8, 2019 : We spiffed up this post to make it sparkle. No changes to the recipe itself.
Ham and Potato Soup Recipe
Print
You can either make this soup using leftover ham and a ham bone or you can use a meaty ham shank. If you use a ham bone, you'll add the chopped ham at the end of cooking. If you are using a ham shank, after the soup cooks with the ham shank, you'll need to remove it, cut away the meat, chop the meat, and return it to the soup.
Ingredients
2 Tbsp olive oil
1 1/2 cups chopped onion
3/4 cup chopped parsnips or carrots
3/4 cup chopped celery
1 minced garlic clove
1 meaty ham bone from a ham, or a meaty ham shank
6 cups low sodium chicken stock
2 bay leaves
2 sprigs thyme
2 pounds Russet potatoes, peeled, and cut into 3/4-inch cubes
1 1/2 cups cubed ham (if using a ham bone), 3/4-inch dice
1/2 teaspoon ground pepper
1/4 cup whipping cream
Salt to taste
Method
1 Cook onions, parsnips or carrots, celery, garlic in olive oil: Heat olive oil in a large, thick-bottomed pot or Dutch oven on medium high heat.
Add the onions, parsnips or carrots, celery, and sauté for 7 to 8 minutes. Add the garlic and cook for a minute more.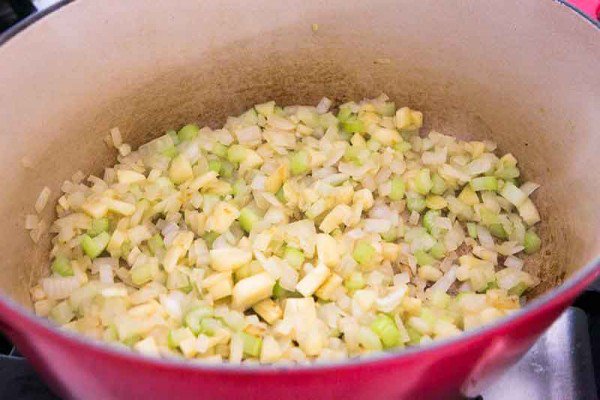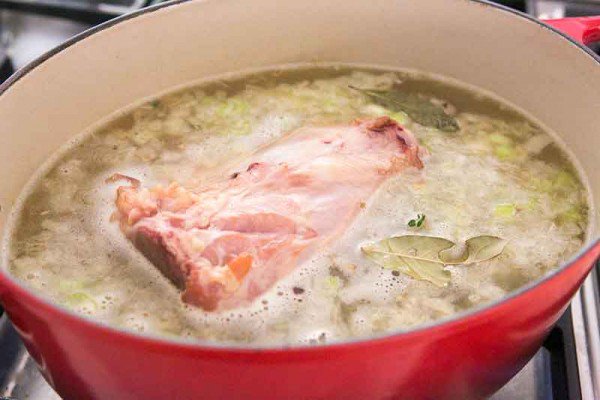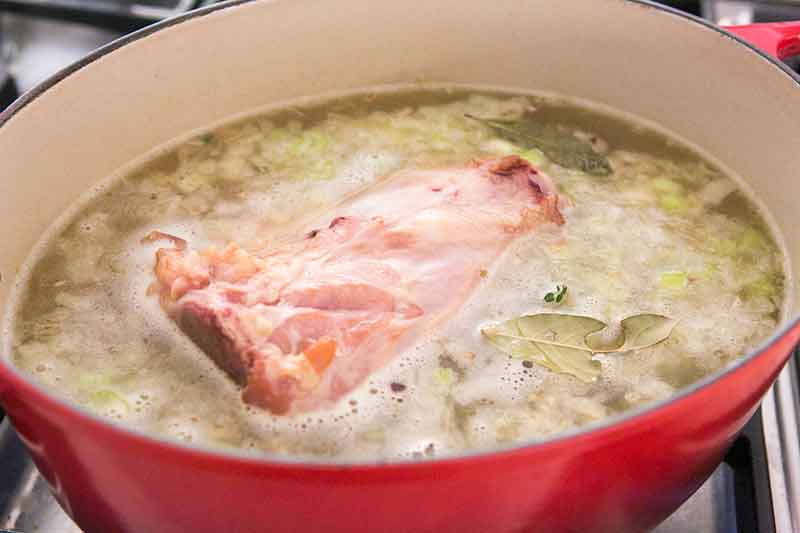 2 Add ham bone or shank, stock, bay leaves, thyme: Add the ham bone or ham shank to the pot. Add 6 cups of stock. Add bay leaves and thyme. Bring to a boil, lower the heat to maintain a simmer. Cover and simmer for 45 minutes.
3 Add the potatoes and simmer for 15 more minutes, until they are cooked through.
4 Remove ham bone or shank, purée half the soup: Remove the ham bone or ham shank from the soup. Purée half of the soup so that some of the potatoes get puréed to give the soup body, and there are still whole chunks of potatoes for texture.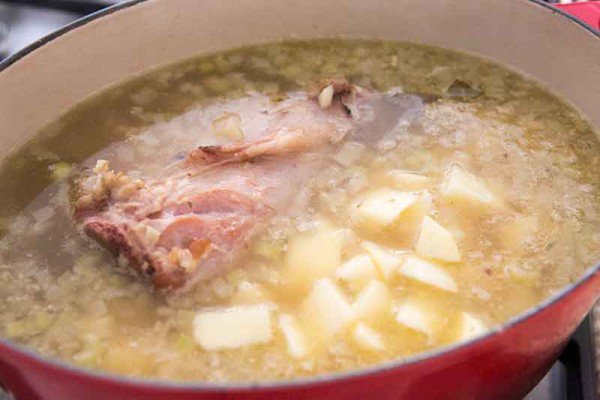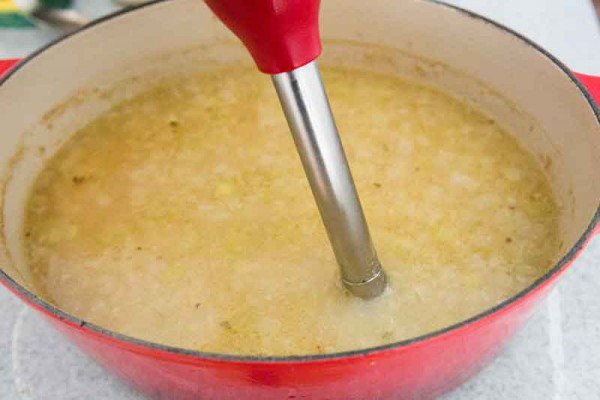 5 If using a ham shank, cut away the meat and chop into 3/4-inch cubes. Add the chopped ham and black pepper to the soup.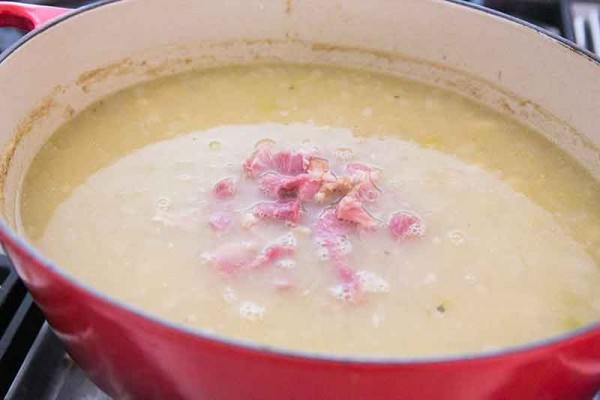 6 Stir in the cream. Taste for salt and pepper and add more if needed.
Hello! All photos and content are copyright protected. Please do not use our photos without prior written permission. If you wish to republish this recipe, please rewrite the recipe in your own unique words and link back to Ham and Potato Soup on Simply Recipes. Thank you!
Print
Products We Love
This post may contain links to Amazon or other partners; your purchases via these links can benefit Simply Recipes. Read more about our affiliate linking policy.