Chicken Tikka Masala! This recipe is so EASY! It's made on the stovetop and tastes just like take-out. Ready in about 30 minutes, this Chicken Tikka Masala can be on the table in no time.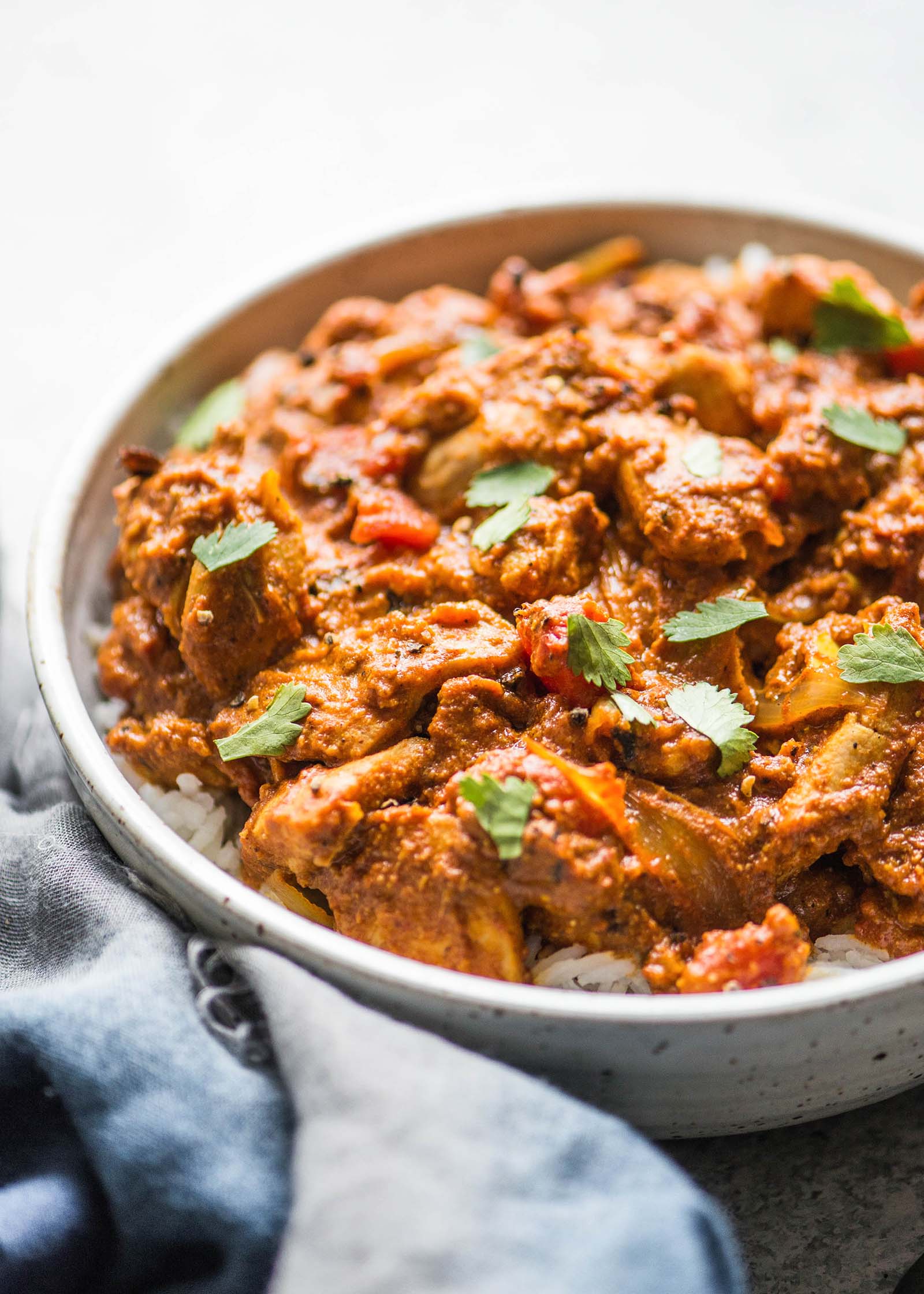 Photography Credit: Lisa Lin
A PROPER BRITISH CURRY
My husband is British, and therefore incredibly picky about Indian food. He bemoans the lack of restaurants that serve "proper curries" in our neighborhood.
This is why, on our annual trek back to UK to visit his family over the holidays, we've started the tradition of going to an Indian restaurant on New Year's Eve. We skip the champagne, the sparkles, and the countdown in favor of eating our fill of spicy curry.
In an effort to ensure that we're not deprived of Indian food the rest of the year, I am learning how to cook more Indian dishes at home. I'm starting off with the quintessential British Indian dish: chicken tikka masala.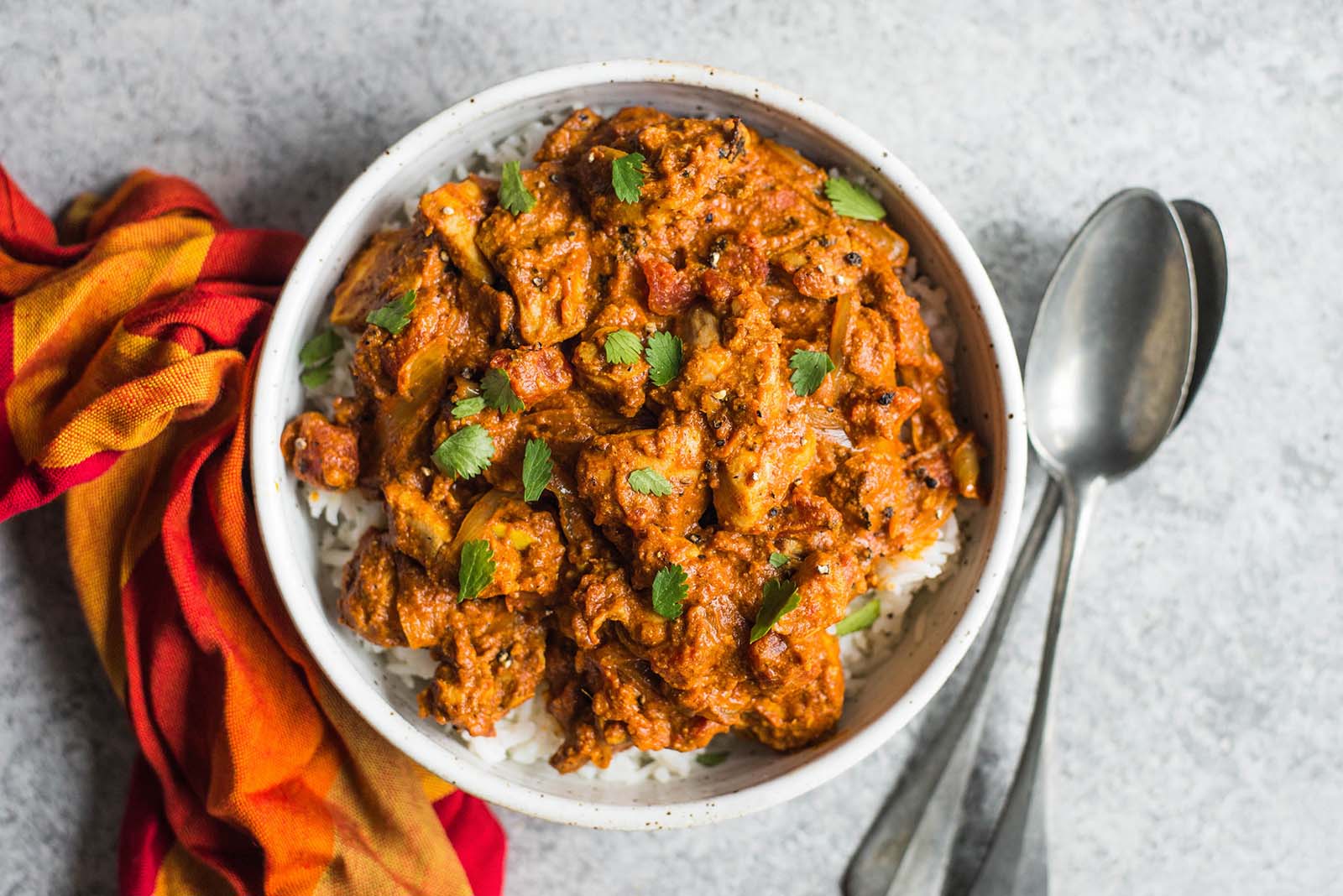 How to Make Chicken Tikka Masala
Make this tikka masala in just a few (easy!) steps — the whole dish is ready in under 45 minutes!
Marinate the chicken with yogurt. This tenderizes the chicken and adds flavor.
Cook the chicken.
Make the masala sauce. This involves simmering onions, spices, and tomatoes, with a little yogurt added at the end for creaminess and tangy flavor.
Combine the sauce and the chicken. And you're done!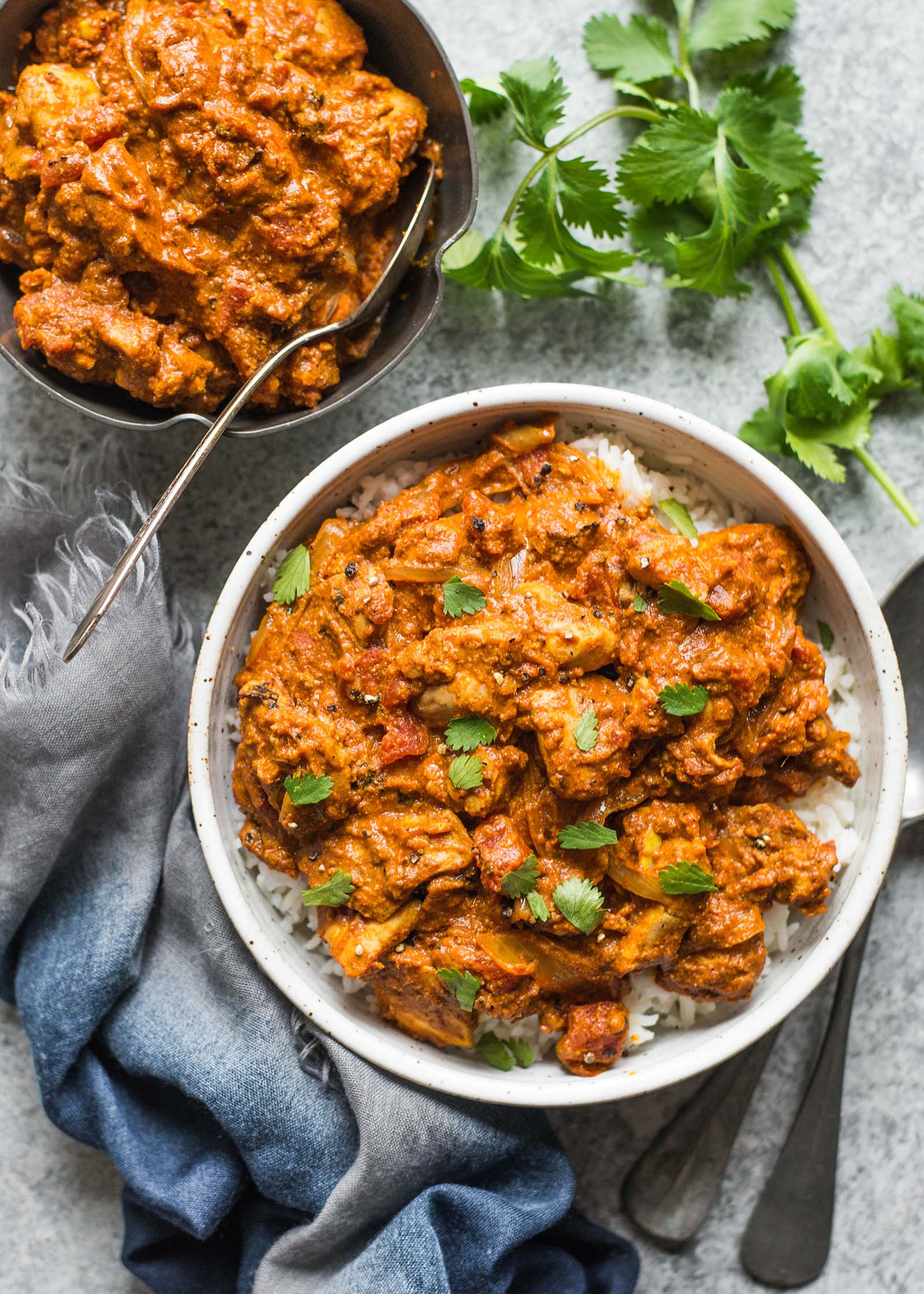 Tips for Making the Best Chicken Tikka Masala
This easy chicken tikka masala recipe calls for a number of spices, but they all add to the deep flavors of the tikka masala. This recipe is worth the raid on your spice cupboard.
Here are a couple tips for this recipe:
My husband and I both preferred the chicken tikka masala with a half teaspoon of cayenne pepper. However, if you prefer less spice, you can cut that back to just a quarter teaspoon or just leave it out entirely.
For the best flavor, you'll also want to marinade the chicken for 4 to 6 hours, or even overnight. This gives the meat time to fully absorb the spicy marinade. However, if you're in a time crunch, you can just marinate the meat for about 30 to 45 minutes.
Avoid using Greek yogurt if possible for this recipe; regular plain yogurt is best. If Greek yogurt is all you can find, buy the Greek yogurt with the highest fat content you can find and mix it with a little whole milk to get the consistency of regular yogurt.
My husband gave this chicken tikka masala recipe his seal of approval. I hope you like it too!
What to Serve with Chicken Tikka Masala
Before you start cooking the tikka masala (since the cooking goes so quickly!), get a pot of rice going. Spoon the tikka masala over a scoop of rice and top with a sprinkle of cilantro!
Want something a little more special? Try making Indian-Style Rice or Savory Coconut Rice!
Looking for More Indian Recipes?
Updated January 16, 2019 : We spiffed up this post to make it sparkle! No changes to the original recipe.
Chicken Tikka Masala Recipe
Print
Leftover chicken tikka masala tastes phenomenal the next day because the spices develop more flavor overnight.
Avoid using Greek yogurt if possible for this recipe. If it's all you can find, buy the Greek yogurt with the highest fat content you can find and mix it with a little whole milk to get the consistency of regular yogurt.
Ingredients
For the chicken:
1 1/4 pounds boneless skinless chicken breasts, thighs, or a mix
6 tablespoons plain whole milk yogurt
1/2 tablespoon grated ginger
3 cloves of garlic, minced
1 teaspoon cumin
1 teaspoon paprika
1 1/4 teaspoons salt
For the tikka masala sauce:
2 tablespoons canola oil, divided
1 small onion, thinly sliced (about 5 ounces, or 1 1/2 cups sliced)
2 teaspoons grated ginger
4 cloves garlic, minced
1 tablespoon ground coriander
2 teaspoons paprika
1 teaspoon garam masala
1/2 teaspoon turmeric
1/2 teaspoon freshly ground black pepper
1 14-ounce can crushed fire-roasted tomatoes (regular crushed tomatoes work, too)
6 tablespoons plain whole milk yogurt
1/4 to 1/2 teaspoon cayenne pepper
1/2 teaspoon salt
Cooked rice, to serve
Cilantro, to garnish
Method
1 Prepare the chicken: Trim chicken thighs of any extra fat. Chop into bite-sized pieces about 1/2 to 1 inch wide. Place the chicken thigh pieces to a medium bowl.
Add the yogurt, ginger, garlic, cumin, paprika and salt. Using your hands, combine the chicken with the spices until the chicken is evenly coated.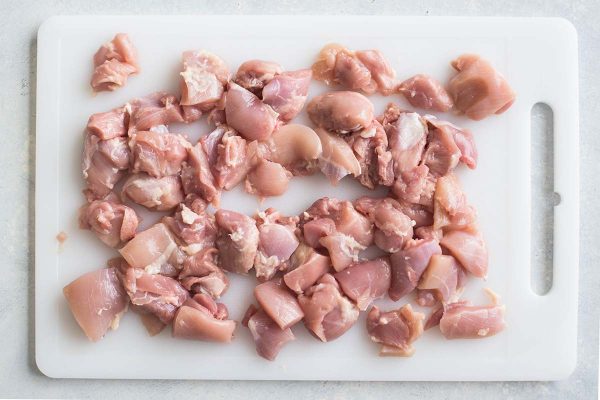 2 Marinate the chicken: Cover the bowl with plastic wrap and let the chicken marinate in the fridge for at least 45 minutes or as long as overnight. (Marinating for 4 to 6 hours is perfect.)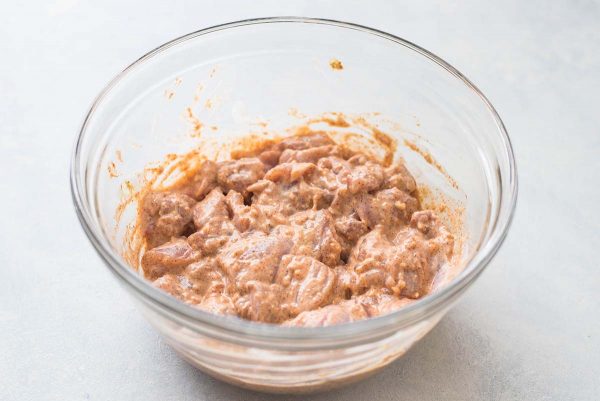 3 Cook the chicken: In a large skillet, heat 1 tablespoon of canola oil over medium-high heat. Add the chicken thigh pieces and cook for about 6 to 7 minutes, until they're cooked through. Transfer to a plate and set aside.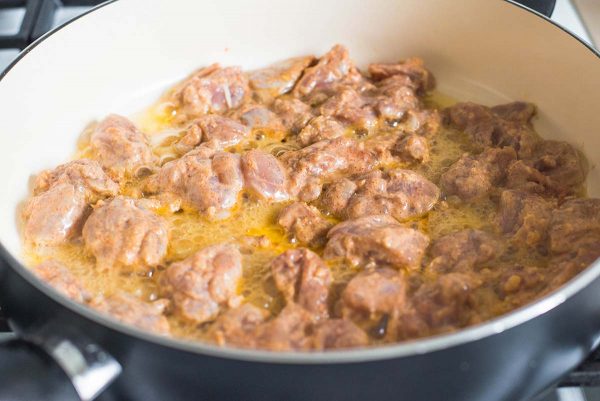 4 Toast the spices: Wipe down the pan you used to cook the chicken. Heat remaining canola oil over medium heat. Add the onions and cook for 5 minutes, until softened, stirring often.
Add the grated ginger, minced garlic, coriander, paprika, garam masala, turmeric, black pepper, salt and cayenne. Let the spices cook until fragrant, about 30 seconds to a minute.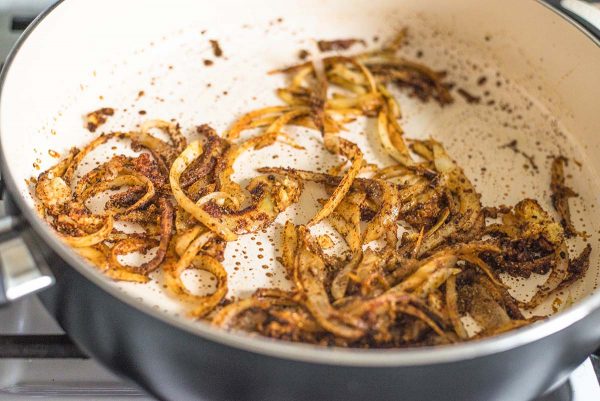 5 Make the sauce: Add the crushed tomatoes to the pan with the spices and let everything cook for 4 minutes, stirring often. Add the yogurt and stir to combine.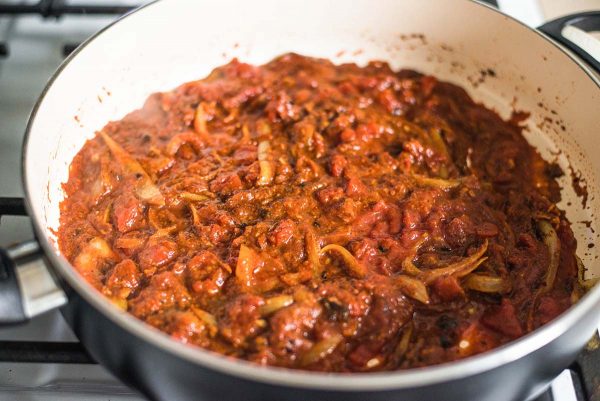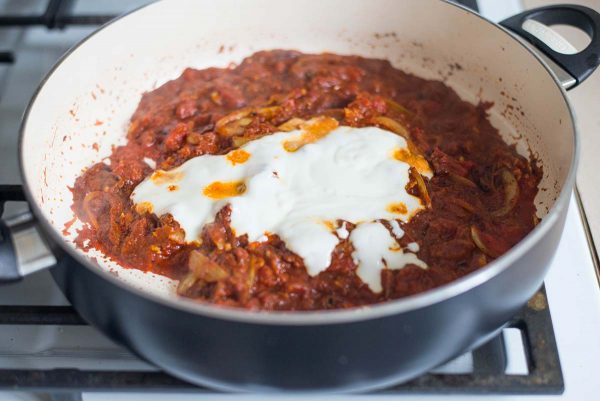 6 Simmer the sauce: Reduce the heat to medium-low and let the sauce simmer for another 4 minutes. Add the chicken pieces to the pan and coat with sauce.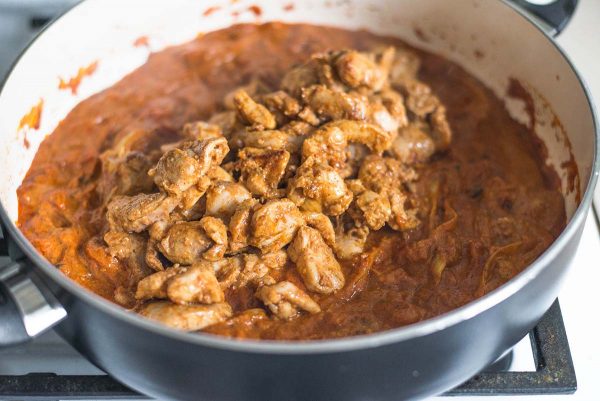 7 Serve: Serve over cooked basmati rice and garnish with cilantro.
Hello! All photos and content are copyright protected. Please do not use our photos without prior written permission. If you wish to republish this recipe, please rewrite the recipe in your own unique words and link back to Chicken Tikka Masala on Simply Recipes. Thank you!
Print
This post may contain links to Amazon or other partners; your purchases via these links can benefit Simply Recipes. Read more about our affiliate linking policy.