Arugula Salad with Tomatoes, Corn, and Burrata
The best of summer comes together in this simple and delicious salad: ripe tomatoes, sweet corn, and basil! Burrata, a fresh Italian cheese similar to mozzarella, makes it creamy and decadent.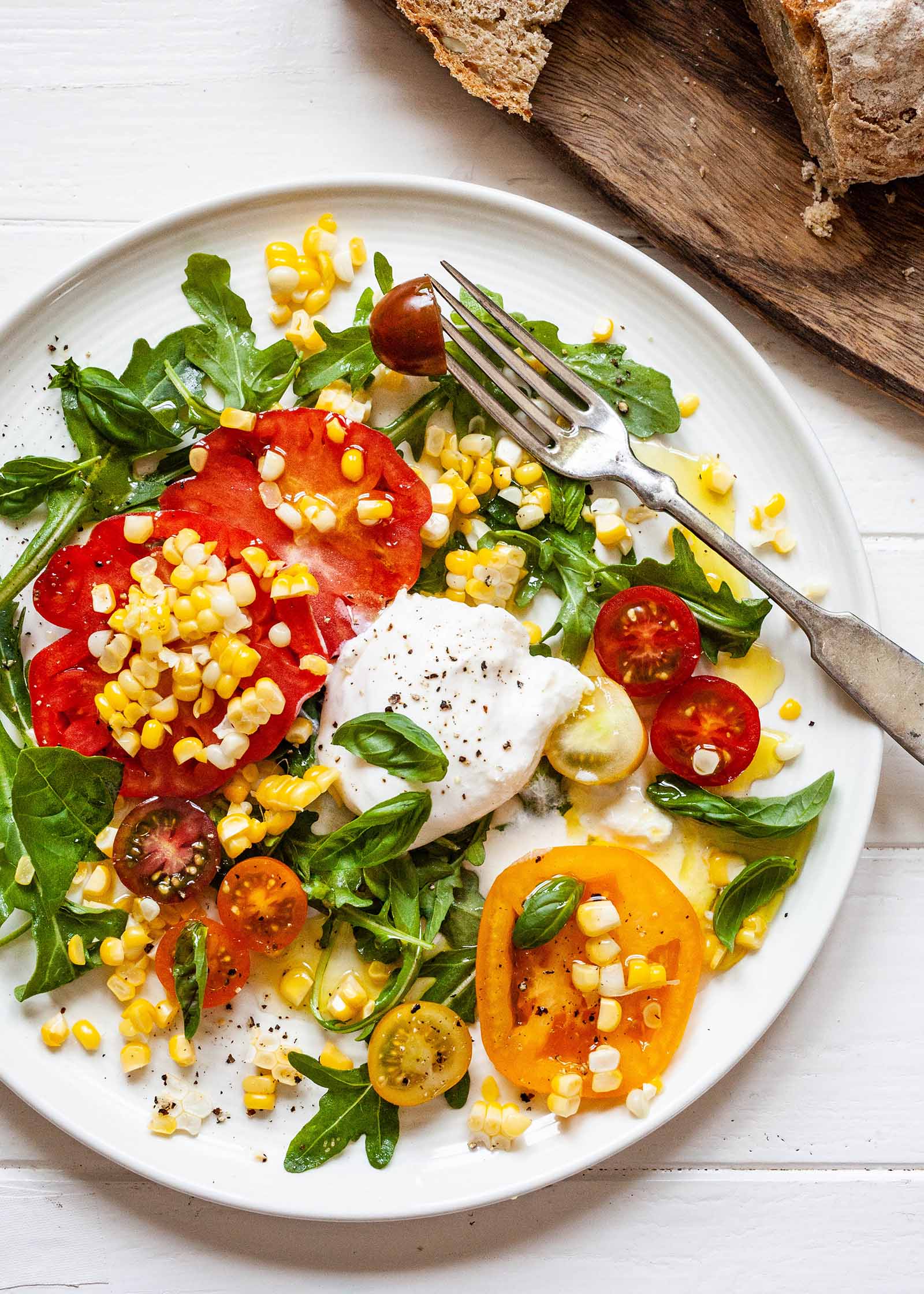 Photography Credit: Sally Vargas
A salad of tomato, mozzarella, and basil screams summer, and we love it in my house.
But let's take it another step further: Add some freshly cooked corn, some arugula, and a hunk of burrata. And the perky tang of a simple oil and vinegar dressing ties it all together. Now you're on the moon!
What is burrata?
Burrata is a fresh Italian buffalo milk cheese—it's basically mozzarella but with a rich, thick filling of cream (you can stop swooning now).
Originally created as a way to use up scraps of mozzarella, the curds are stretched into a smooth ball that is left hollow in the middle, and then filled with cream and uncooked mozzarella curds. As the cheese ages, the soft center ferments ever so slightly, and infuses the cheese with a little extra tanginess.
You can eat burrata any time of year, but a summer salad is a heavenly match for it.

What can I use instead of burrata?
If you can't find burrata in the supermarket, look for it in an Italian or specialty deli. And if you can't find it all, you can use regular mozzarella. Just know it won't be as creamy as burrata, but you will enjoy it anyway.
What kind of tomatoes to use?
This salad is all about tomatoes at their peak. A mix of colors, shapes and sizes look pretty, but you should use any tomatoes that look juicy and delicious.
Simplicity is the key—no fancy footwork here—just really fresh ingredients brought to the table with thick slices of the best bread you can find to sop up the dressing. Ahhhhh. Summer!
MORE SUMMER SALADS!
Arugula Salad with Tomatoes, Corn, and Burrata Recipe
Print
Ingredients
For the dressing
2 tablespoons red wine vinegar
1/2 teaspoon salt
Pinch of black pepper
6 tablespoons olive oil
For the salad
4 ears corn
2 large handfuls baby arugula
2 large tomatoes, sliced
1 pint mixed cherry tomatoes, halved
About 8 large basil leaves, torn into pieces
1 (8-ounce) ball burrata
Freshly ground black pepper
Crusty bread, for serving
Method
1 Make the dressing: In a small bowl, whisk together the vinegar, salt, and pepper. Gradually whisk in the olive oil.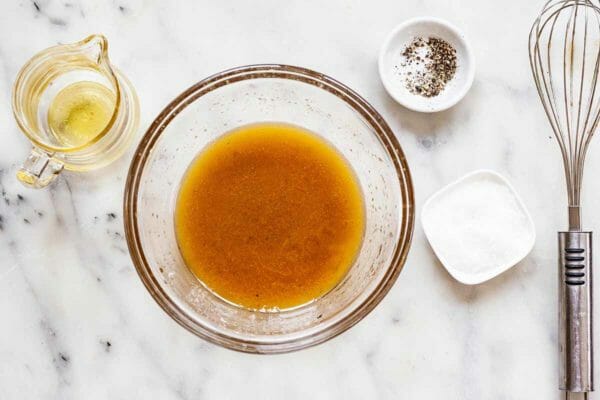 2 Cook the corn: Bring a large pot of salted water to a boil. Add the corn and cook for 2 minutes. Drain and rinse with cold water.
To cut the kernels from the cob, hold one of the cobs upright in the center of a bundt pan (or a mixing bowl with an overturned ramekin in the middle). With a knife, cut the kernels from the cob in a downward motion, letting the kernels collect in the well of the bundt pan.
Repeat with all the cobs. For more details on this method, read this post.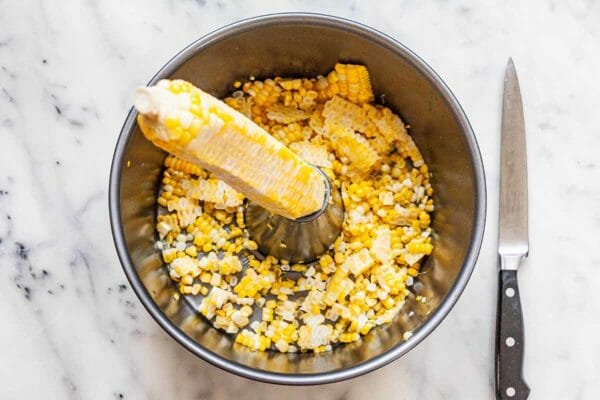 3 Toss the corn and arugula: In a medium bowl, toss the arugula and corn with 2 tablespoons of the dressing. (Reserve the remaining dressing for drizzling over the salad.)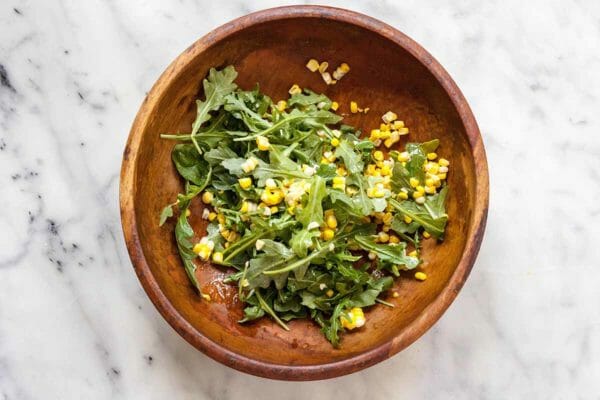 4 Plate the salad: Divide the arugula and corn between 4 salad plates. Gently cut the burrata into four quarters, and transfer to the salad plates.
Top the salads with the sliced tomatoes, cherry tomatoes, and torn basil leaves. Sprinkle with more dressing and a few grindings of black pepper, and serve with crusty bread.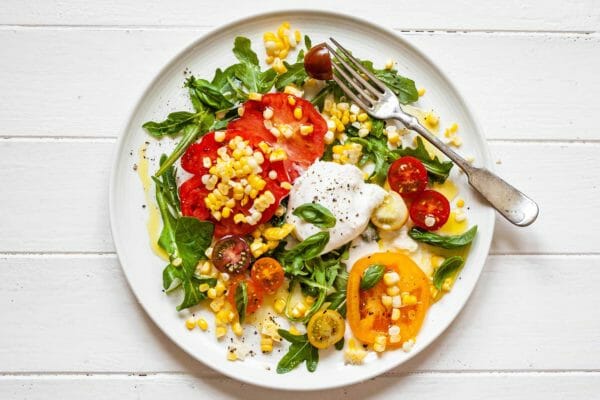 Hello! All photos and content are copyright protected. Please do not use our photos without prior written permission. If you wish to republish this recipe, please rewrite the recipe in your own unique words and link back to Arugula Salad with Tomatoes, Corn, and Burrata on Simply Recipes. Thank you!
Print
Products We Love
This post may contain links to Amazon or other partners; your purchases via these links can benefit Simply Recipes. Read more about our affiliate linking policy.