Blistered Shishito Peppers
Blistered Shishito Peppers are a delicious quick and easy snack, side dish, or appetizer. Mild and sweet, they're like single bite mini-poppers!
Photography Credit: Elise Bauer
These blistered shishito peppers are perfect little snack bites! They take less than 10 minutes to prepare. All you need are the shishito peppers, olive oil, and salt, and maybe some balsamic for drizzling if you want to get a little fancy.
What are shishito peppers?
They're a thin-skinned, sweet pepper from Japan. I say sweet, but about one in ten of the peppers are spicy. Not as hot as a jalapeño, but enough to make your tongue tingle. They're about the same size as a padron pepper, the ones I've seen at the market ranging from 1 to 5 inches long.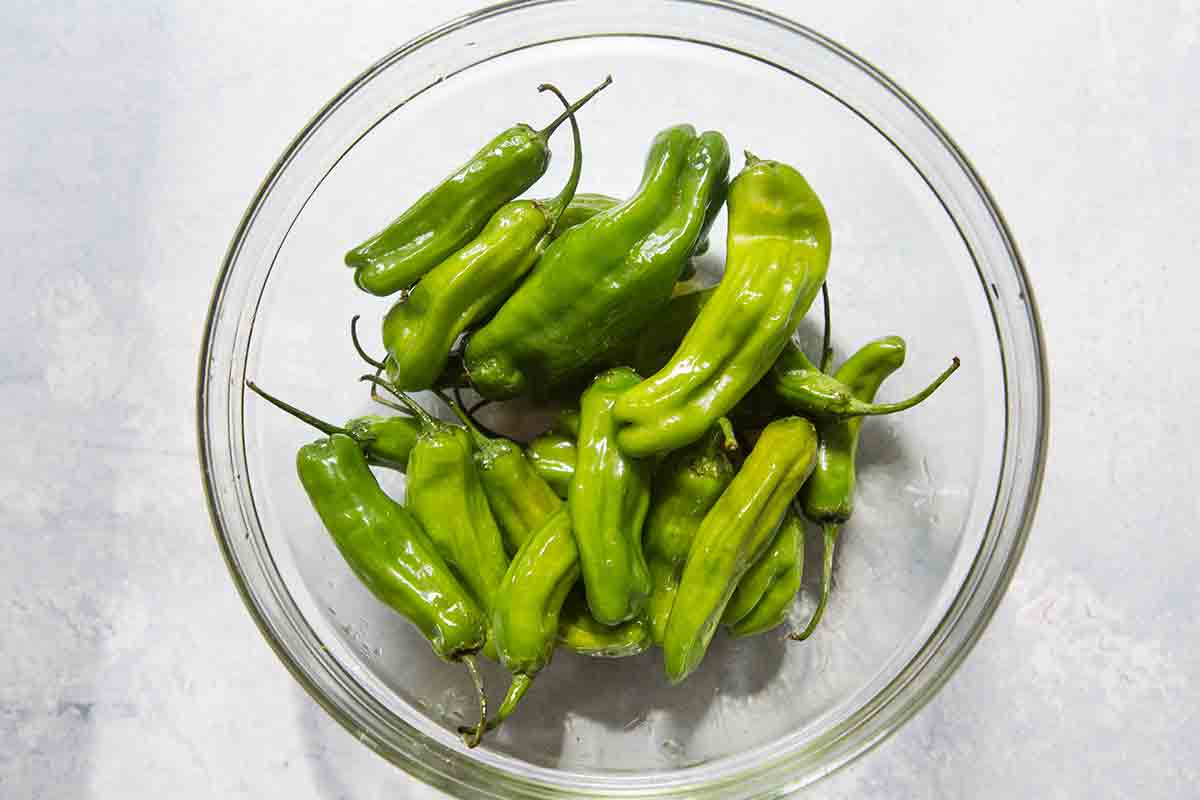 Shishito peppers are sort of boring raw, honestly. But seared so the skin blisters up in dark bubbly patches? So good!
Blistered shishitos are perfect little appetizer bites. They even come with their own handle. Just hold them by the stem and pop them in your mouth. Eat them seeds and all.
They come into season in summer through early fall, so grab a box at your local farmer's market while you can. Our local Whole Foods also carries them.
What else can you make with shishito peppers?
You can sauté them as described in this recipe, then add some soy sauce and mirin to the pan (2:1 ratio) to coat. You can use them for tempura. You can even use them in a grilled cheese sandwich!
Blistered Shishito Peppers Recipe
Print
Ingredients
1 teaspoon extra virgin olive oil
20 or so shishito peppers (about 4 or 5 ounces, 1 small basket)
Sprinkle of kosher salt
2 Tbsp balsamic vinegar (optional)
Method
1 Toss peppers with oil: Toss shishito peppers with extra virgin olive oil in a bowl, so the peppers are well coated.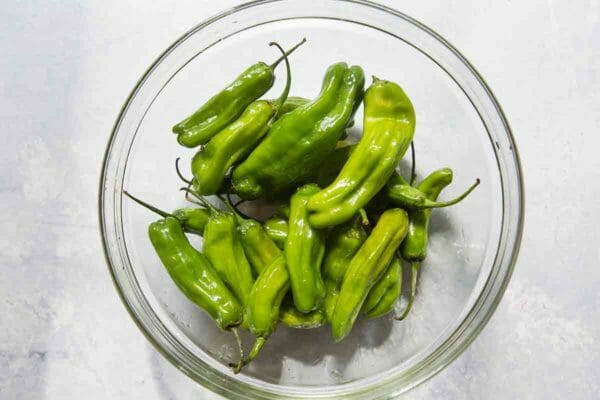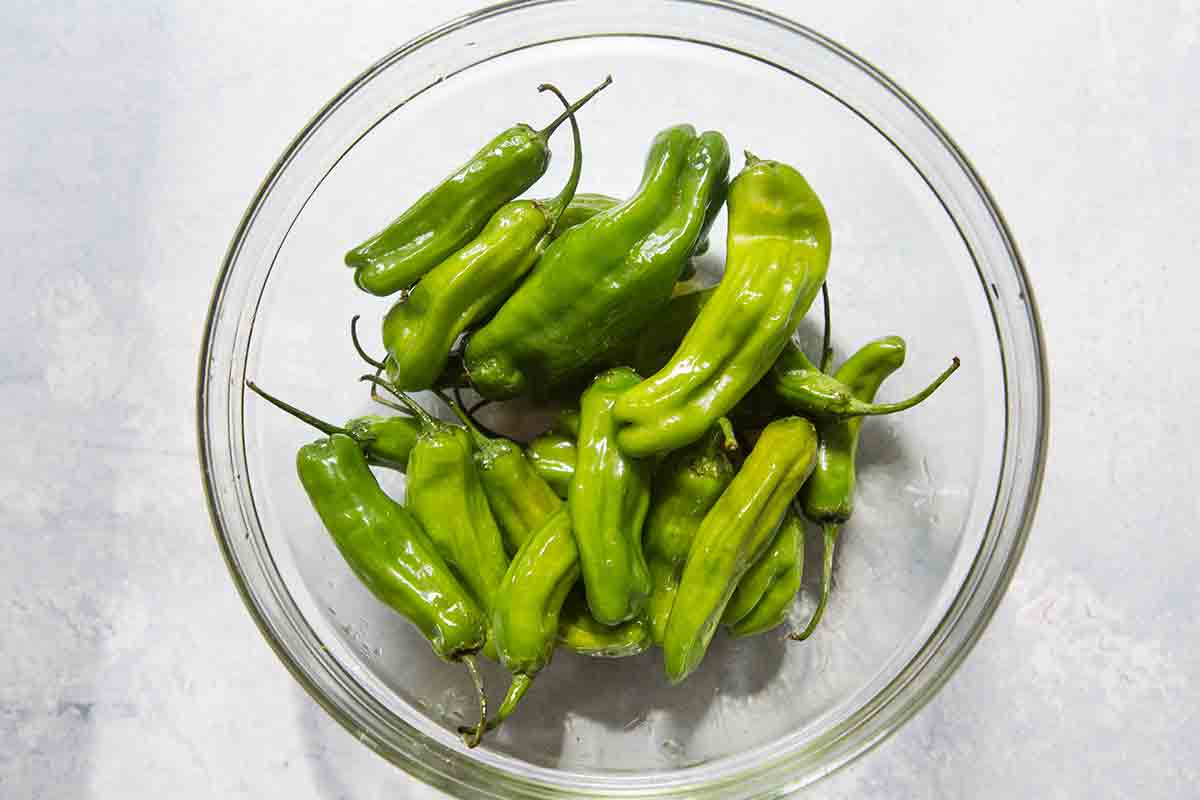 2 Sear in frying pan: Heat a well seasoned cast iron (or a pan that can take high heat) on high heat. When the pan is hot, add the peppers to the pan in a single layer. Let the peppers sear and blister on one side, then use tongs to turn them over individually to sear on the other side.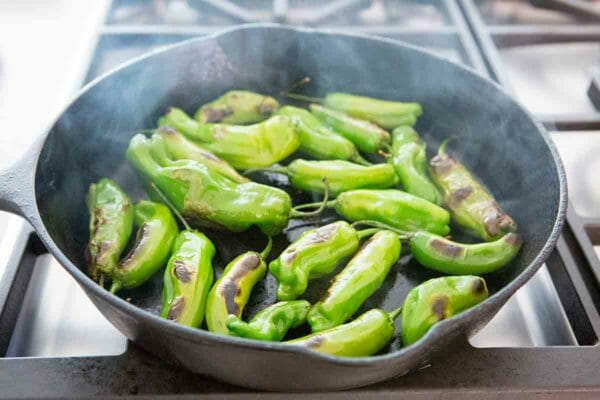 3 Salt: Remove to a bowl and sprinkle the shishito peppers with salt.
4 Make balsamic glaze (Optional):  Add a couple tablespoons of balsamic vinegar* to the pan. Remove from heat, and let bubble until the vinegar reduces to a glaze, which should be very quickly. Pour over the blistered shishito peppers.
*Balsamic vinegar can be syrupy and sweet, or thin and acidic. Use the syrupy kind. If what you have is thin and very acidic, stir with a half teaspoon of sugar or honey before adding to the hot pan.
Hello! All photos and content are copyright protected. Please do not use our photos without prior written permission. If you wish to republish this recipe, please rewrite the recipe in your own unique words and link back to Blistered Shishito Peppers on Simply Recipes. Thank you!
Print
Products We Love
This post may contain links to Amazon or other partners; your purchases via these links can benefit Simply Recipes. Read more about our affiliate linking policy.