How to Cook Chicken in the Pressure Cooker
Need chicken fast? The pressure cooker is the way to go! This method is fast, simple, and fool proof. Keep the seasoning simple or mix it up depending on how you're serving the chicken.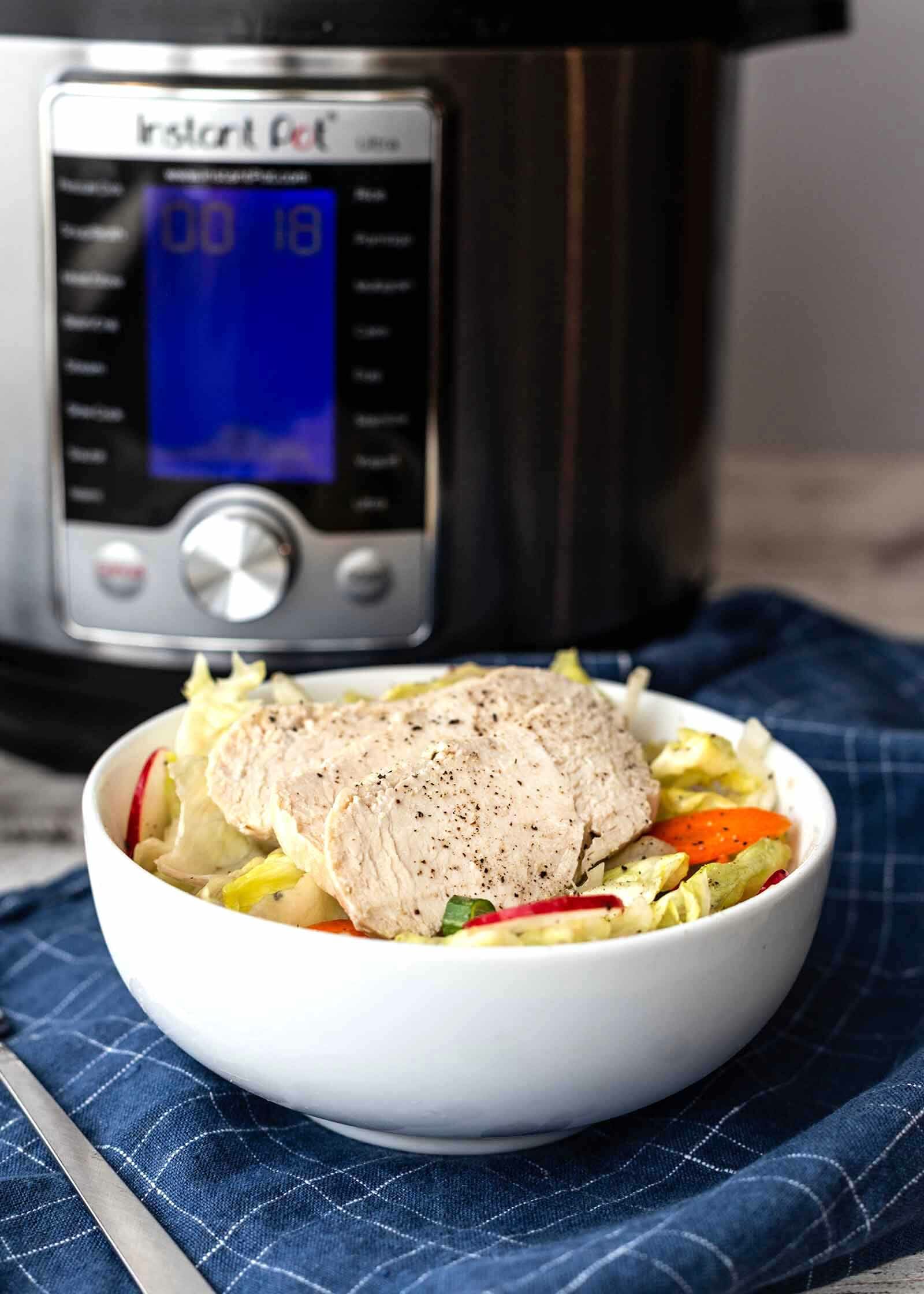 Photography Credit: Coco Morante
It's so convenient to have already-cooked chicken in the fridge. You can use it for salads, sandwiches, last-minute pasta dishes . . . or any time you are trying to round out a meal with a some protein, really!
And the easiest way method for cooking your chicken? In the pressure cooker, of course!
Pressure Cooker Chicken is So Easy!
Cooking chicken in the pressure cooker works similarly to poaching. The biggest difference is that you use less liquid and you can press a button and step away while the pot is doing its thing.
The chicken cooks in water, seasoned with salt, bay leaves, and garlic for a little bit of extra flavor. You can add any aromatic spices or vegetables to the water, really, depending on how you want to flavor the meat. Ginger and green onion would be nice if you plan to use the chicken on top of an Asian-style salad, for instance.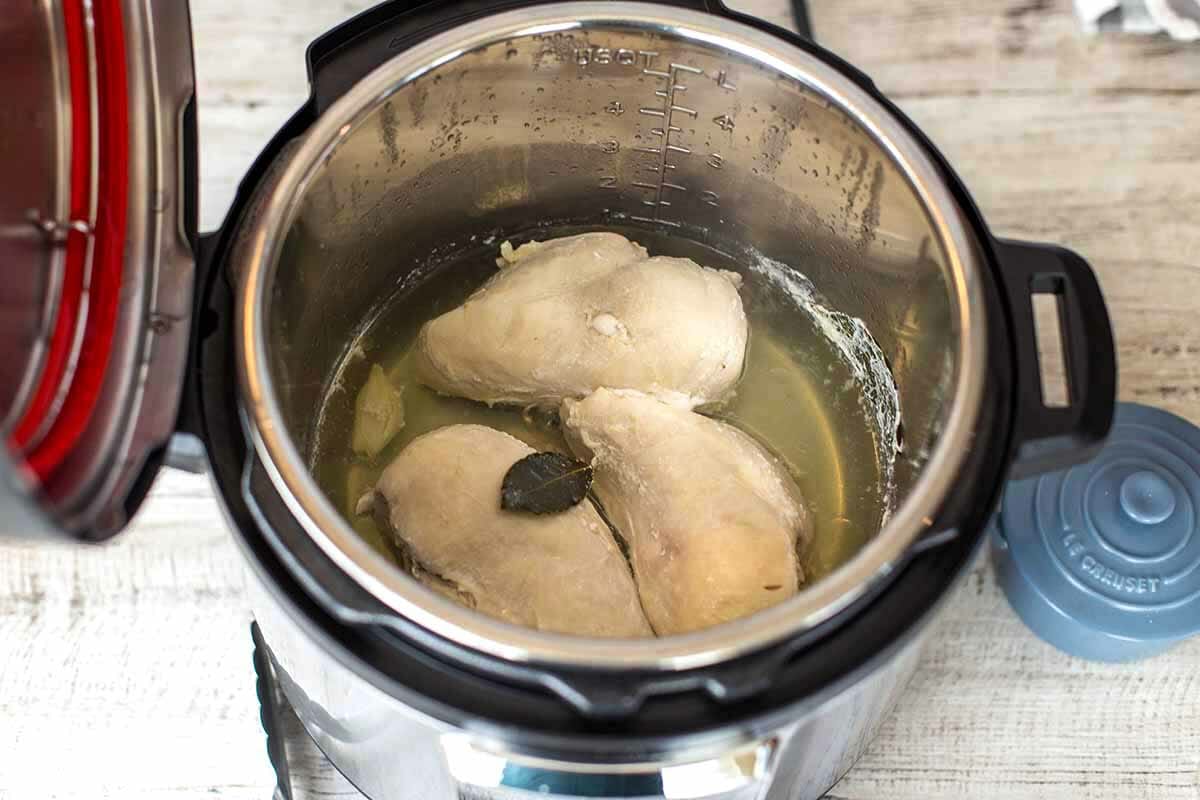 How Long to Cook Chicken in the Pressure Cooker
Boneless chicken breasts and thighs cook in the same amount of time—just 10 minutes at high pressure will do it! Just be sure to arrange the meat in a single, even layer in the pot, as it cooks more evenly that way. It should reach about halfway up the chicken.
This timing works for a 1 1/2 to 2 pound batch of boneless chicken. If you're cooking more meat (3 to 4 pounds), increase the cooking time to 15 minutes to ensure that it is cooked through. For a smaller amount of meat (1 pound or less), decrease the cooking time to 8 minutes.

Frozen Chicken in the Pressure Cooker
Yes, you can cook chicken from frozen! You'll just need to adjust the cooking time and method a little bit. Take a look at this handy guide for more details:
Ways to Use Cooked Chicken
The cooked chicken can be used in any recipe that calls for precooked chicken. Shred, slice, or cube it as needed, then use it however you like!
Tuck a few slices of chicken into a sourdough sandwich, or top a salad to make a light lunch. Toss cubed chicken into a soup or pasta dish. Mix shredded chicken with BBQ sauce or hot sauce for sliders or tacos.

BONUS: Chicken Broth!
As a bonus, cooking chicken this way yields about two cups of chicken broth! Save it in the fridge or freezer for later, use it as a base for a soup, or cook up an extra flavorful batch of rice or quinoa, subbing the broth for water.
MORE BASIC PRESSURE COOKER RECIPES
How to Cook Chicken in the Pressure Cooker Recipe
Print
For Stovetop Pressure Cookers: Follow the instructions below, but lower the cooking time to 8 minutes at high pressure.
If your chicken is frozen, see this post for how to adjust the cooking time.
Ingredients
1 1/2 to 2 pounds boneless skinless chicken breasts or thighs
1 cup water
1 teaspoon salt (use less if chicken is brined or otherwise pre-seasoned)
2 bay leaves
3 cloves garlic
6-quart electric pressure cooker, such as the

Instant Pot
Method
1 Add the chicken to the pressure cooker: Arrange the chicken in a single, even layer in the bottom of the pressure cooker. Add the water, then sprinkle with salt. Add the bay leaves and garlic.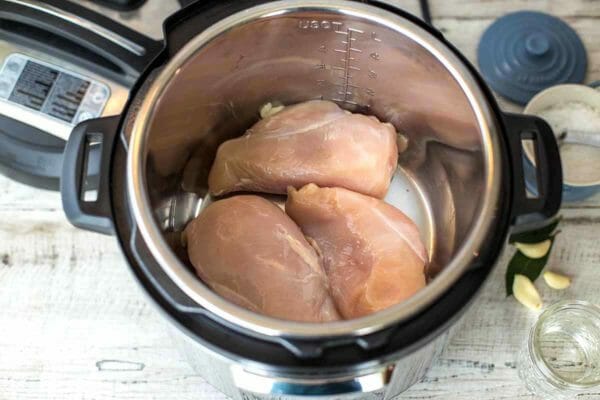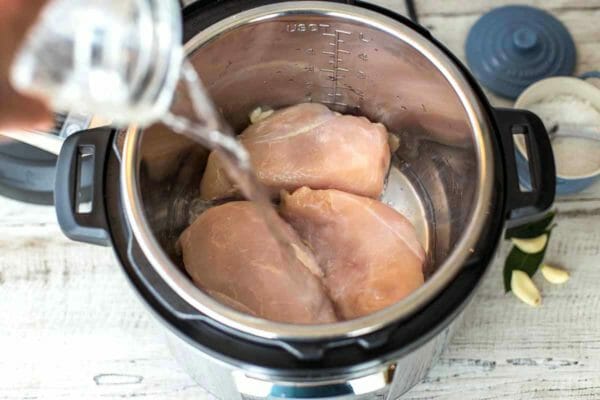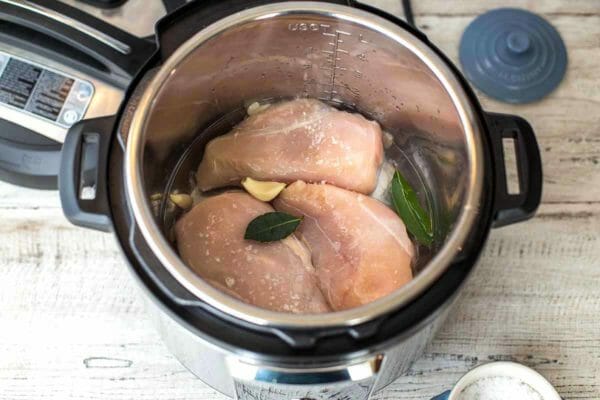 2 Pressure cook the chicken: Secure the lid on the pressure cooker. Make sure that the pressure regulator is set to the "Sealing" position. Select the "Pressure Cook" or "Manual" program, then adjust the time to 10 minutes at high pressure.
The pressure cooker will take about 10 minutes to come up to full pressure. Cook time begins once it has reached full pressure.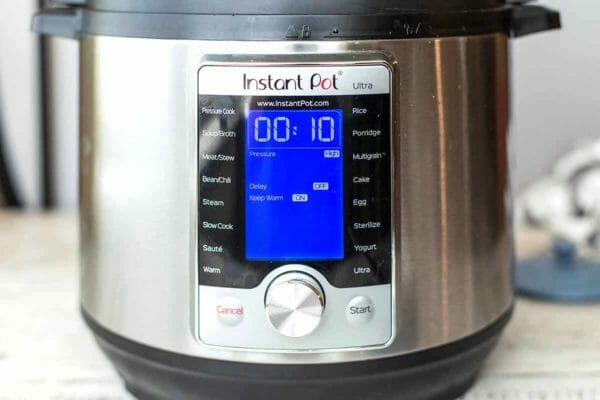 3 Release the pressure: As soon as the timer goes off at the end of cooking, perform a quick pressure release by moving the pressure release knob from "Sealing" to "Venting." It will take a minute or two for the pressure to release completely.
Open the pot, then use a digital thermometer to check the thickest part of a piece of chicken—it should be at least 165ºF. (If the chicken is not quite up to temperature, put the lid back on with the vent closed and cook for another minute or two.)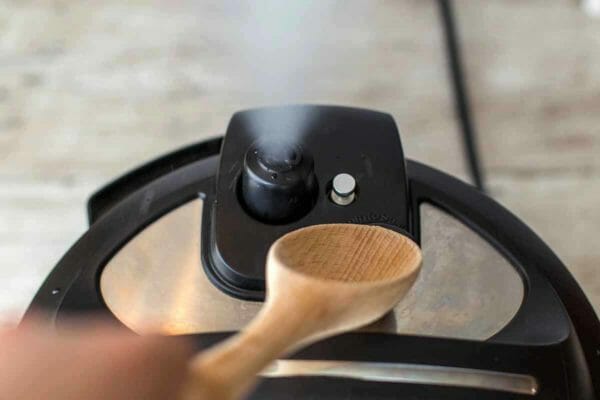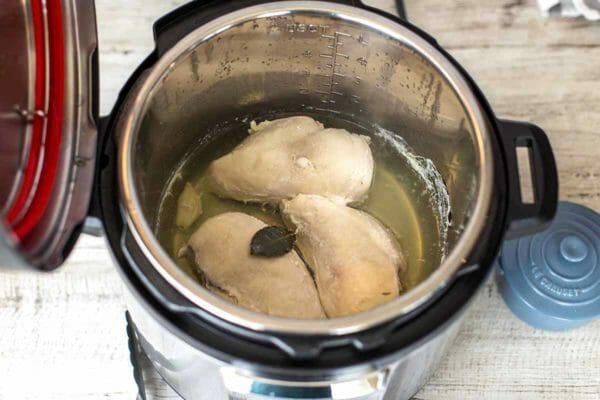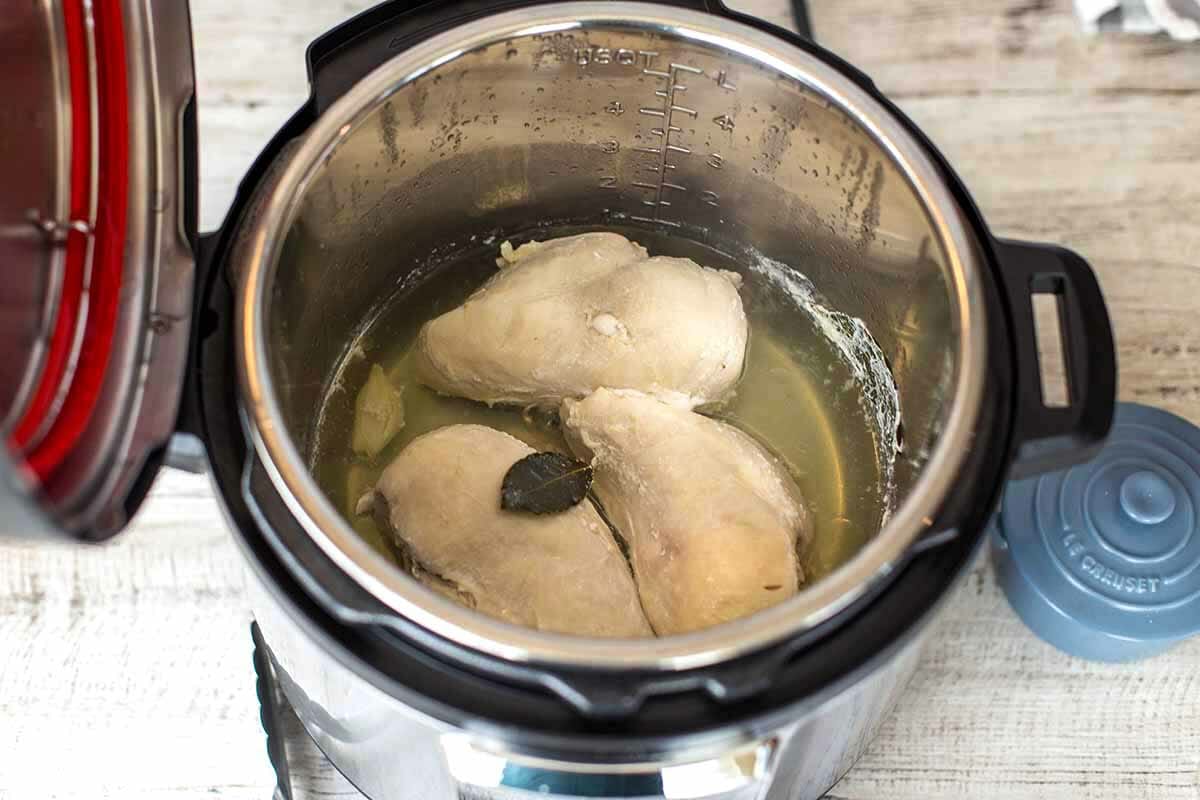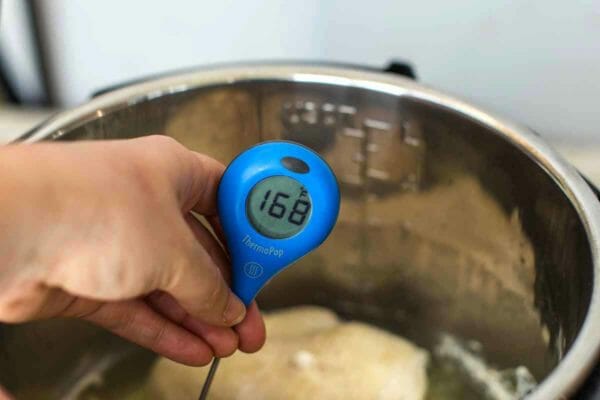 4 Use the chicken: Use a pair of tongs to transfer the chicken to a dish, and let it rest for 10 minutes. Slice, shred, or cube the chicken as needed, or refrigerate in a lidded container for up to 5 days.
If you want to save the cooking liquid (it is now a lightly flavorful chicken broth), strain out the bay leaves and garlic. Transfer to a tightly lidded container and store in the refrigerator for 3 to 4 days, or frozen for up to 6 months.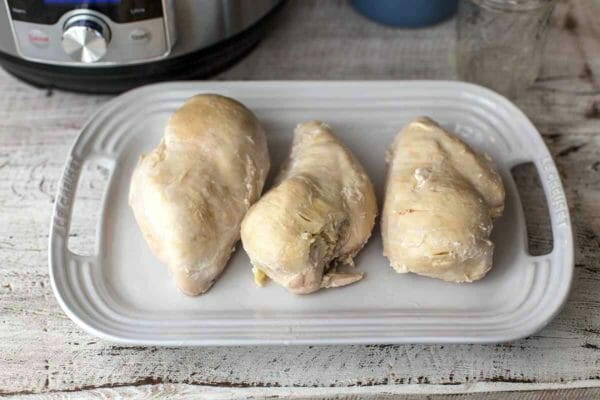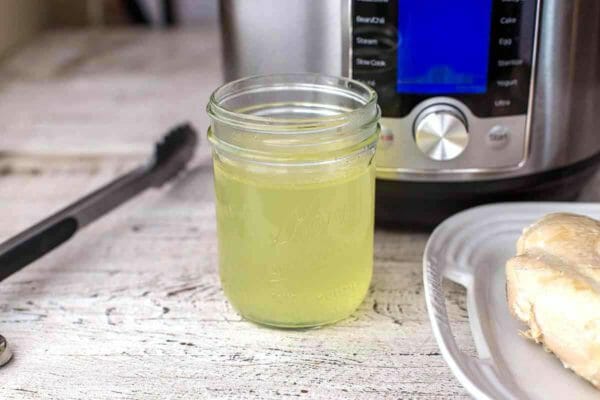 Hello! All photos and content are copyright protected. Please do not use our photos without prior written permission. If you wish to republish this recipe, please rewrite the recipe in your own unique words and link back to How to Cook Chicken in the Pressure Cooker on Simply Recipes. Thank you!
Print
Products We Love
This post may contain links to Amazon or other partners; your purchases via these links can benefit Simply Recipes. Read more about our affiliate linking policy.