Quick and easy sauté of escarole leaves, a lovely bitter chicory green.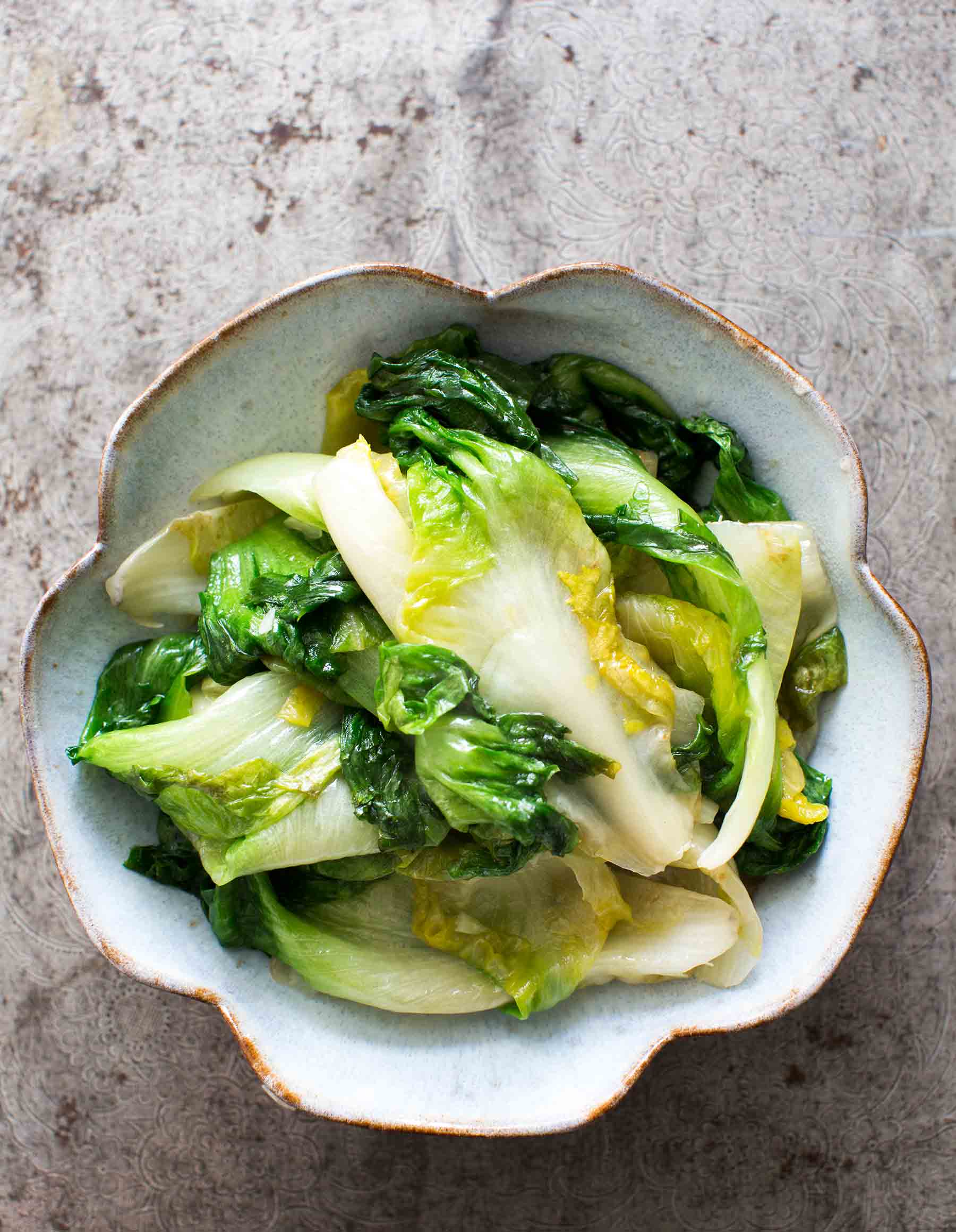 Photography Credit: Elise Bauer
Have you ever had escarole?
It's easy to mistake for lettuce, but it's actually a slightly bitter green, in the chicory family with endive, frisée, and radicchio.
The leaves are a bit thick, like kale, have raggedy edges, and are light green on the outside, with often a pale yellow center on the inside.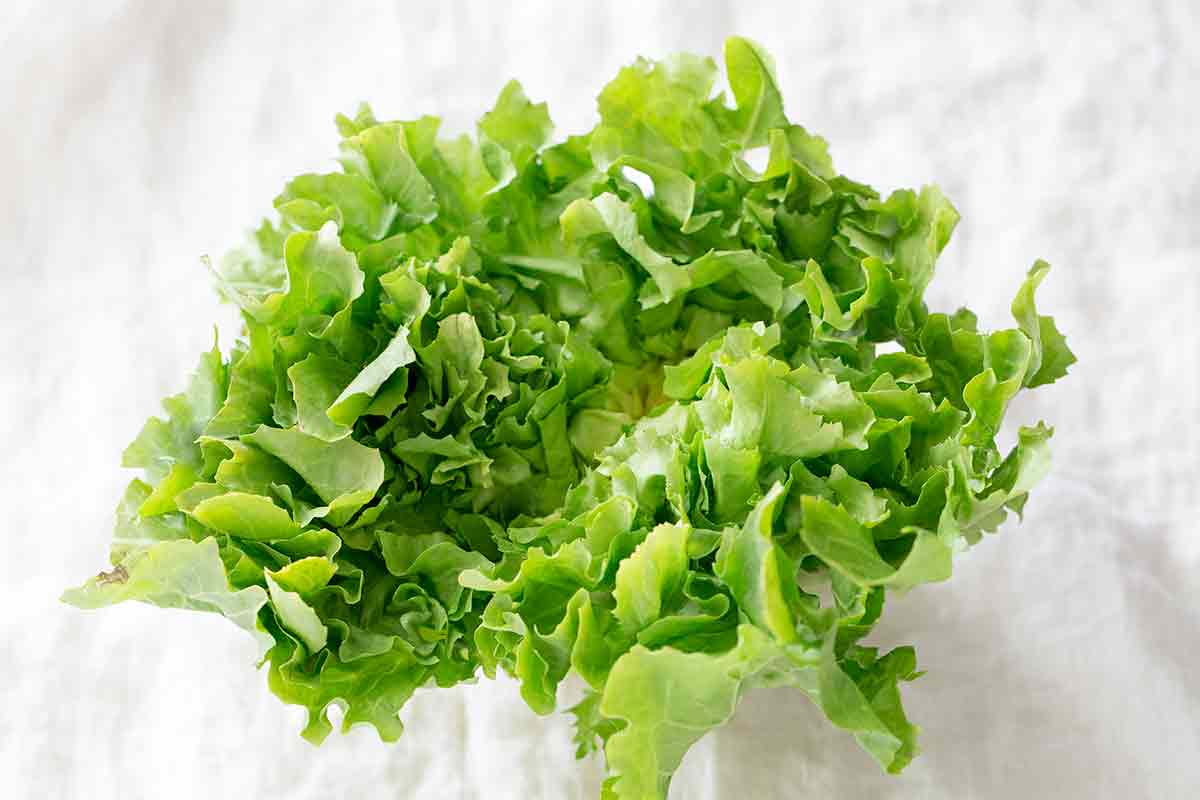 You can use raw in salads, or use it braised in soups (especially with white beans and sausage), or grilled.
My favorite way to enjoy escarole was taught to me by my friend chef Kathi Riley, formerly of Chez Panisse and Zuni Cafe. It's a simple sauté of the greens in olive oil with garlic.
The best way to sauté escarole
The trick to this is to sauté the greens while they are still a bit wet. Escarole usually needs a good rinse with water to dislodge any remaining dirt that may be lurking in its folds and curls. So while the leaves are still wet, add them to the hot pan with oil.
Hot oil and water aren't usually happy friends (splatter alert!), but in this case, you add all the leaves at once, so any splattering takes place underneath the leaves, keeping you safe from sizzling oil projectiles.
Why the water? Some parts of the escarole leaves are delicate, and can dry out in a hot pan. The water provides an extra buffer to keep the leaves from drying out, while giving the escarole enough time to cook and wilt.
I usually eat the sautéed escarole on its own as a very simple vegetarian dish. It works also a side green for dinner. Or, stir in some cooked white beans and Italian sausage and you'll have a complete meal.
Sautéed Escarole Recipe
Print
Ingredients
2 Tbsp extra virgin olive oil
1 garlic clove, sliced
Small pinch of red pepper flakes (optional)
1 head of escarole, well rinsed (and still a little wet), leaves removed from core, torn or chopped into 3 to 4 inch pieces
Generous pinch of sea salt or kosher salt
Method
1 Sauté garlic: Heat olive oil in a large skillet on medium high heat. When the oil is hot, add the sliced garlic and red pepper flakes (if using).
2 Add the escarole leaves, turn with tongs: Once the garlic starts to cook and is fragrant, add the escarole leaves to the pan. The leaves should still be a little wet from rinsing. They'll sizzle as they hit the pan, but if you add them all at once, the oil shouldn't splatter.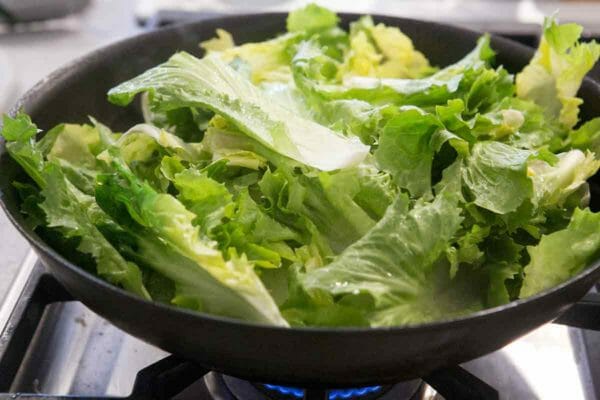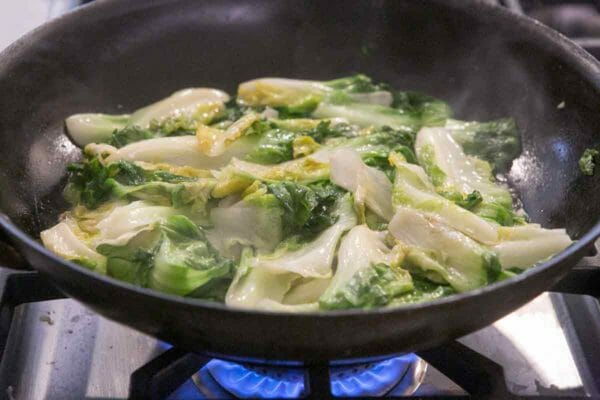 Use tongs to turn the escarole over in the pan as it cooks. Sprinkle with a little salt.
3 When the escarole starts to wilt, and is barely cooked through, remove from the heat. Remove from the pan immediately to serve.
Hello! All photos and content are copyright protected. Please do not use our photos without prior written permission. If you wish to republish this recipe, please rewrite the recipe in your own unique words and link back to Sautéed Escarole on Simply Recipes. Thank you!
Print
This post may contain links to Amazon or other partners; your purchases via these links can benefit Simply Recipes. Read more about our affiliate linking policy.