Vegan Mint Chocolate Chip Ice Cream
Vegan mint chocolate chip ice cream gets its richness from coconut milk and freezes beautifully. Super creamy! Super minty! Super chocolate-chippy!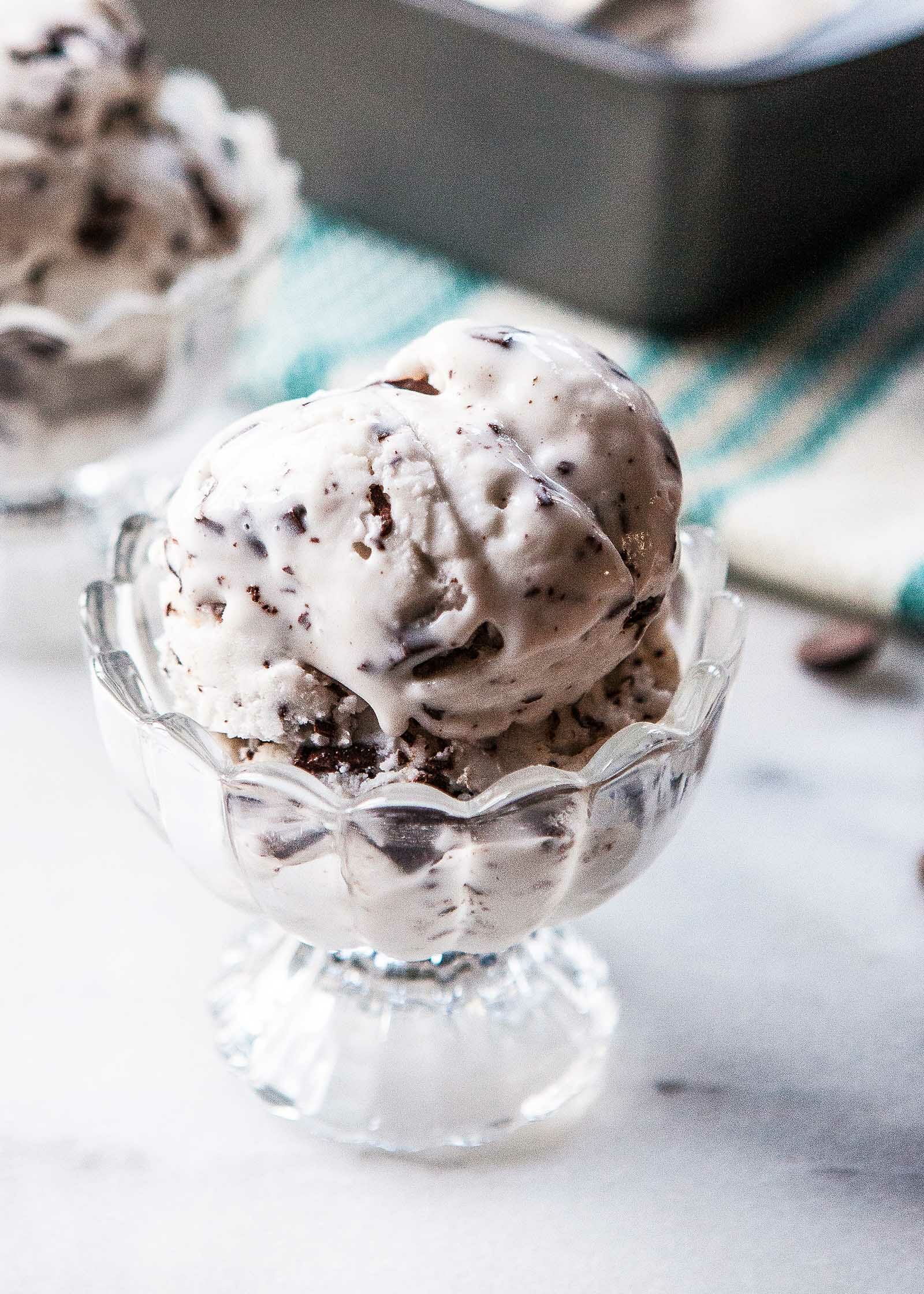 Photography Credit: Megan Gordon
I have a soft spot in my heart for dairy-free ice cream—and not because I can't have dairy. My family and I eat our fair share of cheese, sour cream, and yes, real ice cream, too.
But I actually prefer ice cream made with coconut milk over ice cream made with eggs and dairy any day of the week. I love the flavor and natural sweetness of coconut milk, and think it really shines when made into ice cream.
If you've never made dairy-free ice cream before, you're in for a treat: it doesn't require much in the way of fancy ingredients.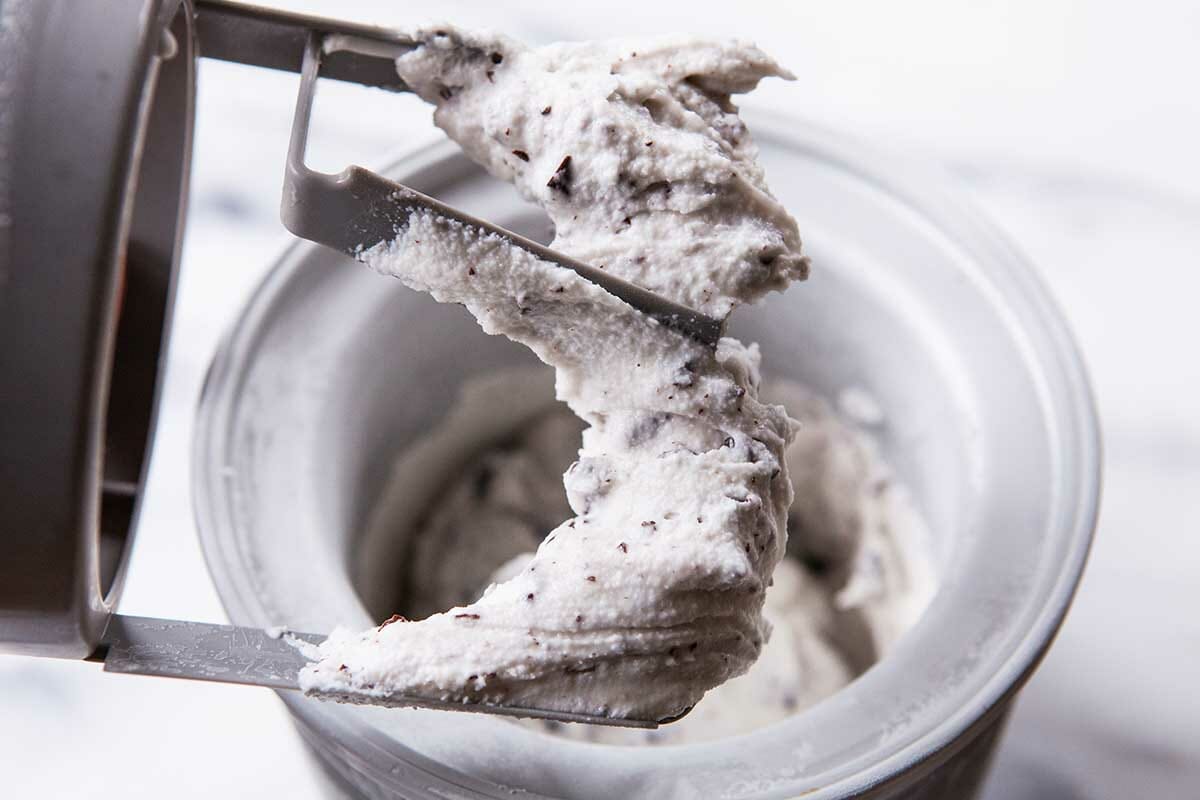 I'll walk you through making the ice cream base below, but a few things to know first:
1. The recipe calls for full fat coconut milk and there's really no wiggle room there. Neither light coconut milk nor coconut cream will work here. Other non-dairy alternatives, like nut milks, won't produce the same results—we need that coconut fat to make sure this ice cream is super creamy.
2. The cornstarch also does some of the heavy lifting in this recipe. It helps thicken the base and keep the ice cream from getting icy or freezer-burned—something that so many homemade ice creams fall victim to. (By the way, if you prefer arrowroot over cornstarch, you can substitute it 1-for-1 here.)
3. I use regular granulated sugar here, but I've experimented with both honey and agave. If you like liquid sweeteners, you can substitute those instead (the amount of each ingredient is the same). Surprisingly, the texture and overall flavor of the ice cream is basically the same no matter what sweetener you use.
One caveat: this recipe does take a little advanced planning. When the craving for ice cream strikes, know that you'll have a few rounds of chilling ahead of you, each a couple hours long. I always make the base the night before, churn the ice cream the next morning, and throw it in the freezer so it'll be all firm and ready to serve that evening.
Other Great Vegan Desserts to Try!
Vegan Mint Chocolate Chip Ice Cream Recipe
Print
Note that the FDA does list coconut as a tree nut, though many people with tree nut allergies are fine with coconut. If you're not sure if the person or people eating your cookies has a tree nut allergy that includes coconut, check with them before making this recipe.
Ingredients
2 (14-ounce) cans full-fat coconut milk
1/2 cup (100g) granulated sugar
1/4 teaspoon kosher salt
2 tablespoons cornstarch
1/4 teaspoon vanilla extract
3/4 teaspoon peppermint extract
3 1/2 ounces bittersweet chocolate, chopped into pieces (about 3/4 cup; use allergy-friendly chocolate if needed)
Method
1 Prep your equipment: The day before you want to make ice cream, place the freezer bowl of your ice cream maker into the freezer.
2 Make the base: Pour 1/4 cup of the coconut milk into a small bowl and set aside. Combine the remaining coconut milk, sugar, and salt in a medium saucepan over medium heat. Warm, stirring occasionally, until the sugar has fully dissolved, about 2 minutes.
3 Make the cornstarch slurry: Whisk the cornstarch into the bowl of reserved coconut milk until completely dissolved.
4 Add the cornstarch slurry: Stir the cornstarch mixture into the warm coconut milk base on the stove and cook over medium heat until the mixture thickens enough to coat the back of a spoon, 6 to 8 minutes. Be careful not to let the mixture come to a boil.
5 Add flavoring: Remove the mixture from heat and stir in the vanilla and peppermint extracts.
6 Cool the ice cream base: Pour mixture into a shallow container and allow it to cool at room temperature for about 20 minutes. Cover the container and refrigerate for at least 3 hours, or for up to 3 days.
7 Churn ice cream: When ready to churn your ice cream, make sure the base mixture is completely chilled. Pour the base into your ice cream machine and churn for 10 to 15 minutes, according to manufacturer's instructions. You're looking for a consistency that's soft but thick, like frozen custard or soft serve ice cream.
8 Add the chocolate: When ice cream is ready, with the mixer still running, add in the chocolate chunks and process until just combined.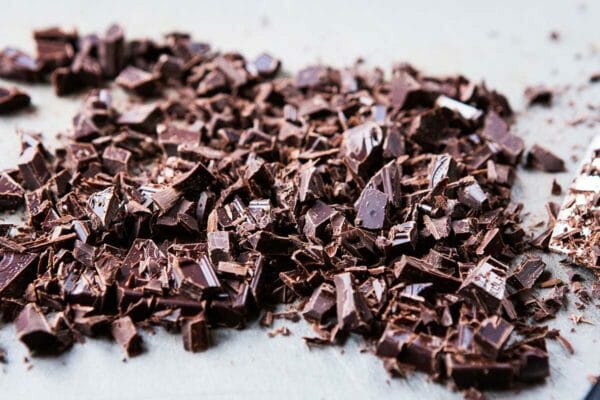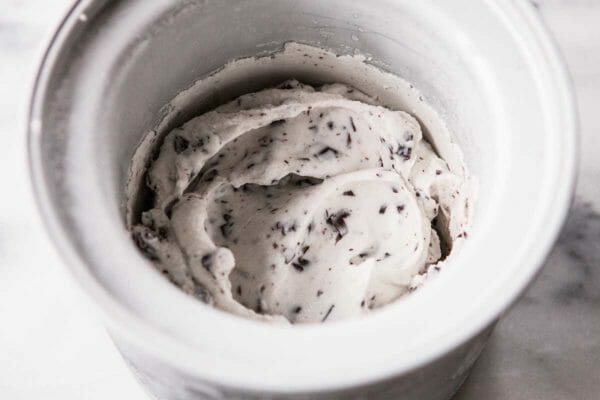 9 Freeze until hard: Scrape the ice cream into a loaf pan (or other freezer-safe container), and cover tightly with plastic wrap. Freeze for at least 3 hours to allow the ice cream to harden.
Before serving, allow ice cream to sit out on the counter until it's soft enough to scoop, usually about 10 minutes.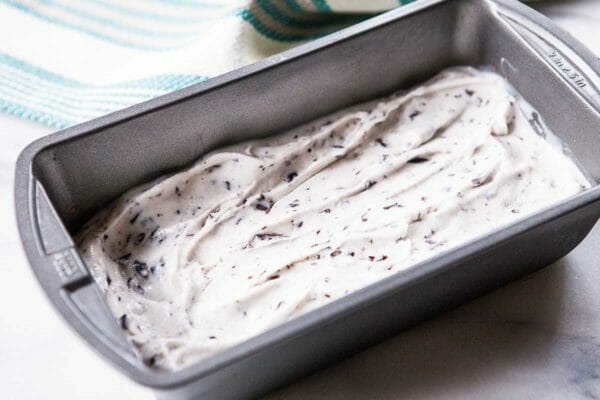 Hello! All photos and content are copyright protected. Please do not use our photos without prior written permission. If you wish to republish this recipe, please rewrite the recipe in your own unique words and link back to Vegan Mint Chocolate Chip Ice Cream on Simply Recipes. Thank you!
Print
Products We Love
This post may contain links to Amazon or other partners; your purchases via these links can benefit Simply Recipes. Read more about our affiliate linking policy.