Curry Chickpea-Loaded Baked Potatoes
Who says loaded baked potatoes can't be healthy?! This weeknight recipe tops baked potatoes with a creamy mix of chickpeas and coconut milk! It's vegan, dairy-free, and delicious.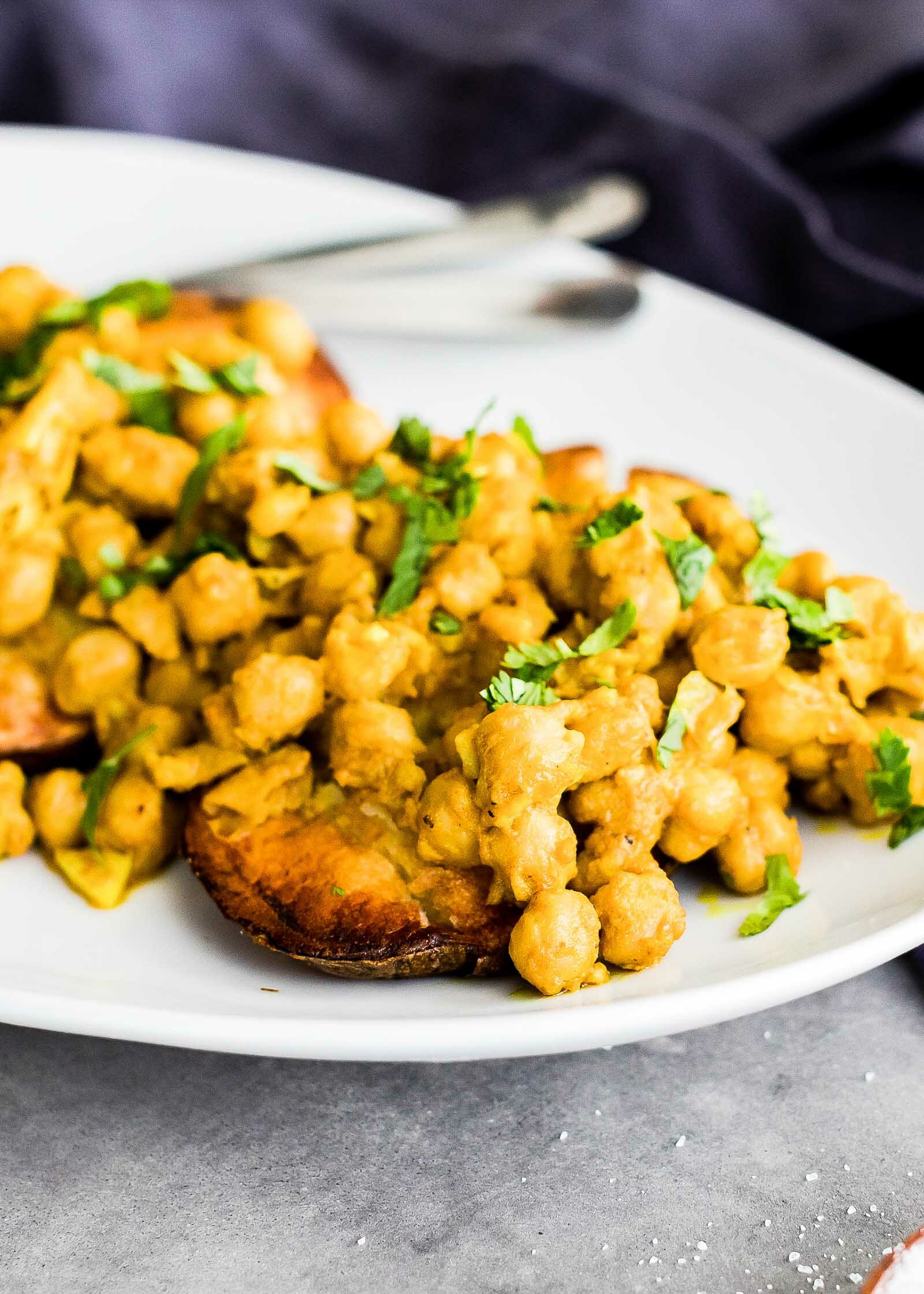 Photography Credit: Erin Alderson
I see so many people pass up the humble baked potato for other options, but I love a good, comforting loaded potato. It might be the soft, pillowy texture, the fact that you can stick them in the oven and go about your dinner prep, or that potatoes are easily found year-round.
No matter what, potatoes make for a great dinner base.
While I could easily just do with a bit of salt and butter, these chickpea-loaded potatoes make a full meal that you can feel good about serving your family.
Vegan Loaded Baked Potatoes
I grew up eating potatoes loaded with nacho cheese and steamed broccoli, but over the years as a vegetarian, I found the potatoes to be a perfect base for myriad healthy vegetarian options, like roasted vegetables, tofu, and legumes.
I always try and balance protein, vegetables, and fat in a vegan meal like this one, and the chickpeas, potatoes, and coconut milk hits this standard.
I like to cook my own chickpeas, but I also always keep a can of chickpeas on hand for those last-minute dinner ideas. This is definitely one of them.

What's in a Curry Powder?
One quick note: Try a few different curry powders. Look for spice shops in your area or order online. There are so many amazing curry powder blends from different regions of the world. Each one is distinct and most are based on different varieties of chilis.
Blends that take inspiration from Indian cuisine are heavier on the turmeric and fenugreek. Blends that pull inspiration from Thai cuisine emphasize the citrusy flavors of coriander and lemongrass. I like to blend my own but many retailers such as Penzeys and Oaktown Spice Shop carry a few varieties. Find a couple that you love and always keep those around!
More Ways to Have a Potato For Dinner!
Curry Chickpea-Loaded Baked Potatoes Recipe
Print
Ingredients
For the potatoes:
2 large russet potatoes (1 pound each)
2 teaspoons extra virgin olive oil
Sea salt for sprinkling and to taste
2 tablespoons olive oil
4 cloves garlic, minced
3 1/2 cups cooked chickpeas, or 2 (15-ounce) can of chickpeas, drained and rinsed
1 cup full-fat coconut milk
2 tablespoons curry powder
To serve:
Chopped fresh cilantro
Coconut flakes
Method
1 Roast the potatoes: Preheat the oven to 400°F. Slice the potatoes in half lengthwise, and coat them with the olive oil using a brush or your hands. Add a sprinkle of sea salt. Place the potatoes cut-side down a baking sheet.
Bake until the potatoes are tender when pierced with a fork, 30 to 40 minutes, depending on the size of the potato.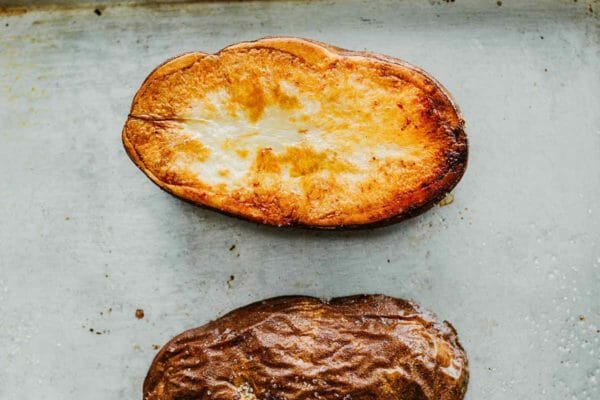 2 Make the chickpea topping: Heat a medium saucepan over medium-low heat. Add the olive oil followed by the minced garlic. Cook the garlic for a minute, just until fragrant. Stir in the chickpeas, coconut milk, curry powder, and a pinch of sea salt.
Simmer the chickpeas until hot and the coconut milk has reduced slightly, 4 to 5 minutes. If the sauce is too thick, add another splash of coconut milk or water, as needed.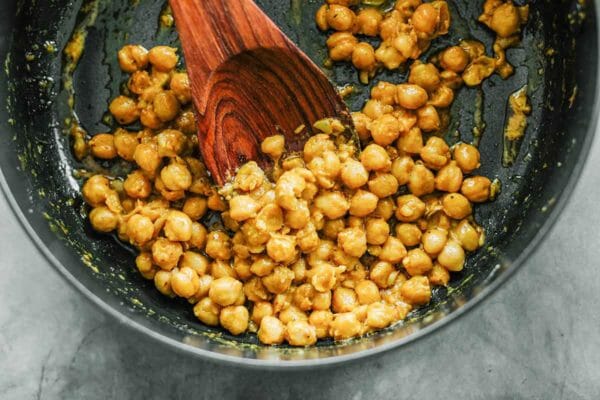 3 Assemble the chickpea-loaded potatoes: Place half a potato on a plate and mash slightly to create room for the chickpeas to rest inside. Top with the chickpeas and sprinkle with the cilantro and toasted coconut flakes.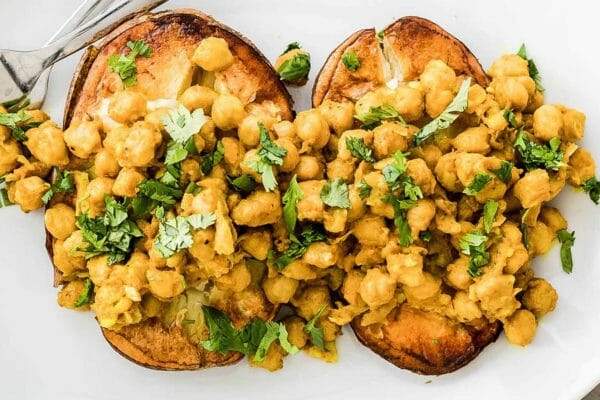 Hello! All photos and content are copyright protected. Please do not use our photos without prior written permission. If you wish to republish this recipe, please rewrite the recipe in your own unique words and link back to Curry Chickpea-Loaded Baked Potatoes on Simply Recipes. Thank you!
Print
This post may contain links to Amazon or other partners; your purchases via these links can benefit Simply Recipes. Read more about our affiliate linking policy.