Gluten-Free Chocolate Cake Donuts
1 Prepare the flax "egg": Combine the flax meal with 2 1/2 tablespoons of water in a small bowl. Let stand for 7 to 10 minutes to thicken. (This will be used as an egg replacer in this recipe.)
2 Preheat the oven and prepare pans: Preheat the oven to 375°F. Lightly spray two full-sized donut baking pans with nonstick cooking spray, and set it aside.
3 Mix dry ingredients: In a medium bowl, whisk together the flour, sugar, cocoa powder, baking powder, baking soda, cream of tartar, and salt until smooth.
4 Mix wet ingredients: In a separate medium bowl, whisk together the oil, flax egg, vanilla, vinegar, and non-dairy milk until smooth.
5 Combine dry and wet ingredients: Pour the dry ingredients into the wet ingredients and stir to combine, making sure all the dry bits are incorporated.
6 Fill the donut pan: Use a kitchen spoon to scoop the dough into the wells of the donut pan, stopping when each is almost full (these donuts don't rise a ton, so I fill the indents almost to the top). The dough will be thick and sticky, so use your fingers or the back of a spoon to gently press it into the indentation.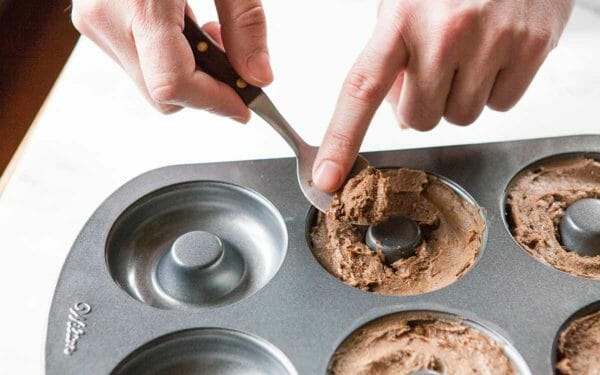 7 Bake: Bake donuts for 9 to 10 minutes, or until they spring back to the touch and a toothpick inserted into the center comes out clean.
8 Cool: Allow donuts to cool in pan for 5 minutes, then remove from the pan and transfer to a wire rack to cool completely.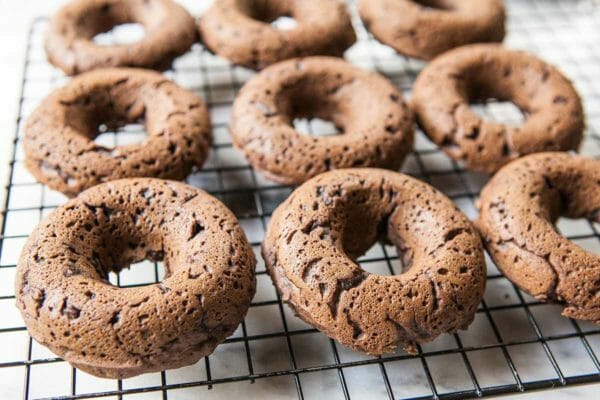 9 Make the glaze: In a small bowl, whisk together the powdered sugar and cocoa powder. Be sure there aren't any clumps, and if there are, sift the ingredients so your glaze will be smooth.
Add 2 tablespoons of non-dairy milk and whisk well. You're looking for a smooth, pourable glaze. If your glaze is too thick, add additional non-dairy milk one tablespoon at a time until you reach the desired consistency.
10 Glaze the donuts: Cut a piece of parchment paper the same size (or slightly larger) as your wire cooling rack and place under your cooling rack to catch drips. Dip one side of each doughnut in the glaze and place glaze-side up on the cooling rack. Allow any excess to drip off.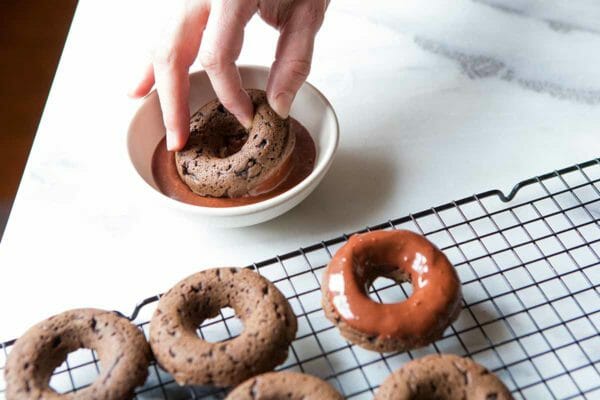 11 Sprinkle and serve: While the glaze is still wet, sprinkle the tops of each donut with colorful sprinkles. Let the donuts set at room temperature for at least 25 minutes to allow the glaze to firm up. Serve immediately, or cover leftovers and store at room temperature for up to 1 day.