Gluten-Free Chocolate Chip Skillet Cookie
Looking for a quick cookie that's both gluten-free and vegan? Check! Cut it into wedges and serve with (vegan!) ice cream.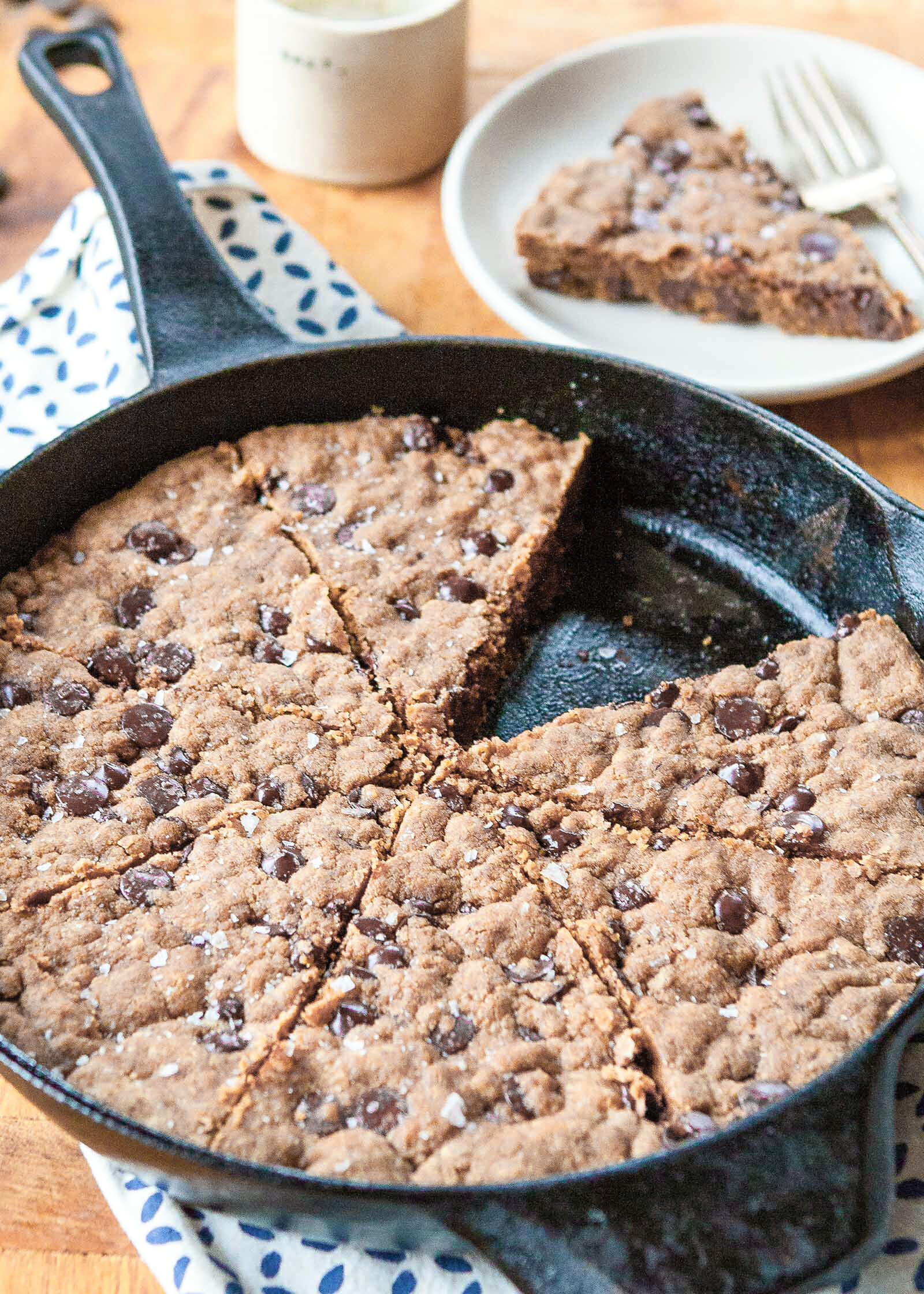 Photography Credit: Megan Gordon
I always feel such a mad rush to get "thank you" treats out to teachers, friends, and babysitters, but recently I realized that I haven't had a chance to bake much for myself or my own family lately.
So this month I've been fixing that, starting with this family-friendly and allergy-friendly chocolate chip skillet cookie that's just begging to be shared with friends and loved ones.
There's something delightful and unexpected about clearing the dinner table, bringing out this skillet cookie, and letting everyone dig in and slice off their own wedge (preferably with a glass of milk at the ready).
I opted to make this dessert gluten and allergen-free because our little guy has egg and nut sensitivities and many of his friends have other allergies. To play it safe, I wanted to bake a cookie everyone could enjoy.
Making one big cookie in a skillet is quicker than portioning out individual cookies, plus the edges get nice and crispy while the center remains soft. It's the perfect marriage of textures, if you ask me.
Coconut Oil in Place of Butter
I love baking with coconut oil, so I used that here. It does impart a subtle fragrance and flavor, but I think it makes a good compliment to the chocolate and other flavors of the cookie. Make sure the coconut oil is very soft (but not liquidy) so that it blends easily with the sugars.
Choosing Your Gluten-Free Flour Mix
There are dozens of gluten-free flour blends to choose from these days and many are great; I happen to like Bob's Red Mill's 1:1 Gluten Free Baking Flour Blend. It's a great all-purpose choice and doesn't have chickpea or legume flours in it, which I find often impart a savory flavor to baked goods that I don't always love. Some other gluten-free blends may impart a sandier texture, which isn't as desirable in most baked goods.
Bob's blend contains xanthan gum, which acts as a binder in gluten-free baking recipes like this one. Before baking, check the ingredients in your own gluten-free flour blend and if it doesn't contain xanthan gum (or another binding ingredient like guar gum or psyllium husks), I recommend adding 1/2 teaspoon of xanthan gum to ensure success.
The Finishing Touch: Sea Salt!
Finish your skillet cookie with some flaky sea salt sprinkled over top. If you've never tried this trick before, you're in for a treat! It helps balance the sweetness and add a little surprise to each bite. Use a big flaky salt like Maldon—I sprinkle a little on before the cookies head to the oven and a little more as they're cooling.
You can never have enough of a (very) good thing.
Gluten-Free Chocolate Chip Skillet Cookie Recipe
Print
If you've never baked gluten-free before, we highly recommend using Bob's Red Mill 1:1 Gluten Free Baking Flour Blend for this recipe.
If you're using a different blend, double check the ingredients. If it doesn't contain xanthan gum (or another binding ingredient like guar gum or psyllium husks), we recommend adding 1/2 teaspoon of xanthan gum to ensure success.
Note that the FDA does list coconut as a tree nut, though many people with tree nut allergies are fine with coconut. If you're not sure if the person or people eating your cookies has a tree nut allergy that includes coconut, check with them before making this recipe.
Ingredients
1/2 cup coconut oil, softened at room temperature (but not melted or liquidy)
1/4 cup (54g) packed brown sugar
3/4 cup (150g) granulated sugar
1 tablespoon flax meal
2 teaspoons pure vanilla extract
1 1/4 cup (170g) gluten-free flour blend, like Bob's Red Mill (See Recipe Note)
1 teaspoon baking soda
1 1/2 teaspoons cornstarch
3/4 teaspoon salt
3/4 cup (125g) bittersweet or semisweet chocolate chips (allergy-friendly, if needed)
Flaky sea salt (like Maldon), to top
Method
1 Preheat the oven and prepare pan: Preheat the oven to 350°F. Spray a 10-inch cast iron skillet with nonstick cooking spray.
2 Prepare the flax "egg": Combine the flax with 2 1/2 tablespoons of water in a small bowl. Let stand for 7 to 10 minutes to thicken. (This will be used as an egg replacer in this recipe.)
3 Combine the coconut oil and sugar: In the bowl of a stand mixer fitted with the paddle attachment (or using electric hand beaters), beat the coconut oil, brown sugar, and granulated sugar until smooth and combined. The mixture will be a little clumpy and grainy—that's ok.
4 Add the flax egg and vanilla: With the mixer running on low, slowly add the flax egg and vanilla and beat until combined, using a rubber spatula to scrape down the sides as needed.
5 Add the dry ingredients: In a small mixing bowl, whisk together the flour, baking soda, cornstarch and salt. With the mixer on medium, slowly add the dry ingredients and beat until smooth. The dough will look like large pebbles at first, but keep beating and it will eventually become smooth and uniform in 2 to 3 minutes.
6 Add the chocolate chips and transfer to the skillet: With a spatula, fold the chocolate chips into the batter, then scrape the mixture into the 10-inch cast iron skillet. Using your hands, press the dough evenly into the pan. Sprinkle the top with flaky salt.
7 Bake the cookie: Bake for 20 to 22 minutes, or until outer edges are golden brown. The cookie will still feel soft and even a little wet to the touch, but it'll firm up as it cools.
Hello! All photos and content are copyright protected. Please do not use our photos without prior written permission. If you wish to republish this recipe, please rewrite the recipe in your own unique words and link back to Gluten-Free Chocolate Chip Skillet Cookie on Simply Recipes. Thank you!
Print
This post may contain links to Amazon or other partners; your purchases via these links can benefit Simply Recipes. Read more about our affiliate linking policy.