Delicious Chicken Salad! How to make chicken salad with chopped cooked chicken, celery, bell pepper, green olives, apple, iceberg lettuce and mayonnaise, plus a secret family ingredient that makes all the difference!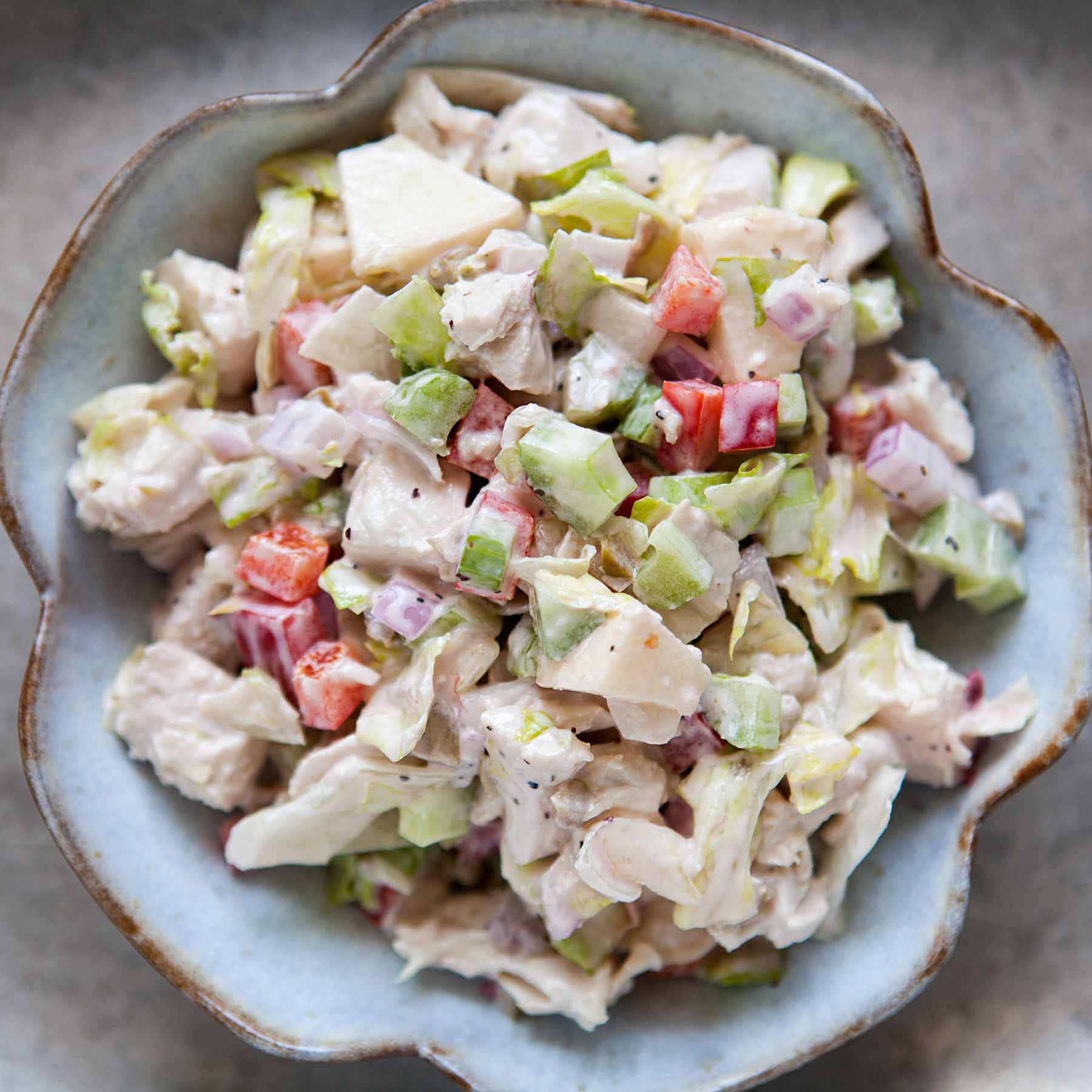 Photography Credit: Elise Bauer
Chicken Salad, A Family Affair
My mother and father make the best chicken salad. It's a joint effort; my dad assembles the ingredients, while my mom makes the dressing.
It's not exactly your standard chicken salad. They like to include chopped apple, for a sweet note, and also chopped green olives, for their tangy saltiness.
They'll use leftover chicken from a roast chicken, or their favorite baked chicken dish, and even include some of the crispy skin for this chicken salad. You could also just poach some boneless skinless chicken breasts or thighs in salted water for this salad.
What Makes this Chicken Salad Special
The "secret sauce" so to speak, of this chicken salad, is the tablespoon of plum preserves my mom adds to the mayo-based dressing. You could use any berry jelly or jam, but as we always have a lot of plum jam on hand (due to several plum trees), that's what mom reaches for first.
Mom balances out the sweetness from the dab of jam with a bit of lemon juice.
The result? Wonderful!
Do you have a favorite chicken salad recipe? Please let us know about it in the comments.
Updated July 2, 2018 : Introduction updated
Chicken Salad Recipe
Print
You can use any leftover cooked chicken meat for this salad, with or without the skin. Or you can poach some boneless skinless chicken breasts in salted water for this salad.
Ingredients
3/4 lb (2-3 cups) of cooked chicken meat*, coarsely chopped
2 stalks celery, chopped
1/2 red bell pepper, seeded and chopped
4-6 green olives, pitted and minced
1/4 cup of chopped red onion
1/2 to a whole apple, cored and chopped
1/3 head of iceberg head lettuce, sliced and chopped
Dressing:
5 Tbsp mayonnaise
1 Tbsp plum preserves, or any sweet berry preserve (or a lesser amount of honey)
2 teaspoons fresh squeezed lemon juice
Salt and pepper to taste
*To poach chicken for this recipe, start with a pound of boneless skinless chicken breasts, cut into large (2 to 3-inch) pieces. Bring a 2 quart pot of well-salted water to a rolling boil. Add the chicken to the boiling water, turn off the heat and cover the pot. Let the chicken pieces sit in the hot water for 15 minutes, then drain the water and chop the chicken pieces into smaller pieces for the salad.
Method
1 Prep salad ingredients: Prep all of the chicken salad ingredients and toss them together in a large bowl.
2 Make dressing: Prepare the chicken salad dressing in a separate smaller bowl. Mix together the mayonnaise, preserves, and lemon juice.
Taste for the proper balance of sweetness and acidity. The salad dressing should not be too sweet nor too sour.
Add more preserves or lemon juice until you have reached the balance you want.
Add salt and pepper to taste.
3 Gently combine: Gently stir the dressing in with the chicken salad ingredients. Taste and add more salt and pepper if needed.
Hello! All photos and content are copyright protected. Please do not use our photos without prior written permission. If you wish to republish this recipe, please rewrite the recipe in your own unique words and link back to Chicken Salad on Simply Recipes. Thank you!
Print
This post may contain links to Amazon or other partners; your purchases via these links can benefit Simply Recipes. Read more about our affiliate linking policy.