Chicken Larb Lettuce Wraps (Larb Gai)
Ever had chicken larb?! If you're looking for a quick, super flavorful, and spicy meal, look no further than this spin on Laotian chicken larb. Use either ground chicken or turkey and serve it in sweet, buttery lettuce wraps.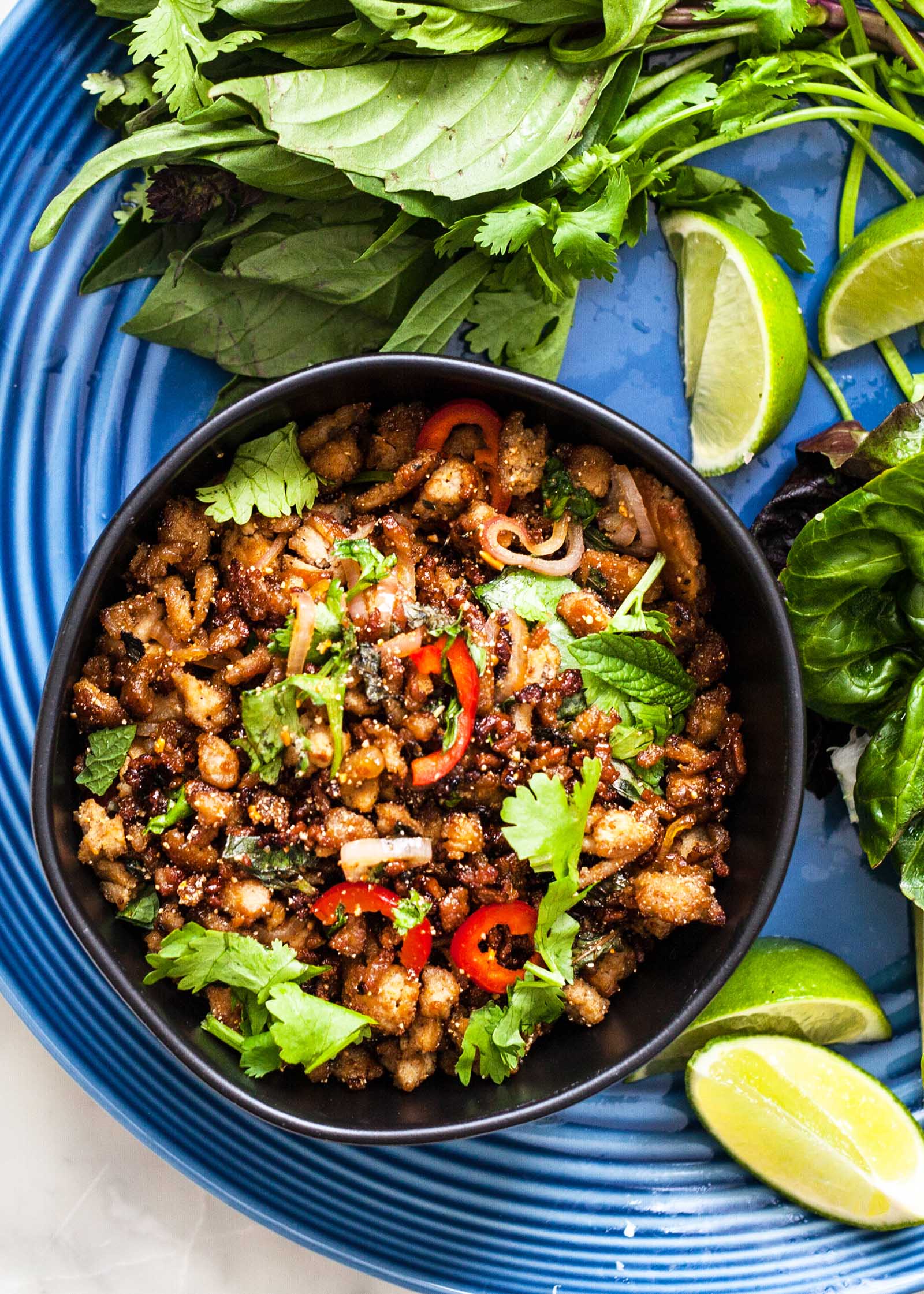 Photography Credit: Sally Vargas
If the idea of a meal of spicy meat punctuated by lime, mint, and cilantro floats your boat, then add this recipe for Chicken Larb to your weeknight fast food rotation.
In this recipe, you cook ground chicken (or turkey) in a skillet quickly until it browns, add some chopped shallots and season it all in the end with lime juice, chili sauce, and fresh herbs. Pile it all into a lettuce cup for a supper that has tons of flavor with very little effort.

What is Larb?
Larb (pronounced lahb) is a Laotian dish that is also popular in northern Thailand, where the flavor adaptation is slightly different (the Thai version is not as sour and does not contain fish sauce like the Laotian one here).
In the Laotian version, which for simplicity's sake I have adapted here from authentic versions of the dish, normally contains a choice of beef, pork, chicken, duck, or fish spiked with lime juice, fish sauce, chili, and mint—flavors which add a lot of perk to the mix.
Another ingredient that is common in Laotian larb is ground toasted rice—it adds a smoky touch. In the interest of making this a quick, weeknight meal, I omitted that step in the recipe. (I did try it, but in the end, decided it was not practical.)
Sambal oelek is also a good ingredient for larb. It is an Indonesian chili paste that tastes a lot like you've added fresh chilies to a dish when you cook with it. The ingredients are simple: crushed raw red chiles, a little vinegar, and salt. That's it! It's a great chili paste to have around when you want to add a kick to everything from mayonnaise to a winter squash soup.

What Does Chicken Larb Taste Like?
The flavors here are what you would expect and prize from Southeast Asian cuisine—a winning balance of hot spice (chilies), sour (limes), sweet (brown sugar and sweet chili sauce) and salty (fish sauce).
Fish sauce is loaded with umami and really rounds out the flavor. Add as much or as little of the chili slices as you wish. Your taste buds will wake up at the first bite.
How to Serve Chicken Larb
While it's often served alongside rice and a green papaya salad, serving larb in lettuce wraps adds a pleasant freshness and crunch to the spicy filling. Put on a pot of rice, and by the time it is cooked, the filling will be ready.
Dinner on the table in less than 30 minutes? I'm in.
More Southeast Asian Recipes to Try!
Chicken Larb Lettuce Wraps (Larb Gai) Recipe
Print
Ingredients
2 tablespoons vegetable oil, plus more as needed
1 clove garlic, finely chopped
1 pound ground chicken or turkey
2 shallots, thinly sliced
1 to 2 Thai red or green chilies, thinly sliced, or to taste
Water, as needed
2 tablespoons lime juice
2 tablespoons fish sauce
1 tablespoon sweet Thai chili sauce
1 teaspoon brown sugar
1 teaspoon Sriracha or sambal oelek
1/4 cup coarsely chopped mint leaves
1/4 cup coarsely chopped cilantro
1 head of Boston lettuce or 2 small lettuce heads, separated into leaves
2 limes, quartered, for serving
Cooked rice, for serving
Mint, cilantro or Thai basil sprigs, for serving
Extra sriracha or sambal oelek sauce, for serving
Method
1 Cook the chicken: In a skillet over medium heat, heat the oil. Add the garlic and stir for 30 seconds. Add the ground chicken and spread it over the bottom of the pan. Without stirring too much, cook for about 6 minutes or until it browns on the bottom. Turn and break it up with the edge of a spatula. Continue cooking for 6 to 8 minutes longer, or until the meat is browned.
Stir in the shallots and chilies and cook for 30 seconds. If the mixture looks dry, stir in some water, 1 tablespoon at a time. Remove the pan from the heat.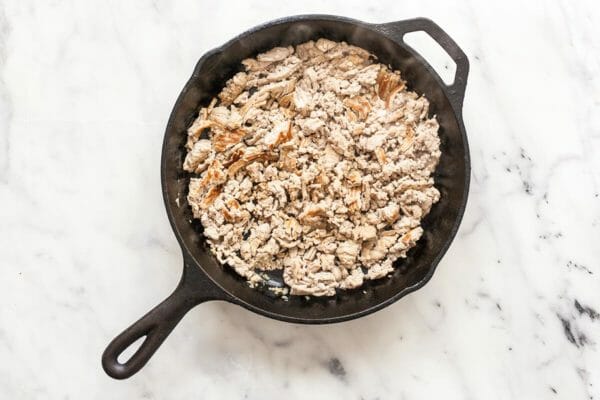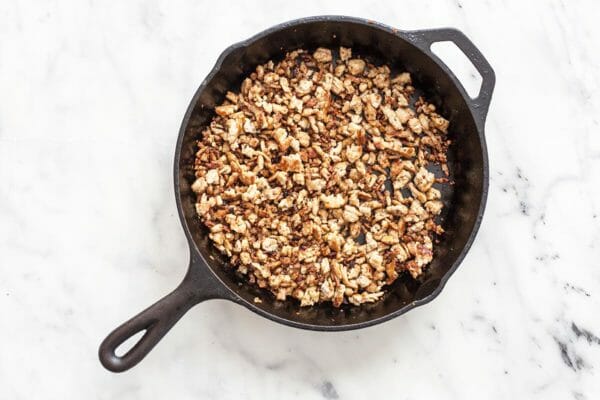 2 Add the seasonings: In a small bowl, stir together the lime juice, fish sauce, chili sauce, and brown sugar. Stir the mixture into the meat, along with the chopped cilantro and mint.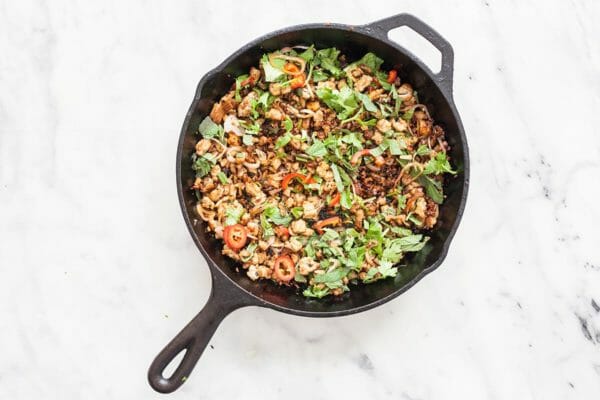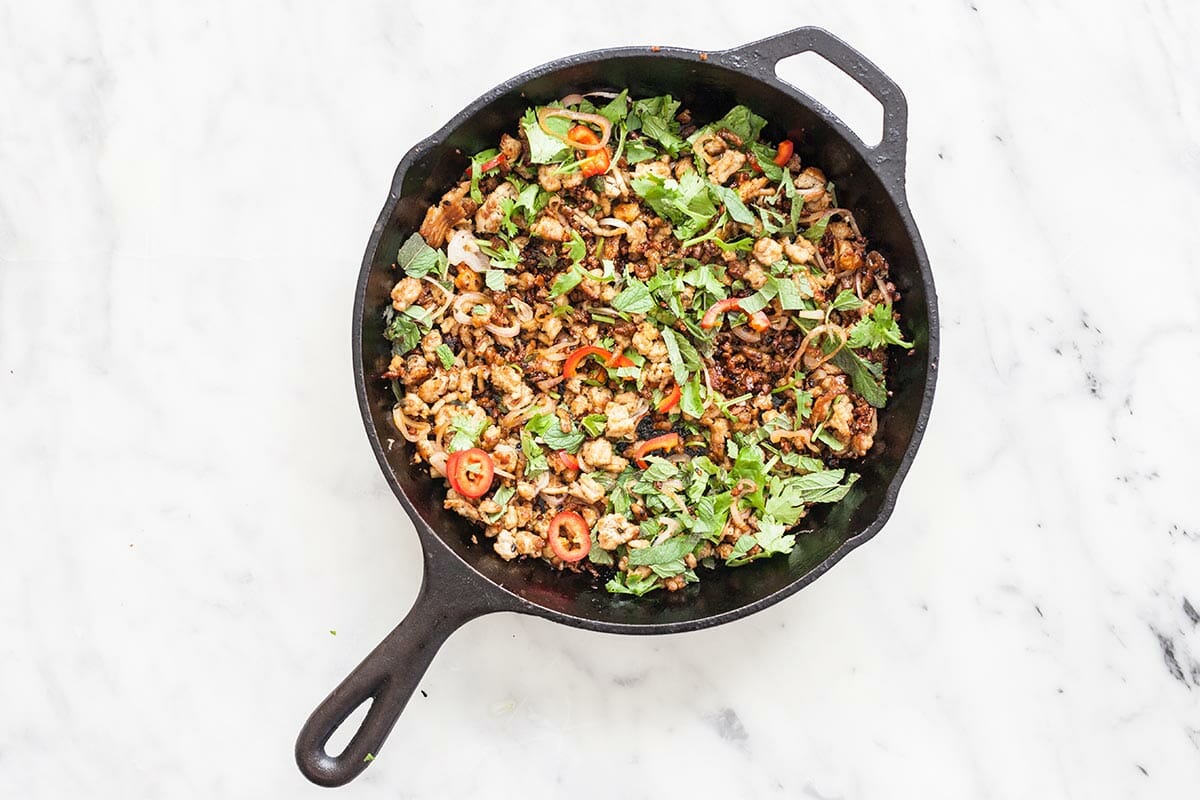 3 Serve the larb: Transfer the meat to a serving platter and place lettuce leaves, lime wedges, and more cilantro alongside. Set out a bowl of cooked rice and a bowl of chili sauce. Spoon some rice into each lettuce leaf and top with a spoonful of larb, a squeeze of lime juice, and chili sauce to taste.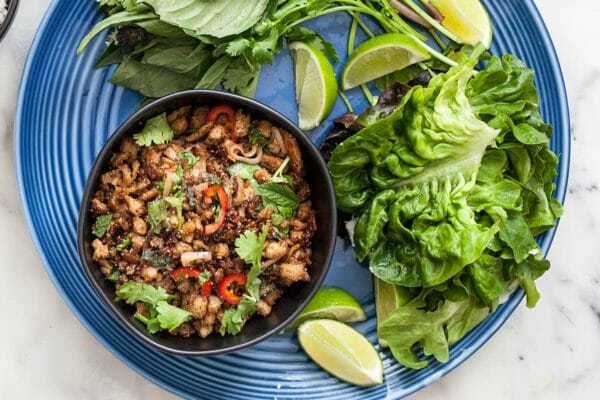 Hello! All photos and content are copyright protected. Please do not use our photos without prior written permission. If you wish to republish this recipe, please rewrite the recipe in your own unique words and link back to Chicken Larb Lettuce Wraps (Larb Gai) on Simply Recipes. Thank you!
Print
Products We Love
This post may contain links to Amazon or other partners; your purchases via these links can benefit Simply Recipes. Read more about our affiliate linking policy.