Coconut macaroons! These sweet coconut cookies are slightly crunchy on the outside, but soft and chewy on the inside, with a secret ingredient to make them extra smooth!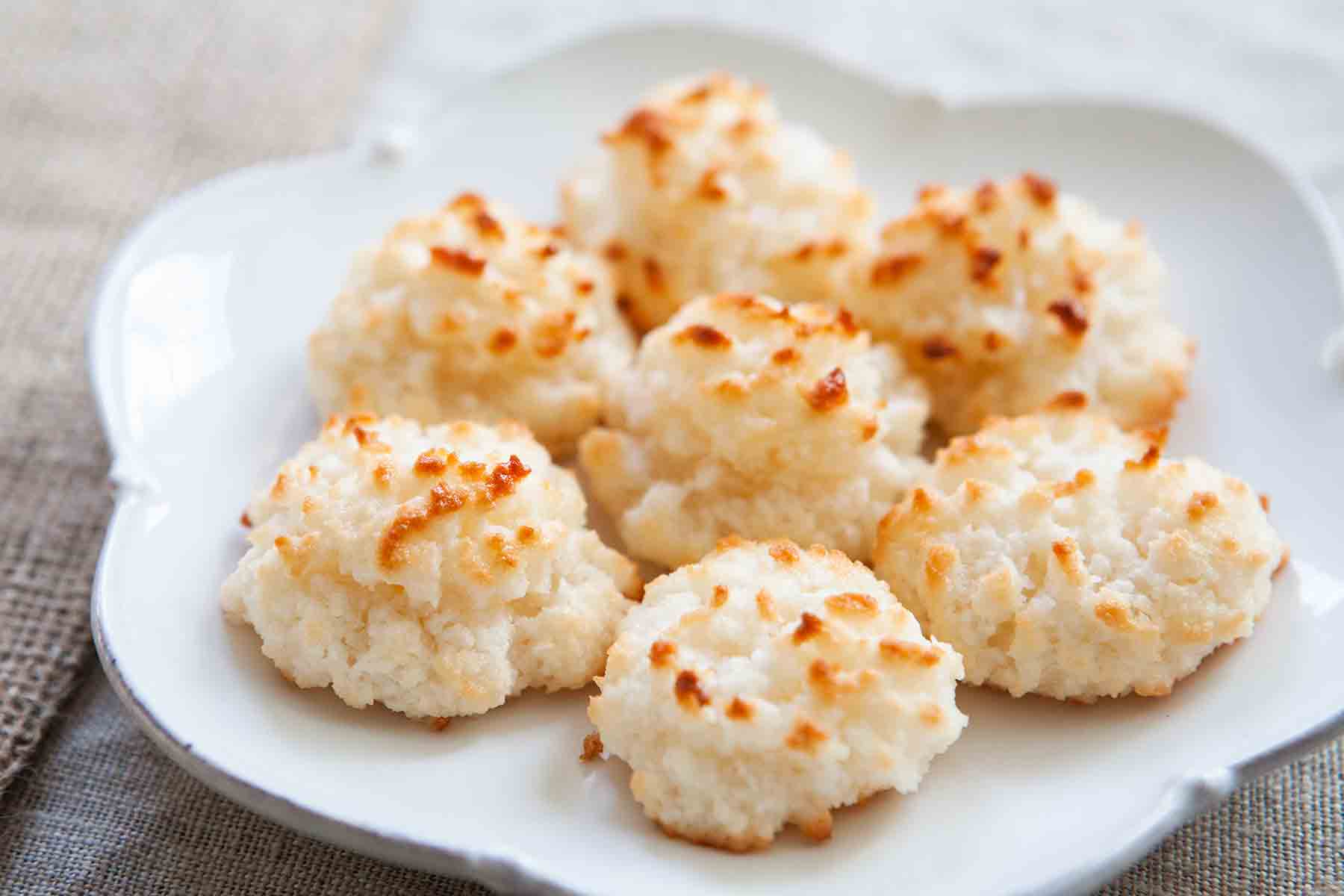 Photography Credit: Elise Bauer
Coconut macaroons tend to be rather chewy affairs.
Super sweet. Super chewy.
Like the inside of an Almond Joy bar. (My dad, by the way, loves Almond Joy, gets tons of it to give away at Halloween knowing that the rest of us won't touch them and he'll have more for himself.)
Me? Not a big fan.
That is, until our pastry chef neighbor Evie brought over her macaroons. Soft and smooth on the inside. Lightly sweet. No texture issues. Lovely.
The Secret Ingredient for Macaroons
Evie's secret ingredient? Baby food applesauce.
That's right, baby food. It's just the smoothest applesauce you can get, and it comes in conveniently small jars. You don't need that much.

Which Shredded Coconut to Buy
After multiple batches and lots of experimenting, I found that you also need to use unsweetened coconut, somewhat finely ground. Sweetened coconut won't do, because you won't be able to break it down enough even in a food processor.
Smooth or Crunchy Texture
I also experimented a bit with the ingredient amounts. I found that you get a smoother cookie through and through if you use two cups of the coconut, but if you want a more crunchy, textured surface, you need to add a little more, perhaps another 1/4 cup of coconut to the mixture.
How to Store Macaroons
Store your macaroons in an airtight container between layers of wax paper. At room temperature, they'll keep for about a week.
You can also freeze macaroons. Wrap them well in aluminum foil, then transfer them to a plastic freezer bag or another container. They'll keep for at least month or more. To thaw, unwrap and let them sit on the counter for a few hours.
Try These Other Favorite Coconut Recipes!
Updated December 10, 2018 : We spiffed up this post to make it sparkle! No changes to the recipe.
Coconut Macaroons Recipe
Print
Under no circumstances can you use reduced fat coconut for this recipe. Even subbing a portion of the coconut with the reduced fat kind will result in a dough that doesn't want to hold together or cookies that are too dry to be good.
If you want a more smooth cookie surface, use 2 cups. If you want a crunchy cookie surface with lots of crevasses, use 2 1/4 cups.
Ingredients
1/3 cup (60g) egg whites (from 2 extra large eggs, or a teaspoon and a half less than what you can get from 3 large eggs)
3/4 cup sugar (5 1/2 oz, 150g)
2 to 2 1/4 cups medium grate unsweetened coconut (5.5 to 6.17 oz, 150-175g)
5 teaspoons smooth, unsweetened applesauce (regular or baby food)
Method
1 Heat oven to 425°F. Line a baking sheet with parchment or silicone mat.
2 Pulse the coconut: Place the unsweetened coconut in a food processor. Pulse for 60 seconds.
3 Heat and mix ingredients: Combine the egg whites, sugar, coconut, and applesauce in a medium-sized, thick-bottomed saucepan.
Mix well and heat on medium low heat, stirring frequently, until the ingredients are well incorporated, and the mixture forms a smooth paste and is warm to the touch (about 120°F).
If the mixture seems too dry or stiff to pipe through a piping bag, add a little more applesauce. If the mixture seems too wet, add a little more coconut.
4 Pipe mounds onto baking sheet: Place warm mixture into a pastry bag and pipe tall mounds onto a baking sheet, about an inch and a half apart from each other.
Alternatively, form mounds with a 1 tablespoon sized scoop.
Let the formed cookies dry out for about 15 minutes before baking.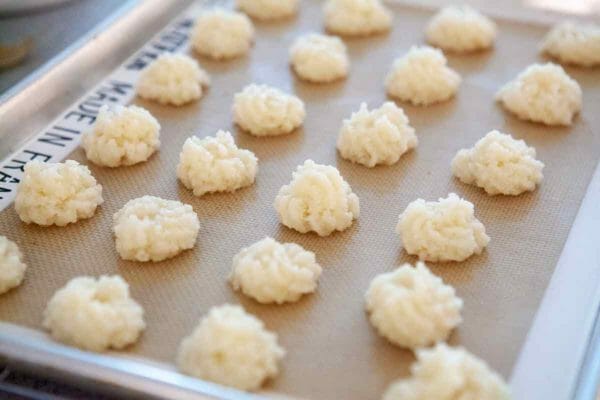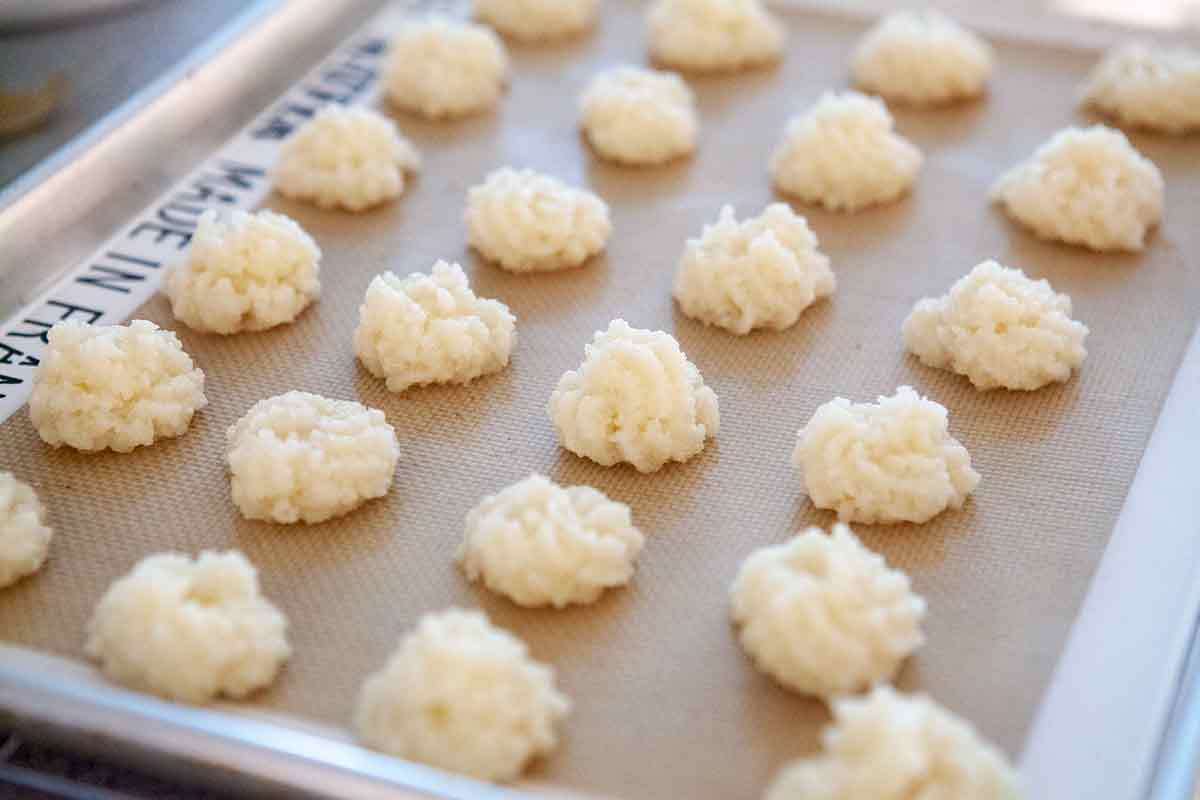 5 Bake: Bake the cookies until they start to get color on the edges where the cookie meets the pan, 5 to 7 minutes.
6 Cool: Let cool on the pan for a couple minutes, then carefully lift the pan liner with the cookies off the pan and place on a rack. The cookies will firm up as they cool. Once cool, remove from the pan liner.
Store in a covered box for up to 5 days at room temperature.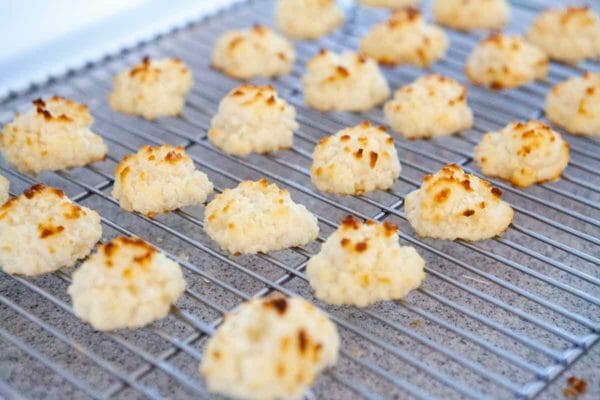 Hello! All photos and content are copyright protected. Please do not use our photos without prior written permission. If you wish to republish this recipe, please rewrite the recipe in your own unique words and link back to Coconut Macaroons on Simply Recipes. Thank you!
Print
This post may contain links to Amazon or other partners; your purchases via these links can benefit Simply Recipes. Read more about our affiliate linking policy.