Chorizo-Stuffed Sweet Potatoes
Check out these Chorizo-Stuffed Sweet Potatoes! That's right: Russets aren't the only potatoes worth stuffing! Here, we're stuffing roasted sweet potatoes with a mixture of spicy chorizo, tangy cotija cheese, peppers, and onions.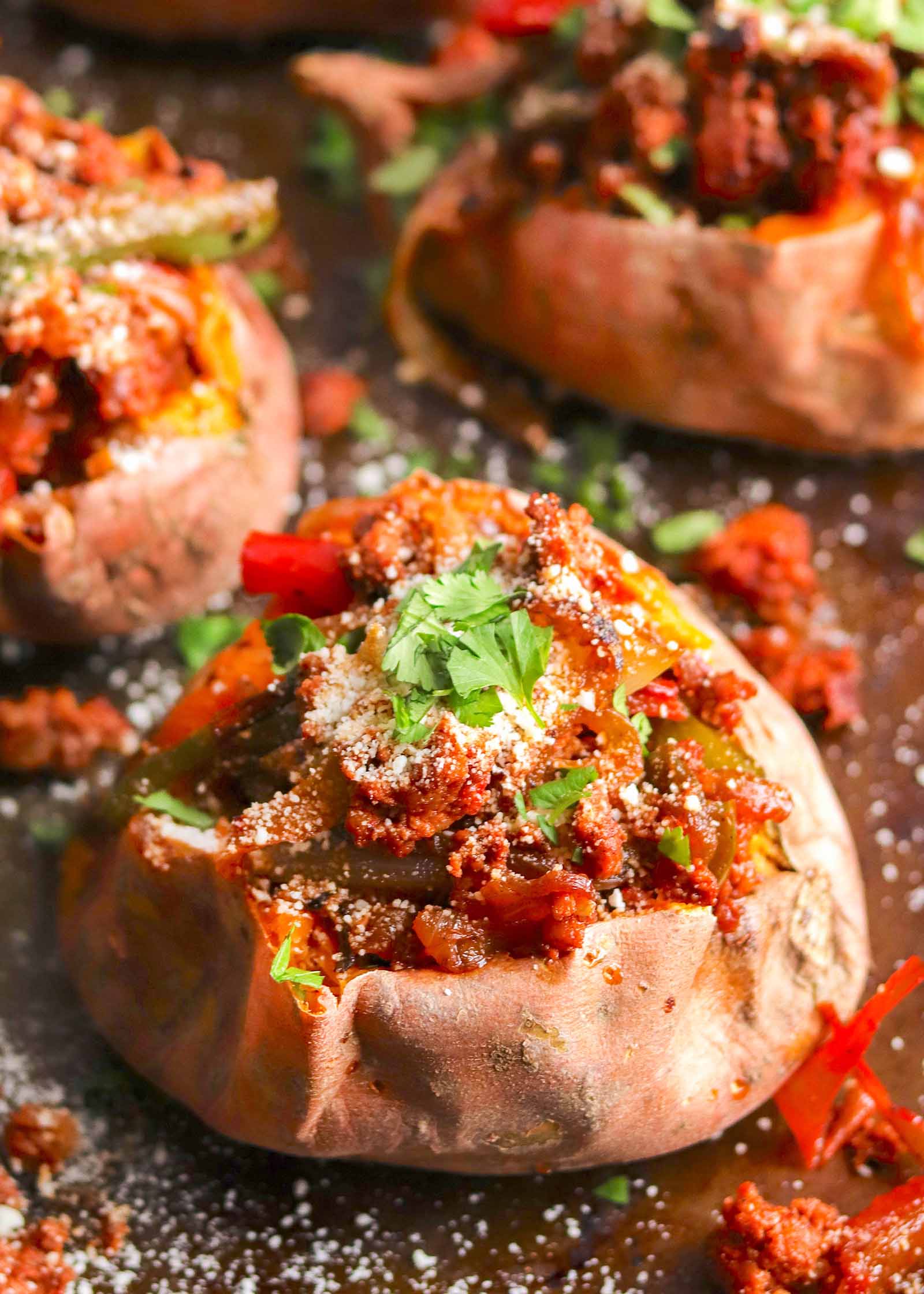 Photography Credit: Aaron Hutcherson
I love sweet potatoes. The natural sweetness is an inherent draw, and they lend themselves to so many different preparations. I feel like I could eat some iteration of them every week and still clamor for more.
My go-to method for preparing sweet potatoes is to chop them up, toss them in oil and spices—such as garlic powder, paprika, cumin, or chili powder—and roast on high heat.
Though they turn out delicious every time, sometimes I want to switch it up. Enter this recipe for Chorizo-Stuffed Sweet Potatoes.

A NEW SWEET POTATO RECIPE FOR DINNER
With this recipe, whole sweet potatoes get baked and then stuffed with a chorizo mixture for an update on the classic bacon-and-cheese stuffed baked potato, if you will.
The natural sugar in the sweet potatoes goes great with the spice from the chorizo, the salt from the cheese, and the fresh herbaceousness from the cilantro.
For those unfamiliar with Cotija cheese, it's a salty, crumbly cow's milk cheese originally from Mexico. It should be with the other cheeses in your grocery store cheese case, but if you can't find it then Parmesan is a suitable alternative. (Some call Cotija the "Parmesan of Mexico.")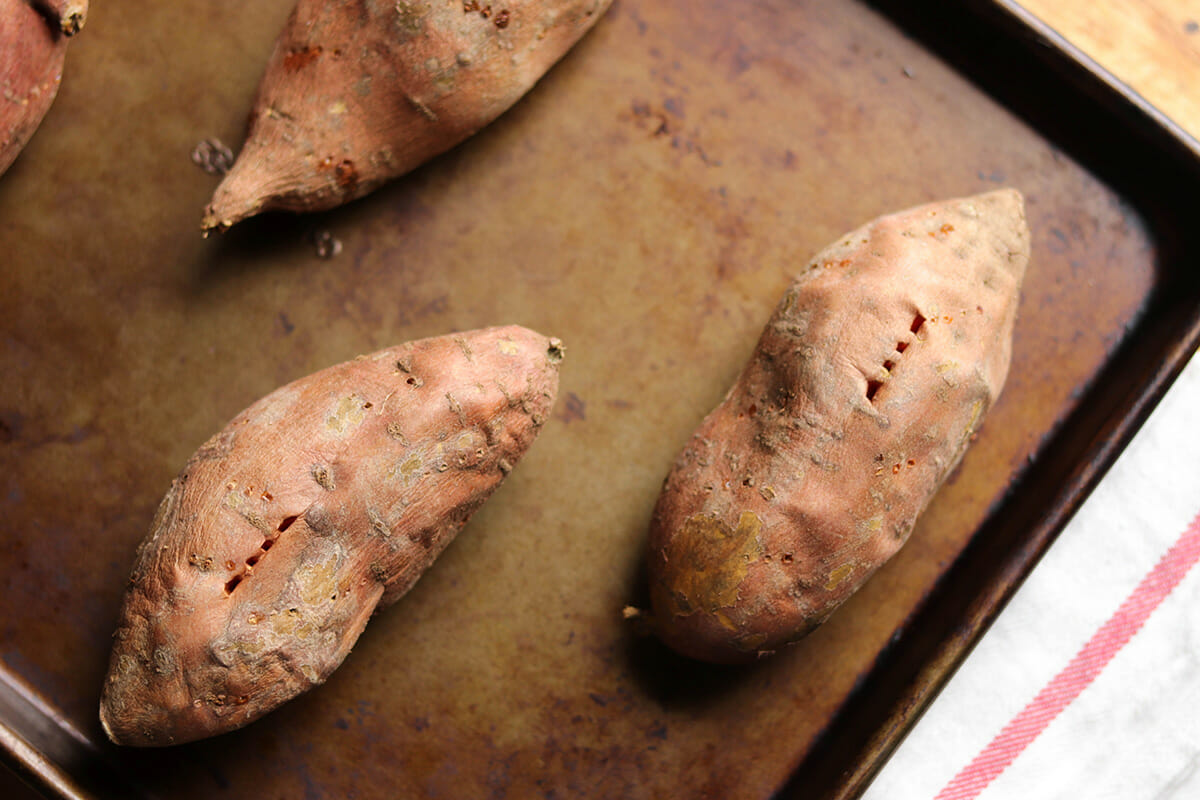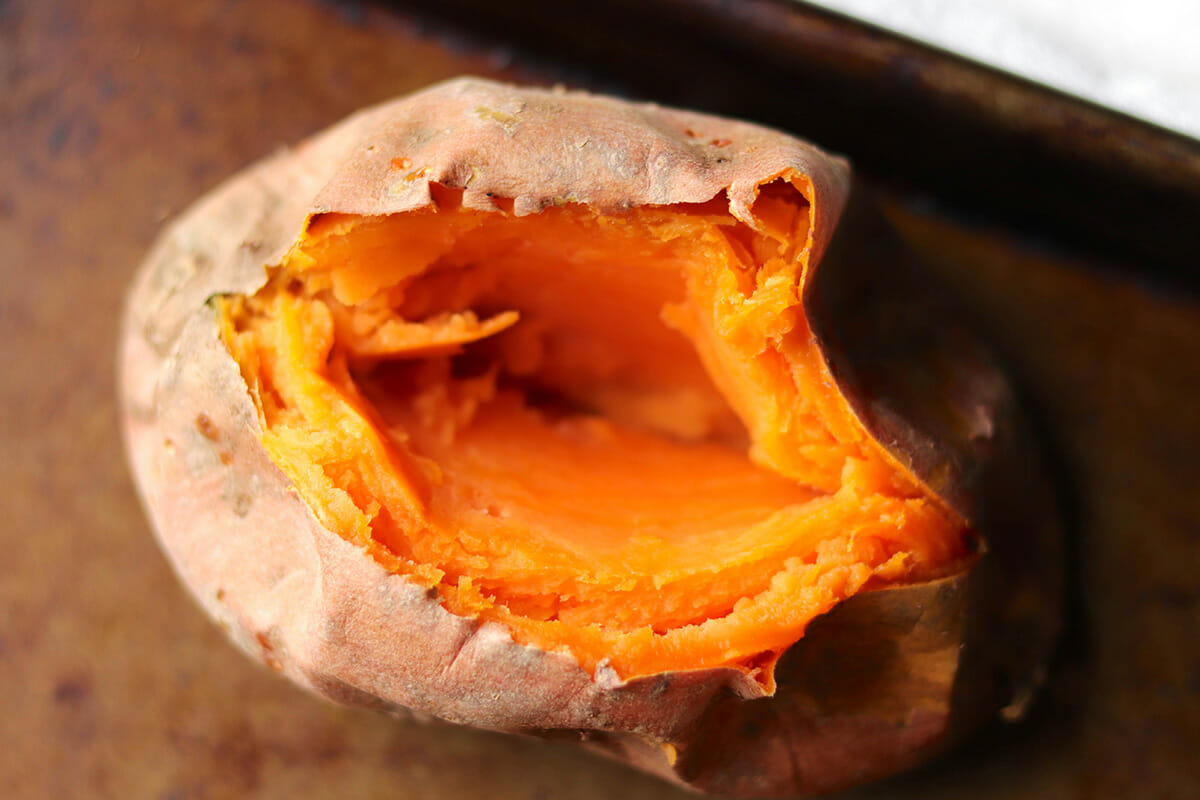 HOW TO BAKE SWEET POTATOES
This recipe is very straightforward. The main thing to account for is the time it takes to bake the sweet potatoes.
To bake the potatoes, you first want to be sure to clean the outsides well to remove any dirt. (A vegetable brush is great if you have one, but your hands will work fine.) Next you'll want to poke it a few times all over with a fork so they don't explode once they're exposed to the heat of the oven.
When it comes to oven temp, I recommend at least 400˚F for sweet potatoes. At this heat, the potatoes take about an hour to cook through, though you can increase the temp by 25 to 50 degrees to shave off a few minutes.
And for those who want a crispy skin to eat, rub the potatoes with some oil and sprinkle with a little salt before placing in the oven.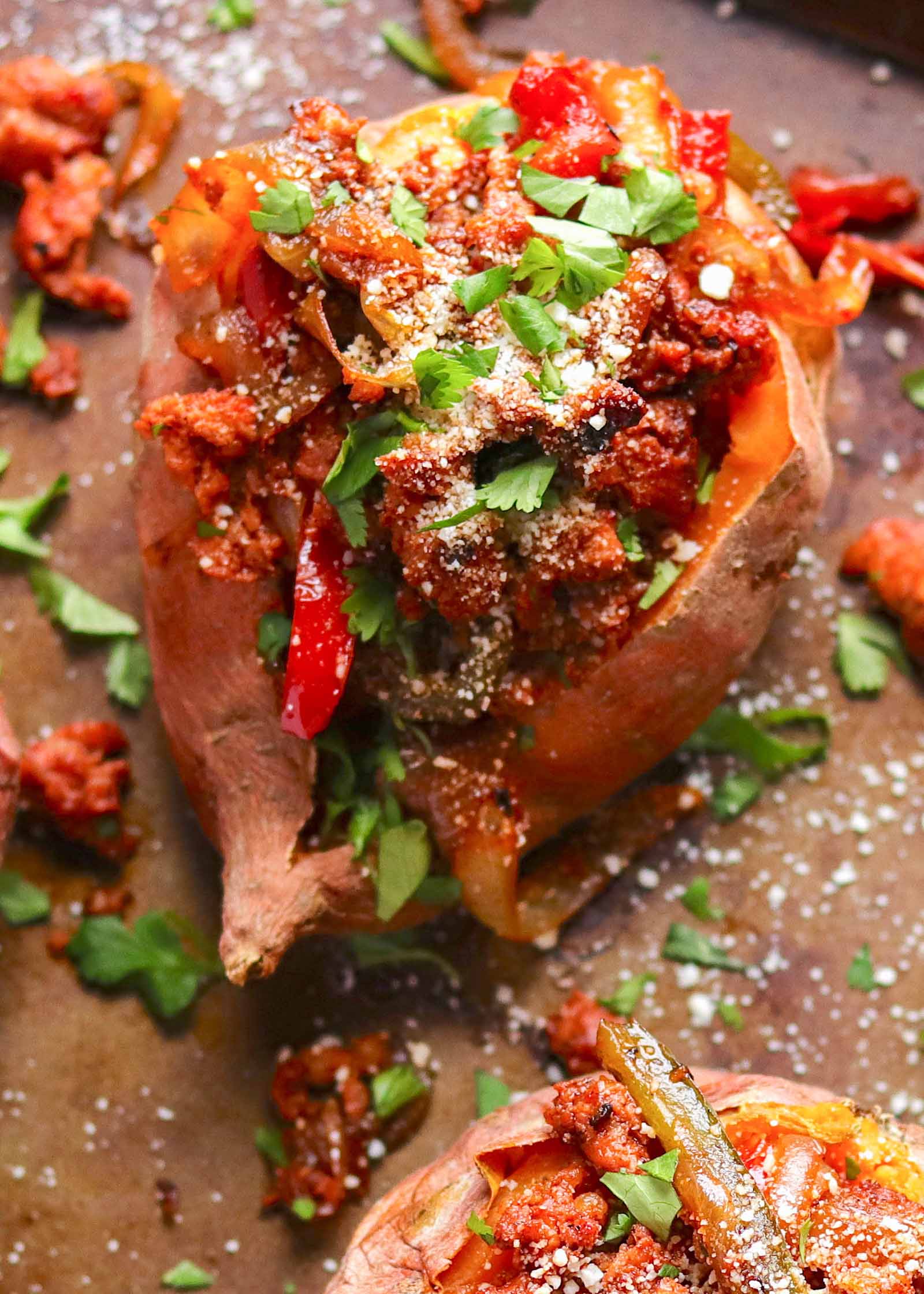 MAKE-AHEAD INGREDIENTS FOR STUFFED SWEET POTATOES
The roasted sweet potatoes and the chorizo mixture can both be made ahead and reheated in the microwave. It can also serve as a quick weeknight meal if the sweet potatoes are already baked.
This dish makes a great meal on its own, and, speaking from experience, any leftovers can easily become a satisfying lunch the next day.
MORE BEST SWEET POTATO RECIPES
Chorizo-Stuffed Sweet Potatoes Recipe
Print
Ingredients
4 medium sweet potatoes
2 tablespoons vegetable oil
2 green or red bell peppers, sliced
1 medium yellow onion, sliced
1 1/2 teaspoons kosher salt
1/2 teaspoon chili powder
1 (14-ounce) package fresh chorizo, casings removed
Cotija cheese, for sprinkling, to taste
Chopped cilantro, for sprinkling, to taste
Method
1 Bake the sweet potatoes: Preheat oven to 400˚F. Thoroughly wash the potatoes under running water, making sure to get off any dirt. Pierce the potatoes all over with a fork and arrange them on a baking sheet.
Bake until soft and a fork easily reaches the middle of the potato, about 1 hour depending on the size of the potatoes.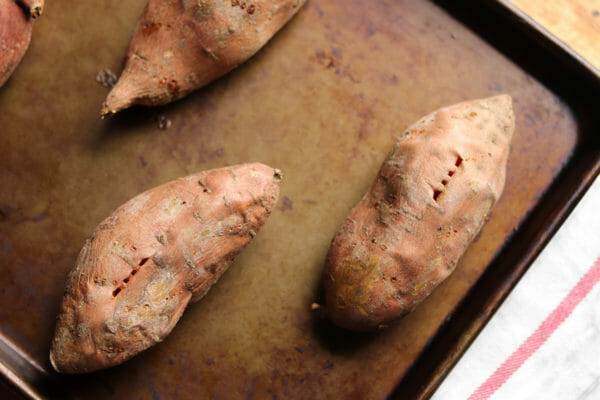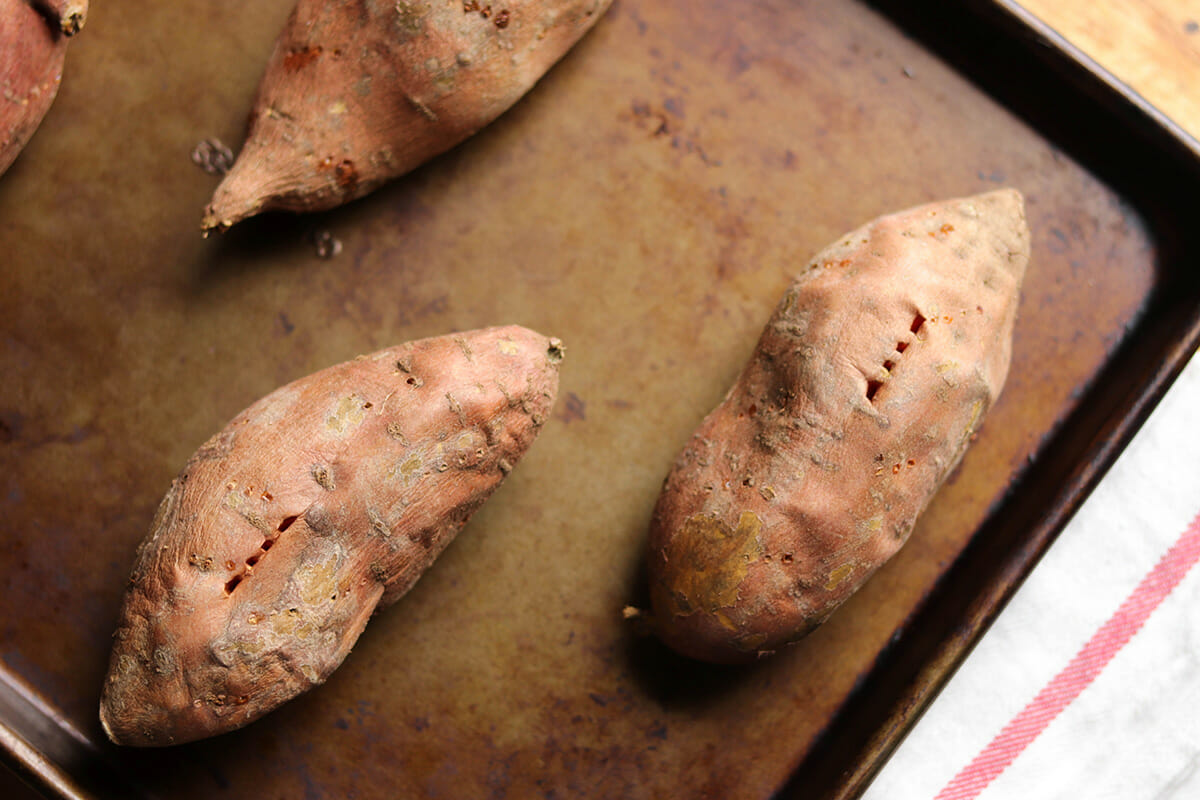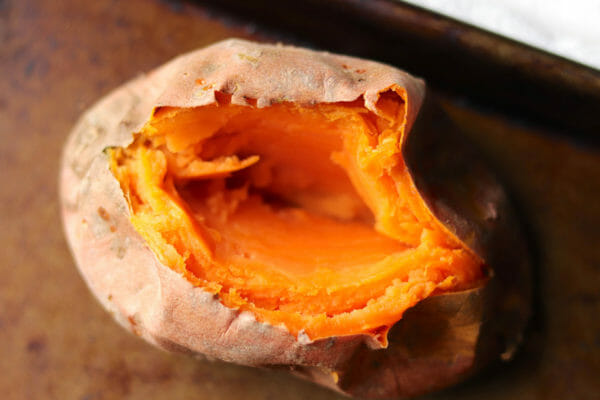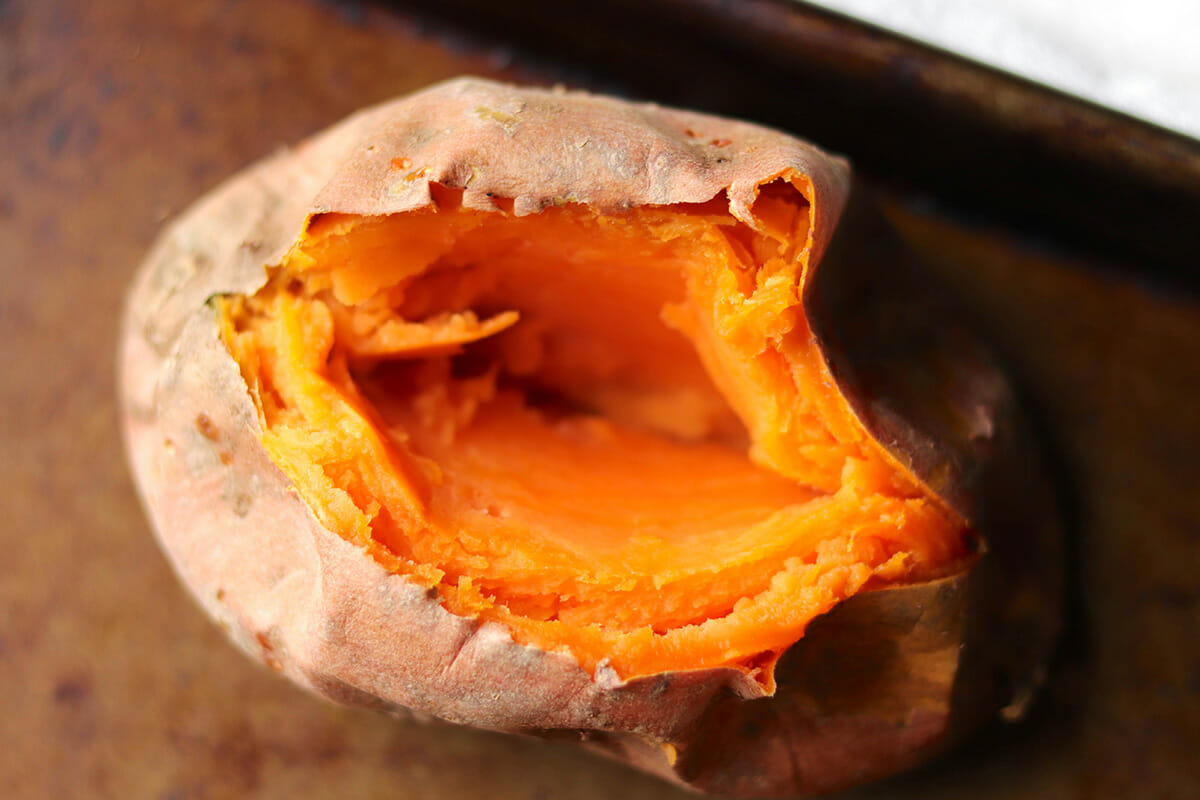 2 Make the chorizo filling: Heat the oil in a large skillet over medium heat. Add the peppers, onions, salt, and chili powder and cook until the vegetables are softened, about 15 minutes.
Add the chorizo and cook, breaking up the sausage with a wooden spoon, until fully cooked, about 10 minutes.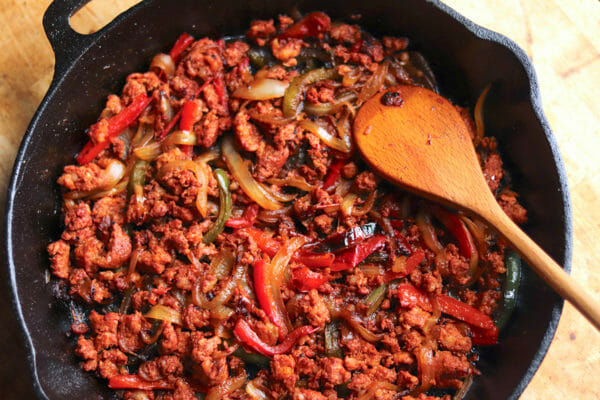 3 Stuff the sweet potatoes: Split each sweet potato down the middle with a knife and push open at the ends to make a pocket. Stuff the sweet potatoes with the chorizo mixture, sprinkle with some cheese and cilantro, and serve.
The leftovers will keep for a few days, covered, in the refrigerator.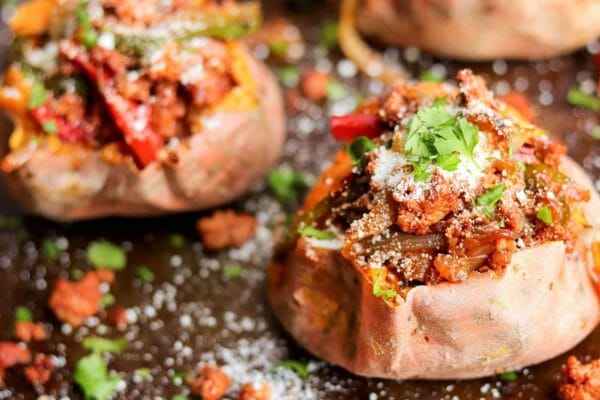 Hello! All photos and content are copyright protected. Please do not use our photos without prior written permission. If you wish to republish this recipe, please rewrite the recipe in your own unique words and link back to Chorizo-Stuffed Sweet Potatoes on Simply Recipes. Thank you!
Print
Products We Love
This post may contain links to Amazon or other partners; your purchases via these links can benefit Simply Recipes. Read more about our affiliate linking policy.