Creamy Polenta with White Beans and Roasted Broccoli
White beans and nutritional yeast give this polenta a creamy and cheesy taste, without the dairy. Add some roasted broccoli and a drizzle of chili oil, and you've got an easy, filling meat-free dinner!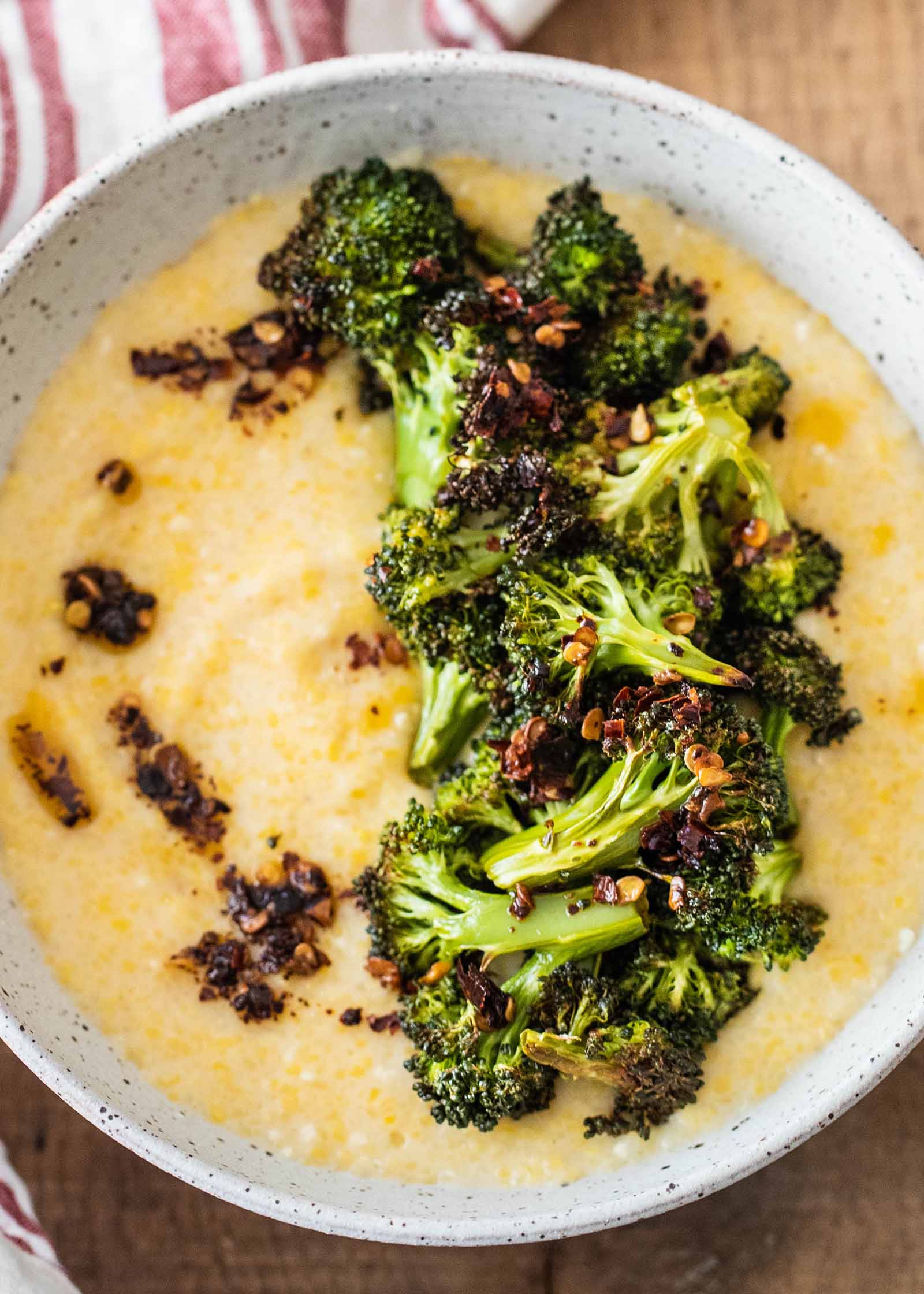 Photography Credit: Erin Alderson
The cooler months always bring the comfort food out in full force. Pasta and casseroles are usually the big hit in my family. But for me, it's all about the creamy polenta. During fall and winter, I've been known to eat a bowl that consists only of creamy, cheesy polenta.
Occasionally, I add vegetables, but the comfort food really is in the polenta base. In my book, there's nothing quite as satisfying.
HOW TO MAKE CREAMY VEGAN POLENTA
Of course, if you're looking to make creamy polenta and you're vegan, some items have to change. Cheese is out of the question. You could use vegan butter and cheeses, but I rarely have those items on hand since I don't always cook vegan.
So I turn to one of my favorite vegan combinations: beans and nutritional yeast.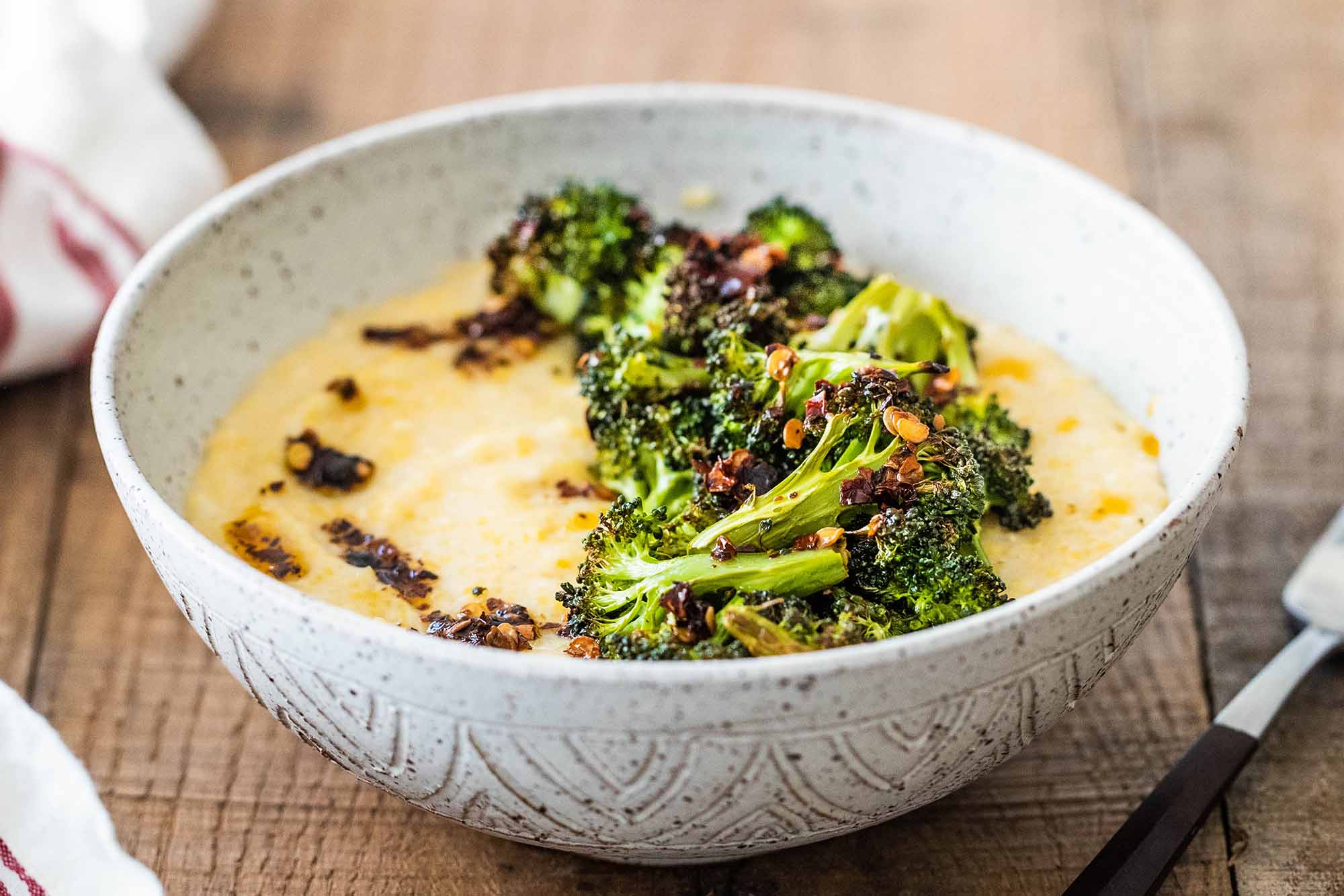 What Is Nutritional Yeast?
Nutritional yeast is amazing primarily for its nutty, cheese-like flavor. It is often used in vegan cooking because of its flavor profile and nutritional benefits.
Nutritional yeast is yeast that has been deactivated (unlike baker's yeast, which is still active). While it's not a 1:1 substitute for cheese, the flavor profile is similar enough that it passes. Think of it as similar to grated Parmesan.
Nutritional yeast is great to use as a popcorn topping or in vegan cheese-like recipes, like mac and cheese. You can find it in the health food section or the bulk bins of most gourmet grocery stores, such as Whole Foods, or you can buy it online.
Beans Make Polenta Creamy!
As for the beans, I love the protein boost they give the polenta base. White beans are great because their texture purees into a smooth cream-like texture that blends perfectly into the polenta. All it takes is a solid whiz in a blender with a bit of olive oil.
And of course, if you're not vegan, you're welcome to add cheese or butter to your polenta! Here's the recipe for how to make basic creamy polenta.

WHAT TO SERVE ON TOP OF POLENTA
This polenta is great with most of the veggies in the brassicas family. Roast up broccoli florets, as I've done here, or swap in cauliflower or Brussels sprouts. These all make great additions to the polenta bowl.
I also like to add a drizzle of chili oil over the whole bowl. It's easy to bring together—it's a simple infusion of olive oil and chili flakes over low heat. This chili oil is also great as a topping for grain bowls, pizza, and morning eggs—really, any place where you might use traditional hot sauce. However, if you don't want to go through the trouble of making it, just drizzle the oil and sprinkle the chili flakes on top.
MORE WAYS TO ENJOY POLENTA!
Creamy Polenta with White Beans and Roasted Broccoli Recipe
Print
Ingredients
For the polenta:
2 cups water
3/4 teaspoon salt
1/2 cup yellow polenta
For the roasted broccoli:
4 cups chopped broccoli
2 tablespoons olive oil
1/2 teaspoon sea salt
For the white beans:
1 cup white beans, homemade or canned, drained and rinsed
3 tablespoons olive oil
1 tablespoon nutritional yeast
1 teaspoon garlic powder
1/4 teaspoon onion powder
Pinch of salt
For the chili oil:
1/4 cup olive oil
2 teaspoons chili flakes
Method
1 Make the polenta: Bring the water and salt for the polenta to a boil over medium heat in a 2-quart saucepan. Once it's boiling, add the polenta and whisk until the polenta is fully incorporated.
Lower the heat (as low as it can go) and cook the polenta for 20 to 25 minutes, stirring every 5 to 10 minutes with a whisk to break up any clumps.
2 Roast the broccoli: Heat your oven to 425˚F. Arrange the chopped broccoli on a rimmed baking sheet and toss with the 2 tablespoons of olive oil and salt. Roast until the broccoli is tender and beginning to char, about 15 to 20 minutes.
3  Make the bean puree: While the polenta and broccoli are cooking, combine the drained beans with the olive oil, nutritional yeast, garlic powder, onion powder, and salt in the bowl of a food processor or in a high speed blender. Puree until smooth, adding a few tablespoons of water as needed to help smooth it out.
When the polenta is done cooking, stir the bean puree into the polenta.
4 Make the chili oil: Heat the oil in a small skillet. Add the chili flakes, remove from the heat, and let it rest until ready to serve. (You can make this ahead of time!)
5 Assemble the bowls: Divide the polenta among four bowls. Top with the broccoli and a drizzle of the chili oil.
Hello! All photos and content are copyright protected. Please do not use our photos without prior written permission. If you wish to republish this recipe, please rewrite the recipe in your own unique words and link back to Creamy Polenta with White Beans and Roasted Broccoli on Simply Recipes. Thank you!
Print
Products We Love
This post may contain links to Amazon or other partners; your purchases via these links can benefit Simply Recipes. Read more about our affiliate linking policy.