Gazpacho with Avocado and Corn
Gazpacho is meant for hot summer nights when turing on the stove is a chore. Add avocado and corn for a more complete meal! Gazpacho needs to be made ahead and chilled, but that also means you have lunch or dinner right in the fridge, ready whenever you are.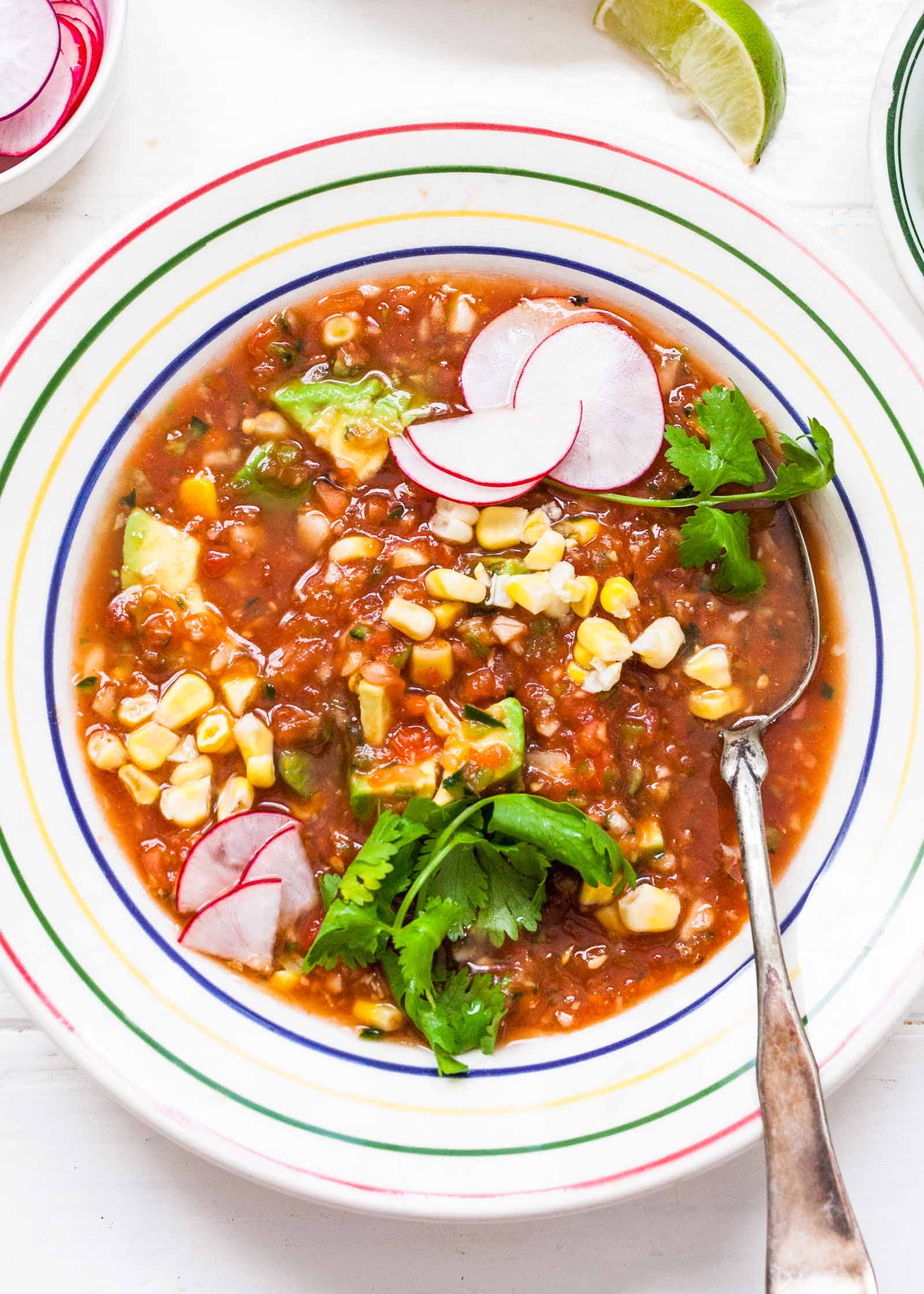 Photography Credit: Sally Vargas
Soup? Or salad? You can have both in this easy gazpacho made with tomatoes, cucumbers, peppers, and tomato juice, spiced with sherry vinegar and hot sauce.
When it's corn and tomato season, you really can't beat this cold soup for a refreshing pick-me-up, day or night. Add creamy diced avocados to make this a filling meal.

What is Gazpacho?
Traditional Spanish gazpacho was probably originally made on the spot in the field by farm workers using bread, olive oil, vinegar, garlic and water. And, of course, tomatoes.
It has evolved and spawned numerous versions. However you make it, you will want to make it and eat it until the last tomato of summer drops from the vine.
What are the ingredients for this gazpacho?
 I originally learned this version of gazpacho from my chef-mentor Eugene Bernard, and have tweaked it over the years. But the base remains the same: chopped tomatoes, cucumbers and poblano peppers with a perky, vinegary kick from some sherry vinegar. Tomato juice thins it out for happy slurping — use your favorite store-brought tomato juice or make your own.

Make-Ahead Gazpacho!
You can also make and keep this gazpacho in the refrigerator for up to a week. (The acid in the soup keeps the avocado from browning—just in case you were wondering.)
I make a lot, whether it is just for my husband and myself, or for a crowd. I love having plenty of it in the fridge on hot days when nothing much else appeals to me.
To Quickly Chill Gazpacho, Add Ice
To hasten the chilling process if necessary, you can stir a few ice cubes into the soup just before serving and remove them before you ladle it into bowls.
To take the gazpacho on a picnic (brilliant!), put a few ice cubes into jam jars and pour the soup into the jars. Pop them in the cooler with your sandwiches and sip it while you watch the ocean waves roll in.
More Chilled Summer Soups!
Gazpacho with Avocado and Corn Recipe
Print
Poblano peppers can be hot(ish) or mild, so taste first before adding them to the soup. You can substitute sweet red, yellow or green peppers if you can't find or don't want to use poblanos.
Ingredients
4 ripe summer tomatoes, about 2 pounds, cored and cut into 1-inch chunks
1 large cucumber, peeled, seeded, and cut into 1-inch chunks
2 medium poblano peppers, seeded and cut into 1-inch chunks
1/3 cup sliced scallions
3 cups tomato juice, store-bought or homemade
2 tablespoons sherry vinegar
1 teaspoon salt
1/4 teaspoon freshly ground black pepper
1 1/4 teaspoons Tabasco or hot sauce (or more), to taste
2 cups cooked corn kernels
2 ripe avocadoes, peeled and cut into small dice
1/2 cup packed cilantro leaves
8 radishes, thinly sliced (for garnish)
2 limes, quartered (for garnish)
Method
1 Pulse the tomatoes, cucumbers and peppers: Combine the tomatoes, cucumbers, peppers and scallions in the bowl of a food processor.
In batches, pulse in a series of short bursts, or until the vegetables are coarsely but evenly chopped, but not finely pureed. Transfer to a large bowl.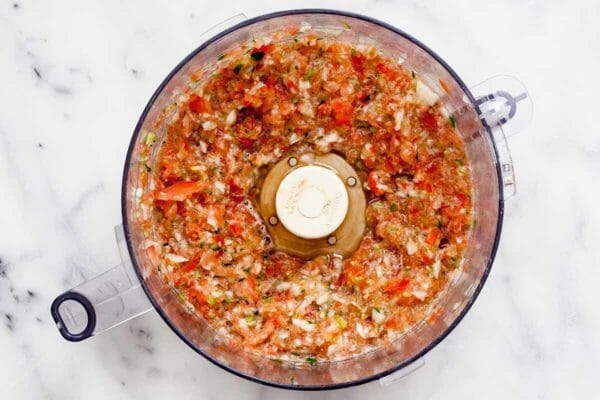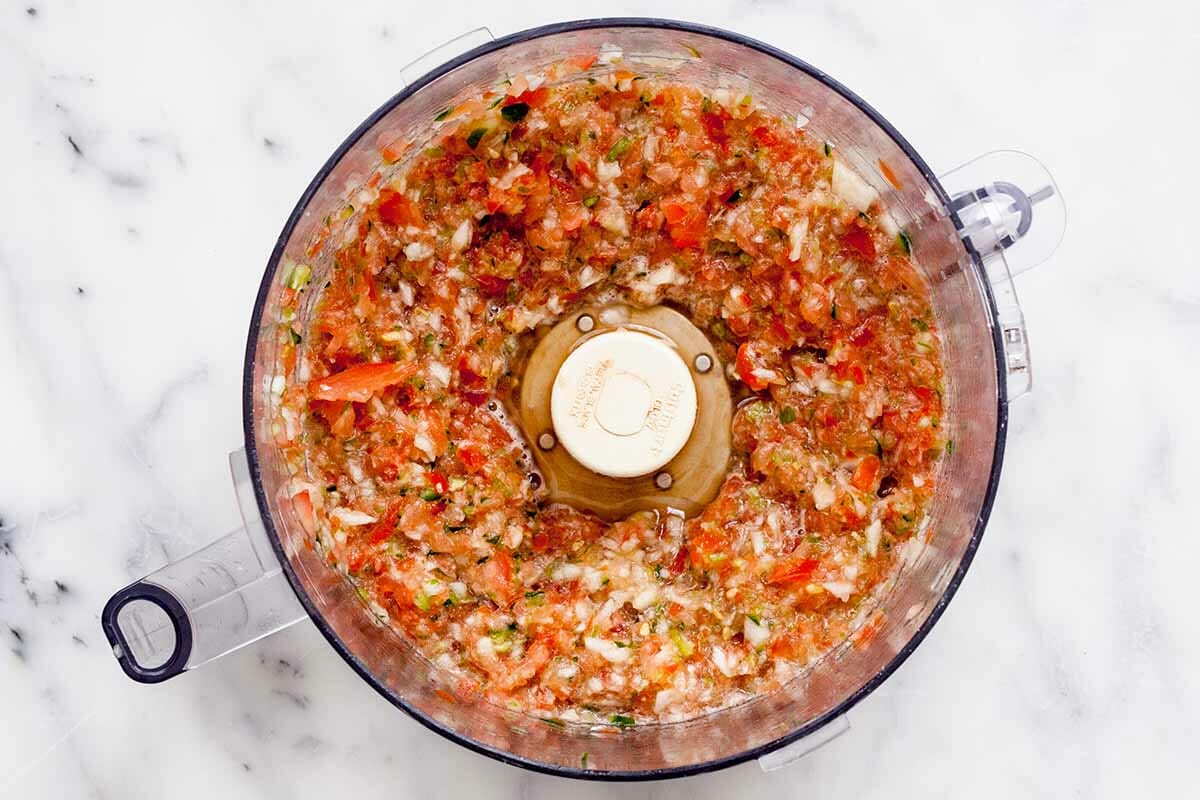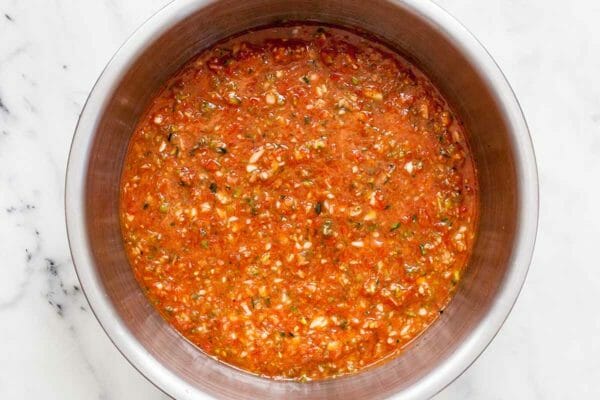 2  Add the remaining ingredients: Stir in the tomato juice, vinegar, salt, pepper, Tabasco, and several grindings of black pepper. Stir in the corn and diced avocado.
Taste and adjust the salt, vinegar and Tabasco sauce to your liking. Refrigerate about two hours, or until cold. (See our tip about quickly cooling gazpacho in the headnotes.)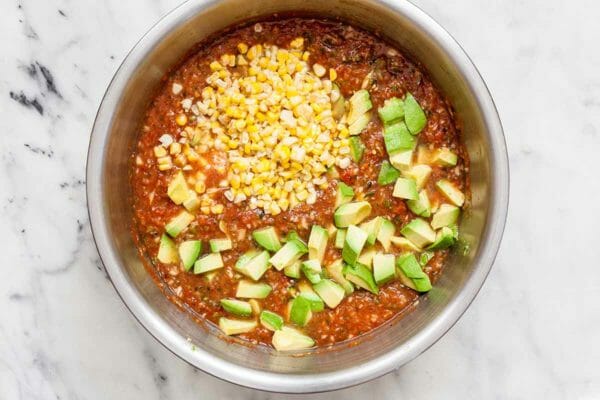 3 Serve the soup: Ladle the soup into bowls and top with cilantro leaves and radishes. Serve with lime wedges. If the soup has thickened in the refrigerator or is not cold enough to your liking, stir in a few ice cubes.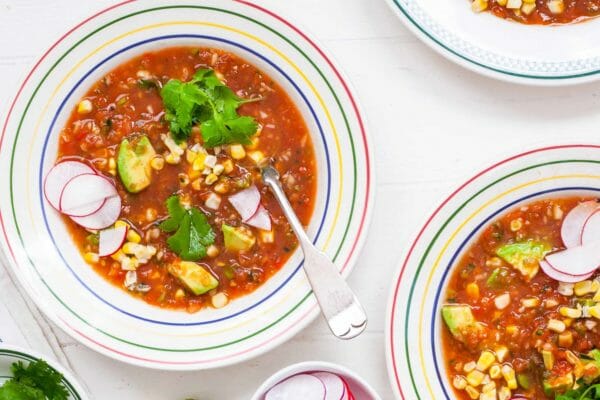 Hello! All photos and content are copyright protected. Please do not use our photos without prior written permission. If you wish to republish this recipe, please rewrite the recipe in your own unique words and link back to Gazpacho with Avocado and Corn on Simply Recipes. Thank you!
Print
Products We Love
This post may contain links to Amazon or other partners; your purchases via these links can benefit Simply Recipes. Read more about our affiliate linking policy.