Minestrone soup is an Italian classic! This version is made with cannellini beans, chicken stock, cabbage, potato, zucchini, carrots, plum tomatoes, and Parmesan cheese.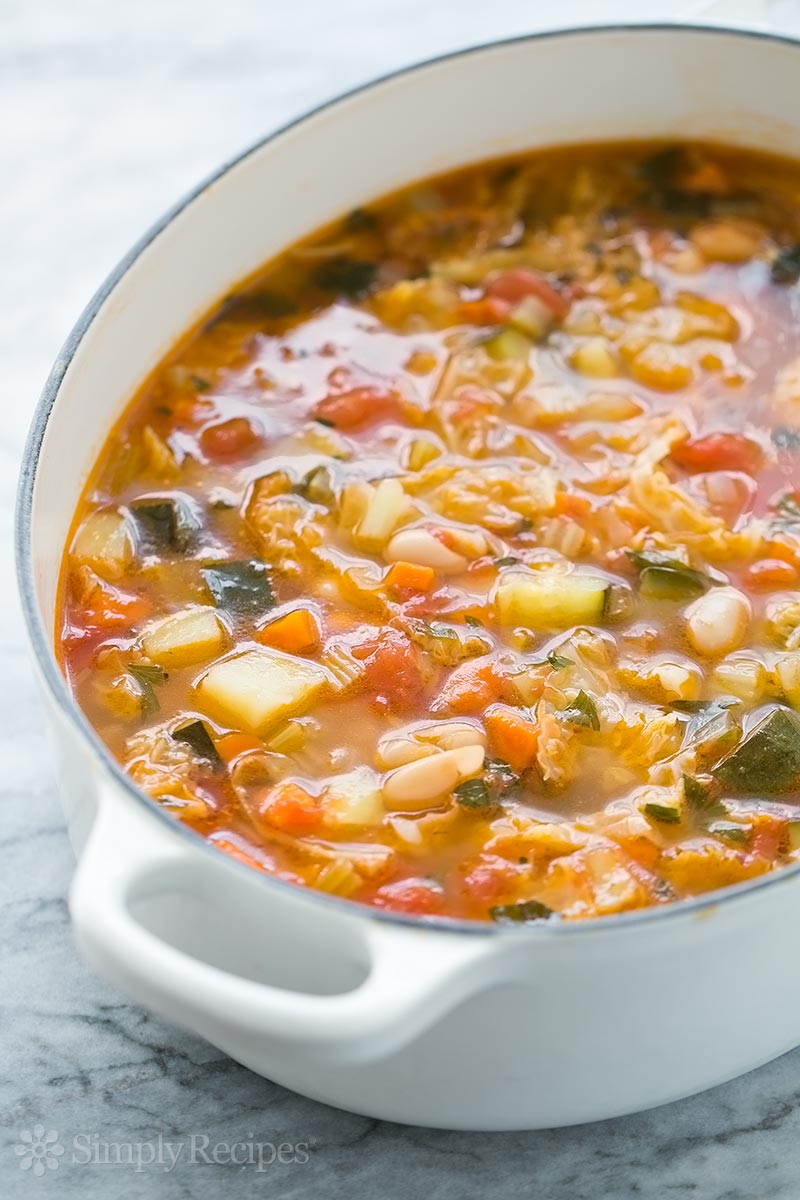 Photography Credit: Elise Bauer
Do you love minestrone? This favorite Italian soup is made with fresh seasonal vegetables, often with the addition of pasta or rice. Common ingredients include beans, onions, celery, carrots, stock, and tomatoes.
There is no set recipe for minestrone, since it is usually made out of whatever vegetables are in season. It can be vegetarian, contain meat, or contain a meat-based soup base (such as chicken stock).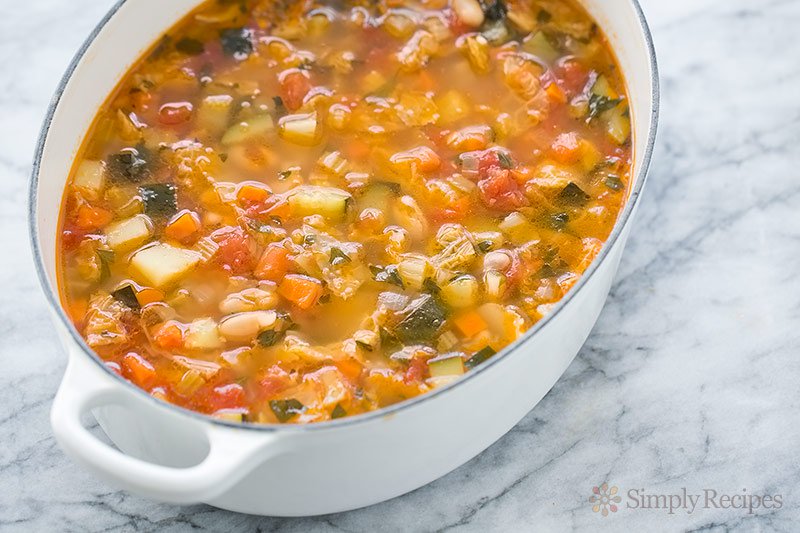 Make this recipe your own!
So, what you put in your minestrone is really up to you. Don't like beans? Leave them out! Love pasta, put some in (we recommend small pasta like ditalini). Minestrone really is all about improvisation.
But where to start? Here is a hearty base minestrone soup recipe, with plenty of white beans, zucchini, cabbage, tomatoes, carrots, celery, and onions. It's one of our favorite soups to make when the weather is cool. Enjoy!

How to Store and Freeze Minestrone
Leftovers of this soup can be refrigerated for about a week and reheated either in the microwave or over low heat on the stove top.
The soup also freezes fairly well, though the vegetables tend to be softer after freezing and reheating. Note that pasta does not freeze well, so if you're planning on adding this, it's best to freeze the soup without the pasta and then add it after thawing and reheating.
Check out our other minestrone recipes!
Watch our video on how to make minestrone soup
Updated January 10, 2019 : We spiffed up this post to make it sparkle! No changes to the recipe itself.
Minestrone Soup Recipe
Print
You can use canned beans (use a good quality brand, I recommend S&W or Bush's) or you can cook dry beans.
If starting with dry beans, soak about 3/4 cup of dry beans overnight in cold water (or pour boiling water over the beans and soak for 1 hour). Drain. Cover with a couple inches of salted water and bring to a boil. Reduce heat and simmer for an hour, or until tender enough to eat. Then drain and use in this recipe as directed.
Ingredients
1/4 cup extra virgin olive oil
3/4 cup chopped onion
3/4 cup chopped carrot
3/4 cup chopped celery
1 Tbsp minced garlic
1 bay leaf
2 sprigs fresh thyme or a teaspoon of dried thyme
1/4 teaspoon fennel seeds, crushed
1 Yukon gold potato, peeled and cut into 3/4-inch chunks
2 cups sliced savoy or curly cabbage
1 zucchini, cut into 3/4-inch chunks
2 medium fresh ripe tomatoes (romas if available), cored, peeled, chopped
6 cups chicken stock (or vegetable stock for vegetarian version)
1 15-ounce can cannellini or great northern white beans, drained (about 1 1/2 cups cooked white beans)
1/4 cup chopped fresh parsley
Salt
Freshly ground black pepper
Parmesan cheese, grated for garnish
Method
1 Sauté onions, carrots, celery, garlic in olive oil: Heat oil in a 4 to 5-quart thick-bottomed pot on medium-high heat. Add the onion, carrot, and celery. Cook until lightly browned, about 8 minutes. Add the garlic and cook a minute more.
2 Add herbs, potato, vegetables, stock: Add the bay leaf, thyme, fennel seeds. Add the potato, cabbage, zucchini, and tomatoes. Add the chicken stock.
3 Simmer until vegetables are cooked through: Bring to a boil and reduce heat to a simmer. Partially cover and simmer for 20 minutes, until the vegetables are tender and cooked through.
4 Add beans, parsley, salt, pepper: Add the beans and parsley to the soup. Season to taste with salt and pepper. Bring to a simmer and cook for 5 more minutes. Remove bay leaf and thyme sprigs.
Serve with a sprinkle of grated Parmesan cheese.
Hello! All photos and content are copyright protected. Please do not use our photos without prior written permission. If you wish to republish this recipe, please rewrite the recipe in your own unique words and link back to Minestrone Soup on Simply Recipes. Thank you!
Print
Products We Love
This post may contain links to Amazon or other partners; your purchases via these links can benefit Simply Recipes. Read more about our affiliate linking policy.