Buffalo Cauliflower Tacos with Ranch Sauce
These Buffalo Cauliflower Tacos are a great meat-free main—all the flavor of buffalo wings, but made with cauliflower! Top these easy tacos with vegan ranch dressing and serve.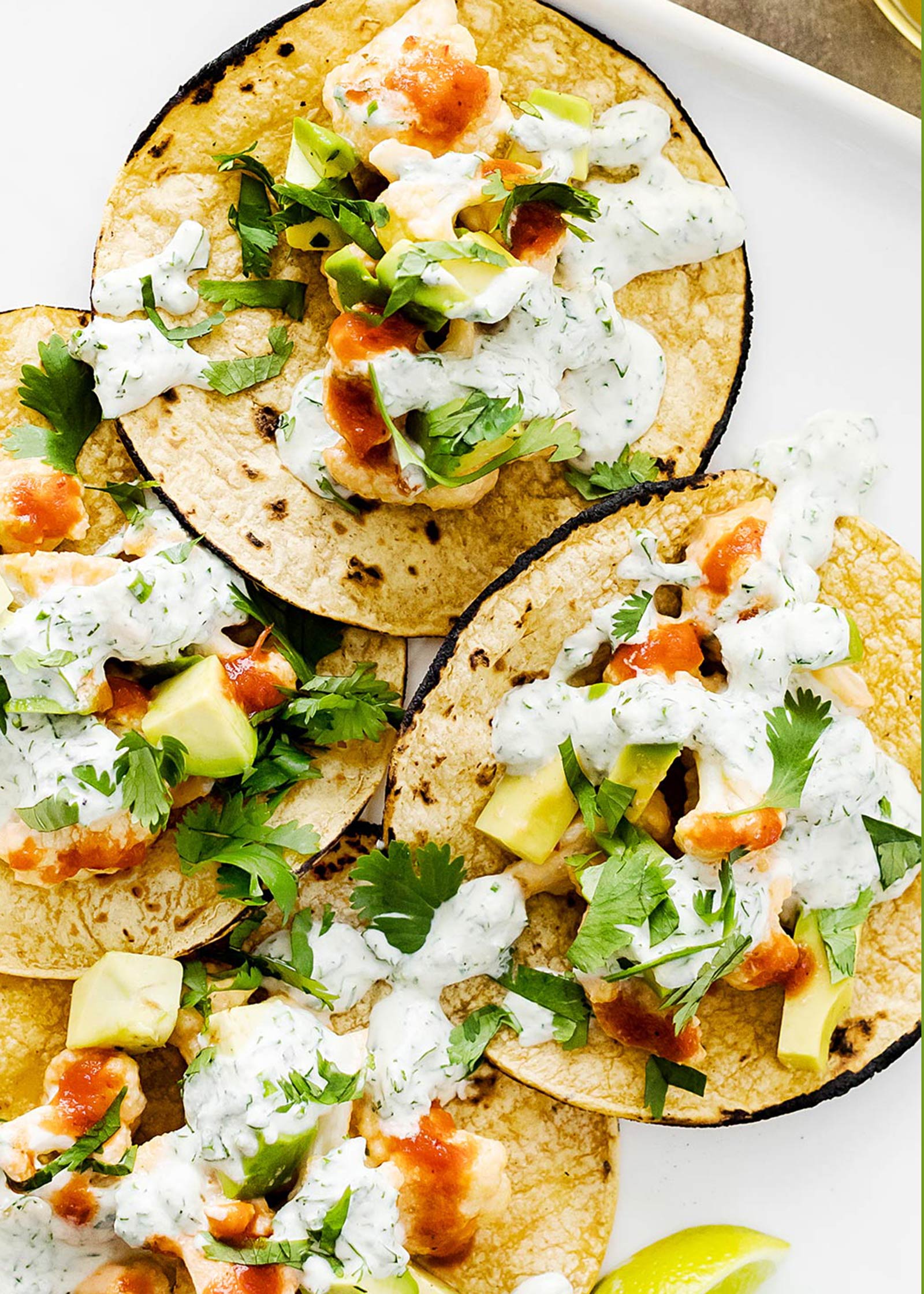 Photography Credit: Erin Alderson
After becoming a vegetarian, there were certain flavors I missed that were primarily meat-based. Certain spice rubs and sauces were only really found paired with meat. One of my favorites: buffalo sauce.
It didn't take long for me to start experimenting with the sauce in vegetarian ways. One of my favorite combinations became buffalo cauliflower.
These buffalo cauliflower tacos are the perfect vegan meal. Pan-frying the cauliflower helps soften the cauliflower just enough to lose the extreme crunch from raw cauliflower. However, the cauliflower still has enough texture that you're not eating a mushy taco!

What's in the buffalo sauce?
One of the main challenges with buffalo sauce and vegan eating is that buffalo sauce is traditionally made with butter and hot sauce. For this recipe, I've taken a simple cashew cream (which also forms the base for the ranch dressing drizzled over top), and used it in place of the butter. The cream helps cut the heat and gives the buffalo sauce a bit more hold on the cauliflower.
How to Make Cashew Ranch Dressing
About 75 percent of my diet is vegan and so I think it's fun to take a favorite vegetarian recipe and make it vegan. For these tacos, I made them vegan with help of an all-purpose cashew cream flavored to mimic classic creamy ranch dressing. For this dish, I use the cream as a replacement for the traditional mayo/buttermilk ranch dressing base and it's a delicious and cooling drizzle to finish these slightly spicy tacos.
Cashew ranch dressing only sounds confusing. It's made from cashew cream, which is super easy to make: just soak cashews in water and a bit of lemon juice. Bonus! It can be made in a large batch and used throughout the week as a salad dressing or dip. Just keep it refrigerated for up to five days in an airtight container.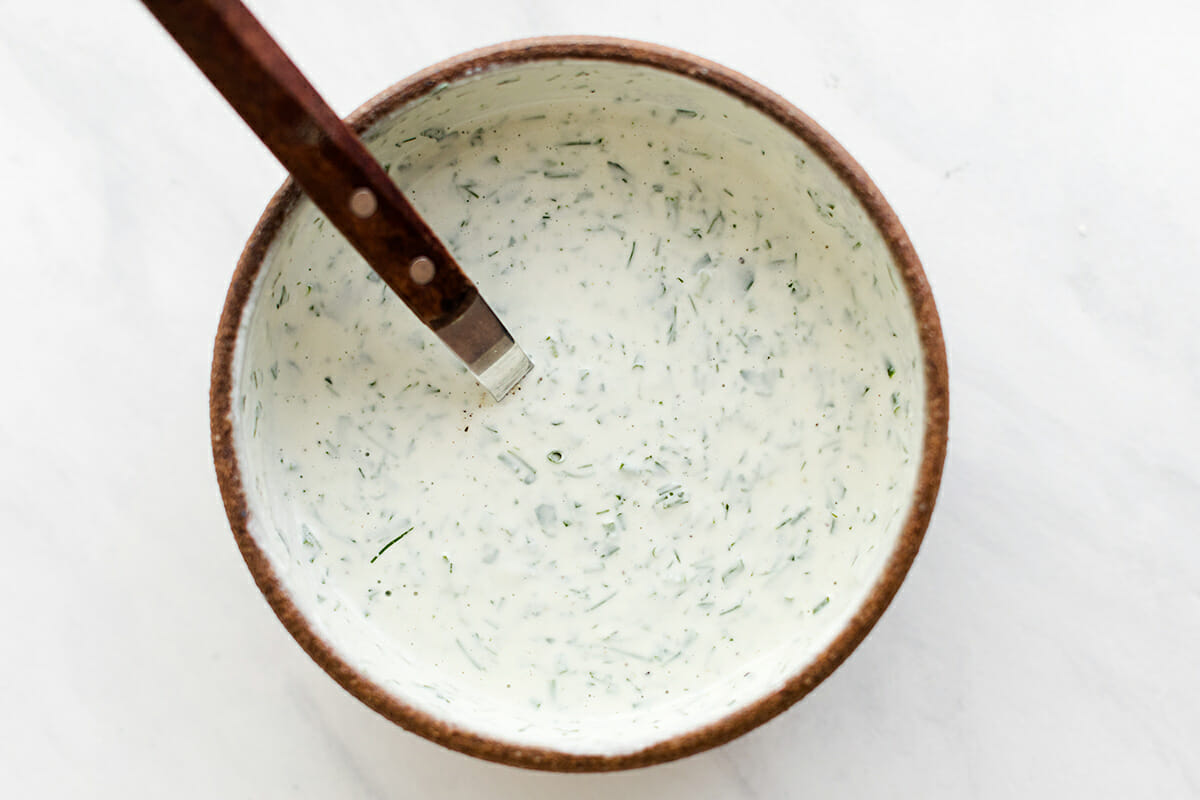 I love using cashew cream as a base instead of the buttermilk/mayo combination because the slightly thicker texture reminds me of store-bought ranch.
The fresh herbs really liven up the sauce. I like to keep cut carrots, cucumbers, and celery available in the fridge—with some cashew ranch on hand, this makes an easy after-work snack!
By the way, cashew cream is worth having around if you or loved ones aren't eating dairy! You can easily incorporate it into other dishes, such as an herb-heavy sauce for pasta, finishing drizzle for grain bowls, or a creamy base for a vegan dip.

Assembling the Buffalo Cauliflower Tacos
The cashew cream does double duty—it gets added to the buffalo sauce, and then serves as a base for the ranch dressing. The pan-fried cauliflower is tossed in the buffalo sauce then finished with a drizzle of the cashew ranch. These tacos benefit from the creaminess of the ranch and the heat of the buffalo sauce.
To round out your meal, consider serving some black beans on the side, such as these Spicy Citrusy Black Beans!
More Meat-Free Mains!
Buffalo Cauliflower Tacos with Ranch Sauce Recipe
Print
This recipe is easily doubled.
Ingredients
For the tacos:
2 cups cauliflower, chopped into bite-size pieces
2 teaspoons neutral oil
Pinch of sea salt
2 tablespoons cashew cream
2 tablespoons Frank's Red Hot Sauce
4 8-inch corn tortillas, warmed
For the cashew ranch sauce:
2 teaspoons minced fresh, flat-leaf parsley
2 teaspoons minced fresh chives
1 teaspoon minced fresh dill
1/4 teaspoon garlic powder
Pinch of salt
Pinch of pepper
1/4 cup cashew cream
For serving:
1/2 avocado, diced
1 tablespoon chopped parsley, to garnish
Method
1 Cook the cauliflower: Heat a skillet over medium heat and add the oil followed by the cauliflower. Cook, stirring frequently, until the cauliflower is tender and starting to brown, 8 to 10 minutes.
2 Add the buffalo sauce: In a small bowl, combine the cashew cream with the hot sauce. Add to the pan with the cooked cauliflower and toss to coat the cauliflower. Add more hot sauce, if desired.
Remove the pan from heat until ready to serve.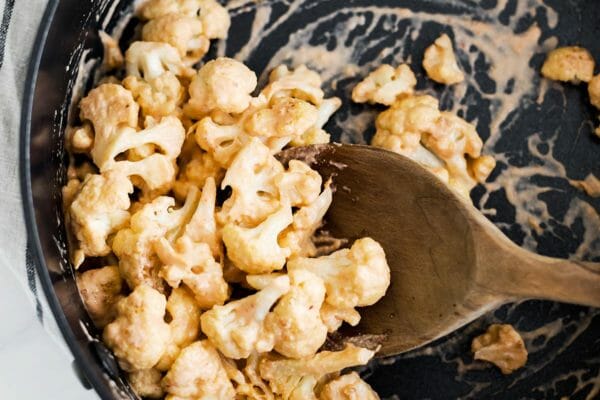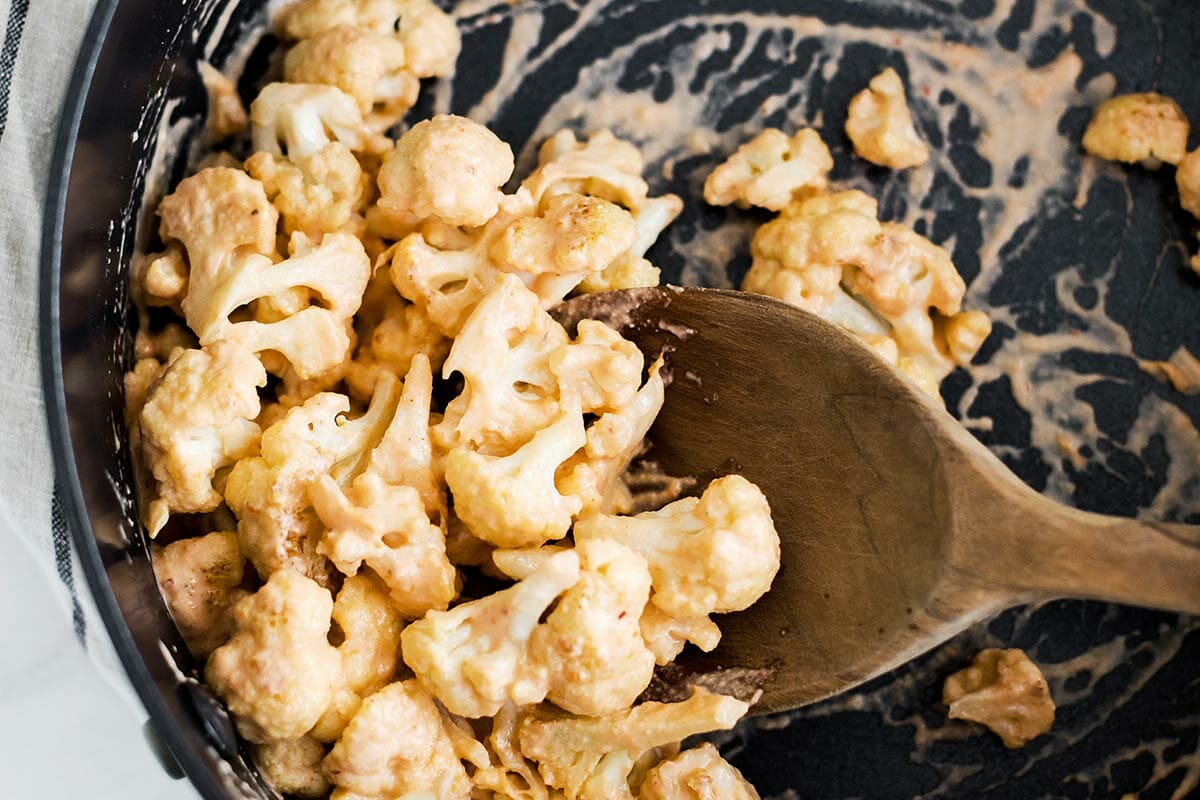 3 Make the cashew ranch: Combine the parsley, chives, dill, garlic powder, salt, pepper, and cashew cream in a bowl. Stir to combine.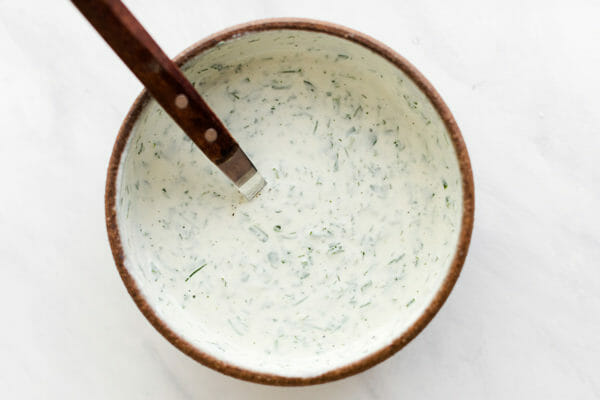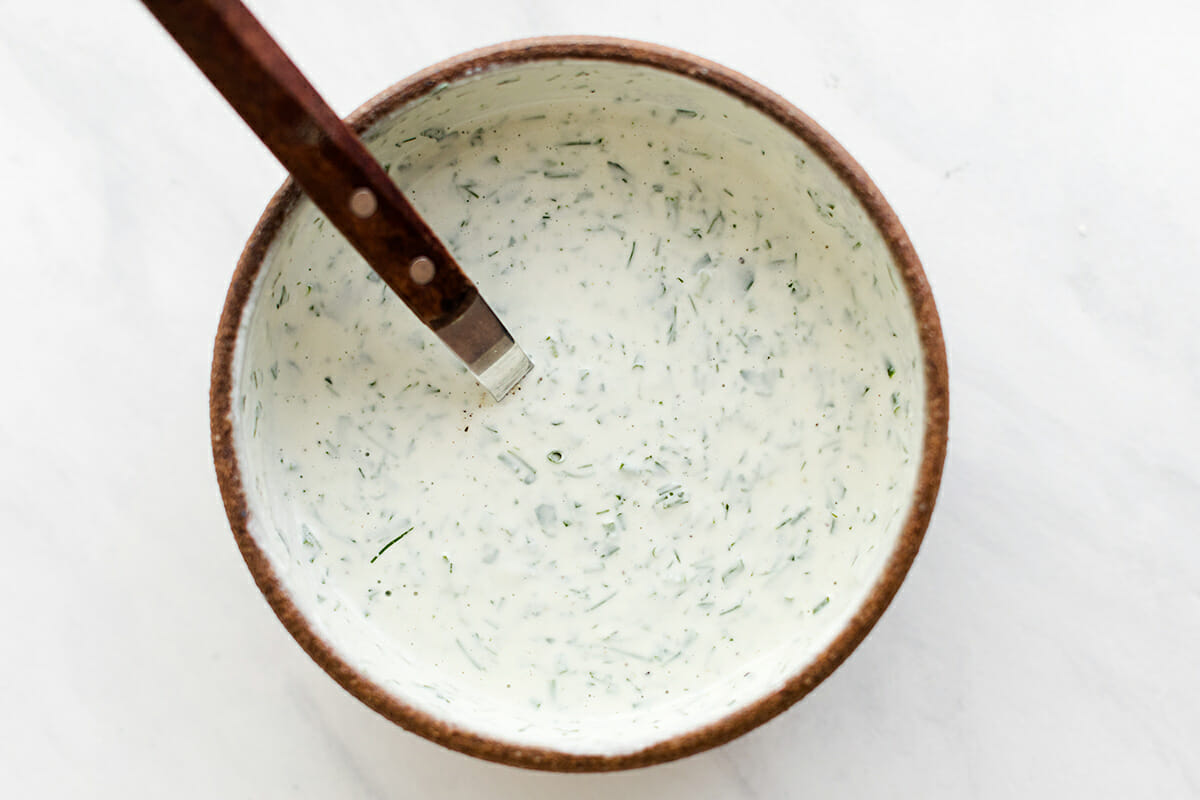 4 Warm the tacos: In a dry skillet over medium-high heat, toast the tortillas one at a time until they are warm and show a few charred spots. Keep warm under a clean kitchen towel.
5 Assemble the tacos: Divide the cooked cauliflower between the tortillas. Top with diced avocado, a drizzle of the cashew ranch, and some chopped parsley.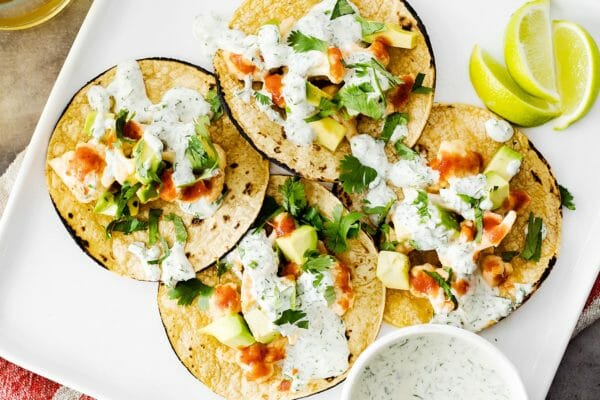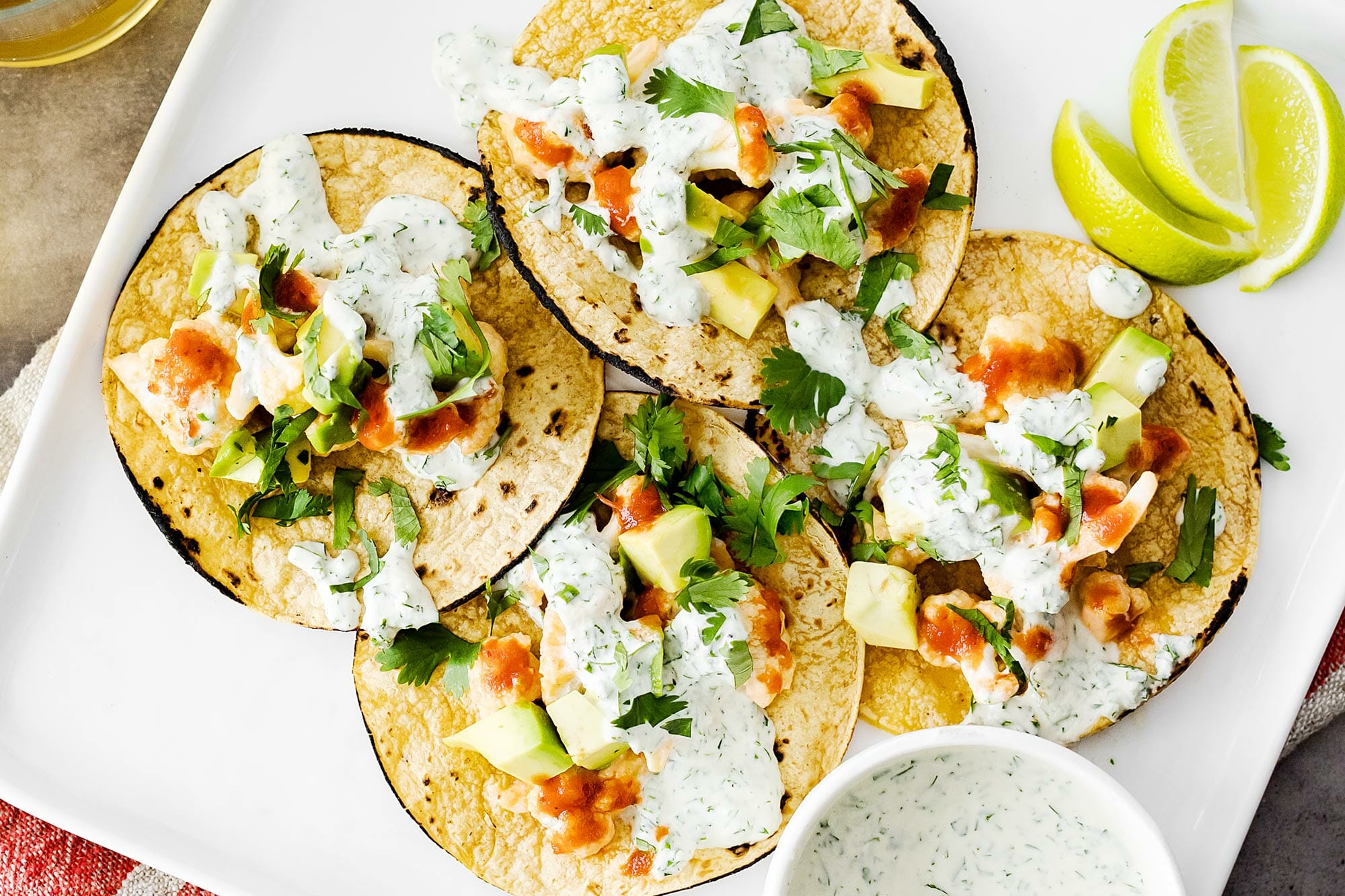 Hello! All photos and content are copyright protected. Please do not use our photos without prior written permission. If you wish to republish this recipe, please rewrite the recipe in your own unique words and link back to Buffalo Cauliflower Tacos with Ranch Sauce on Simply Recipes. Thank you!
Print
Products We Love
This post may contain links to Amazon or other partners; your purchases via these links can benefit Simply Recipes. Read more about our affiliate linking policy.