Lentil Salad with Summer Vegetables
As the weather warms, I spend a lot of time outside. My garden is flanked by the trailing tendrils of cantaloupe and watermelon on one side, and a uniform row of ten rhubarb plants on the other. The raised beds in between burst with any number of vegetables, including tomatoes, peppers, salad greens, and 200 sets of onions.
After weeks of tending, harvesting, and then cleaning the fruits of my labor, I'm ready to prepare them in the simplest of ways. I don't want to worry about food; I want to enjoy a meal with the people I'm feeding.
Besides, more often than not, fresh produce needs little more than a vinaigrette and a good toss to turn it into something for the table.
LENTILS + SUMMER VEGGIES = SUMMER SALAD TEMPLATE
Out of habit (or maybe necessity), I usually cook large batches of lentils, grains, or beans on the weekend, and then combine them with various vegetables to enjoy throughout the week.
Loaded with tomatoes, onions, peppers, arugula and lentils, this salad is the byproduct of one of those weekly assembly jobs.

THE BEST LENTILS FOR LENTIL SALAD
Lentils are a great way to add texture, nutrition, and body to summer salads. I prefer to use French Puy or Italian Castelluccio lentils because they are both tender, but keep their shape, which makes them ideal to use in salads like this one.
I can usually find them at Whole Foods or in specialty grocery stores. You can use other lentils as well; just watch them carefully when you cook because they can go from uncooked to mush in a minute—especially red lentils.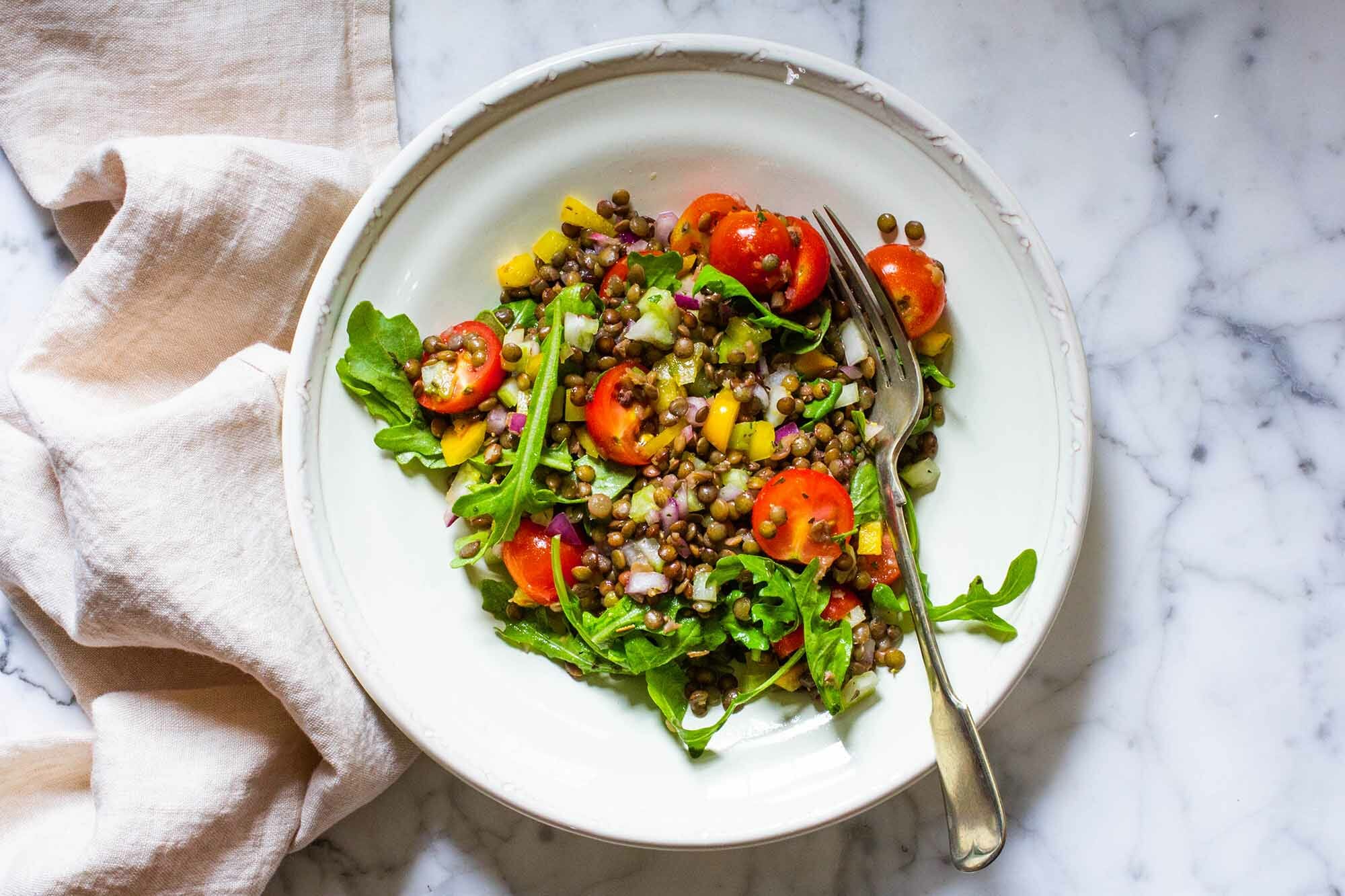 WAYS TO SERVE THIS LENTIL SALAD
Lentil salads are perfect to take to a picnic, pack in lunches for summer excursions, or to bring to a cookout. This particular salad is dairy-free, so it can sit out for a few hours without you worrying about it spoiling.
This salad can also be made a day or two in advance, but wait to add the arugula and tomatoes until the day you plan to serve the salad. The tender greens bruise easily and look (and taste) best when they haven't been sitting for too long, and the tomatoes can get mealy in the fridge.
It's best served at room temperature. It makes a great side dish with fish, chicken, or a frittata. It's also delicious on its own as a light lunch.
MORE EASY SUMMER SALAD RECIPES