Gluten-Free Chocolate Chip Muffins
Tender, hearty and studded with chocolate chips—these muffins have it all. They're vegan and gluten-free, too!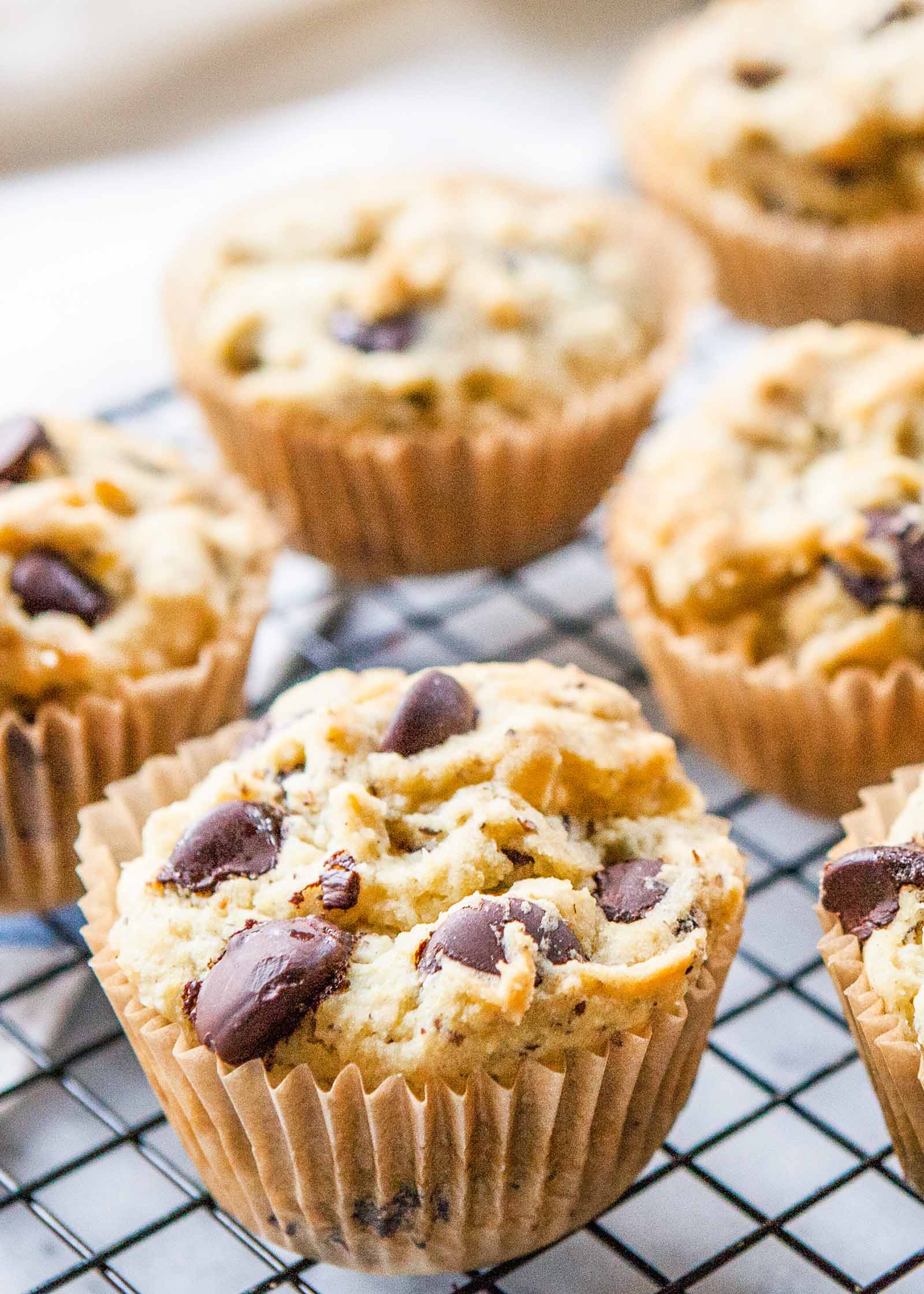 Photography Credit: Megan Gordon
There's a coffee shop by our house in Seattle that makes a great, substantial chocolate chip muffin with a nice crusty top that isn't at all too sweet. I'm quite smitten with it.
Recently, I decided to recreate them at home, only making them gluten-free and dairy-free so we could share them with our extended family and friends, many of whom have food sensitivities and allergies.
WHAT MAKES A GREAT GLUTEN-FREE MUFFIN
These muffins are moist with a tight, dense crumb. They feel much heartier than a super fluffy muffin. They're also studded generously with dark chocolate but aren't too sweet.
And they couldn't be easier to make: two bowls, no mixer, and the muffins are ready in under an hour.
We have a number of friends who have had babies recently, so I've been baking off multiple batches of these muffins for our family and then freezing some to gift to the new parents when we have a chance to bring something by.

PICK A GOOD GLUTEN-FREE FLOUR BLEND
A few things to know before you get started with this recipe:
Choose a good gluten-free flour blend. There are dozens of gluten-free flour blends to choose from these days and many are great. I happen to like Bob's Red Mill's Gluten-Free 1-to-1 Baking Flour blend. It's a great all-purpose choice and doesn't contain chickpea or legume flours, which often impart a savory flavor to baked goods that I don't always love.
Make sure it has xanthan gum. This blend from Bob's contains xanthan gum, which acts as a binder in gluten-free baking recipes like this one. Before baking, check the ingredients in your own gluten-free flour blend and if it doesn't contain xanthan gum (or another binding ingredient like guar gum or psyllium husks), I recommend adding 1/2 teaspoon of xanthan gum to ensure success.
HOW TO MAKE THESE GLUTEN-FREE MUFFINS
As with most baked goods, there's definitely some science involved in making a great muffin.
I like to bake these at a slightly higher temperature than is typical for muffins since I feel this helps with the rise.
You also don't need a mixer, here—in fact it's best to mix these (and most) muffins by hand since you want to be careful not to over-mix or overwork your dough. Otherwise, you could get rather tough baked goods.
Some muffin recipes instruct you to fill your cups only 2/3 of the way full, but you can go all the way to the top with this dough: it doesn't expand or rise dramatically.

ENJOY YOUR CHOCOLATE CHIP MUFFINS!
And now it's time to invite a few friends over, start the coffee pot, and look forward to a warm, decadent, and satisfying muffin that everyone can enjoy.
MORE ALLERGY-FRIENDLY RECIPES
Gluten-Free Chocolate Chip Muffins Recipe
Print
Ingredients
1 tablespoon flax meal
2 cups (296g) gluten-free flour blend, such as Bob's Red Mill Gluten Free 1:1 Baking Flour
1/2 cup (105g) granulated sugar
1 tablespoon baking powder
1/2 teaspoon kosher salt
1/2 cup vegetable oil
1 cup non-dairy milk, such as soy milk or oat milk
2 teaspoons pure vanilla extract
1 cup (165g) dairy-free chocolate chips, such as Enjoy Life brand
Method
1 Prepare the flax "egg": Combine the flax meal with 2 1/2 tablespoons of water in a small bowl. Let stand for 7 to 10 minutes to thicken. (This will be used as an egg replacer in this recipe.)
2 Preheat the oven to 400F and prepare the pan: Line a 12-cup muffin tin with paper liners.
3 Mix dry ingredients: In a medium mixing bowl, whisk together the gluten-free flour, sugar, baking powder, and salt.
4 Mix wet ingredients: In a separate medium mixing bowl, whisk together the oil, nondairy milk, flax egg, and vanilla extract.
5 Make the batter: Add the dry ingredients into the wet ingredients and, using a wooden spoon or rubber spatula, stir thoroughly to combine (but be careful not to overmix or overwork the batter). The texture will be much more like a dough than a loose batter: thick and sticky.
Fold the chocolate chips into the dough.
6 Portion out the batter into the muffin liners using a scoop or ladle, filling each almost to the top.
7 Bake muffins for 21 to 23 minutes, or until the tops are slightly golden and they spring back ever so slightly when pressed in the center. (If you use the toothpick doneness test, it may be misleading—chances are, you'll hit a chocolate chip!)
8 Cool for 5 minutes in the pan, then transfer muffins to a wire rack to cool completely.
9 Serve and store: Muffins are best enjoyed the same day they're baked.  Store leftover muffins covered at room temperature for up to 2 days, or freeze for up to 3 months.
Hello! All photos and content are copyright protected. Please do not use our photos without prior written permission. If you wish to republish this recipe, please rewrite the recipe in your own unique words and link back to Gluten-Free Chocolate Chip Muffins on Simply Recipes. Thank you!
Print
This post may contain links to Amazon or other partners; your purchases via these links can benefit Simply Recipes. Read more about our affiliate linking policy.