This simple cauliflower soup is made with just five ingredients, including salt! It's a quick and easy weeknight meal that's easy to dress up or down. Dinner is served!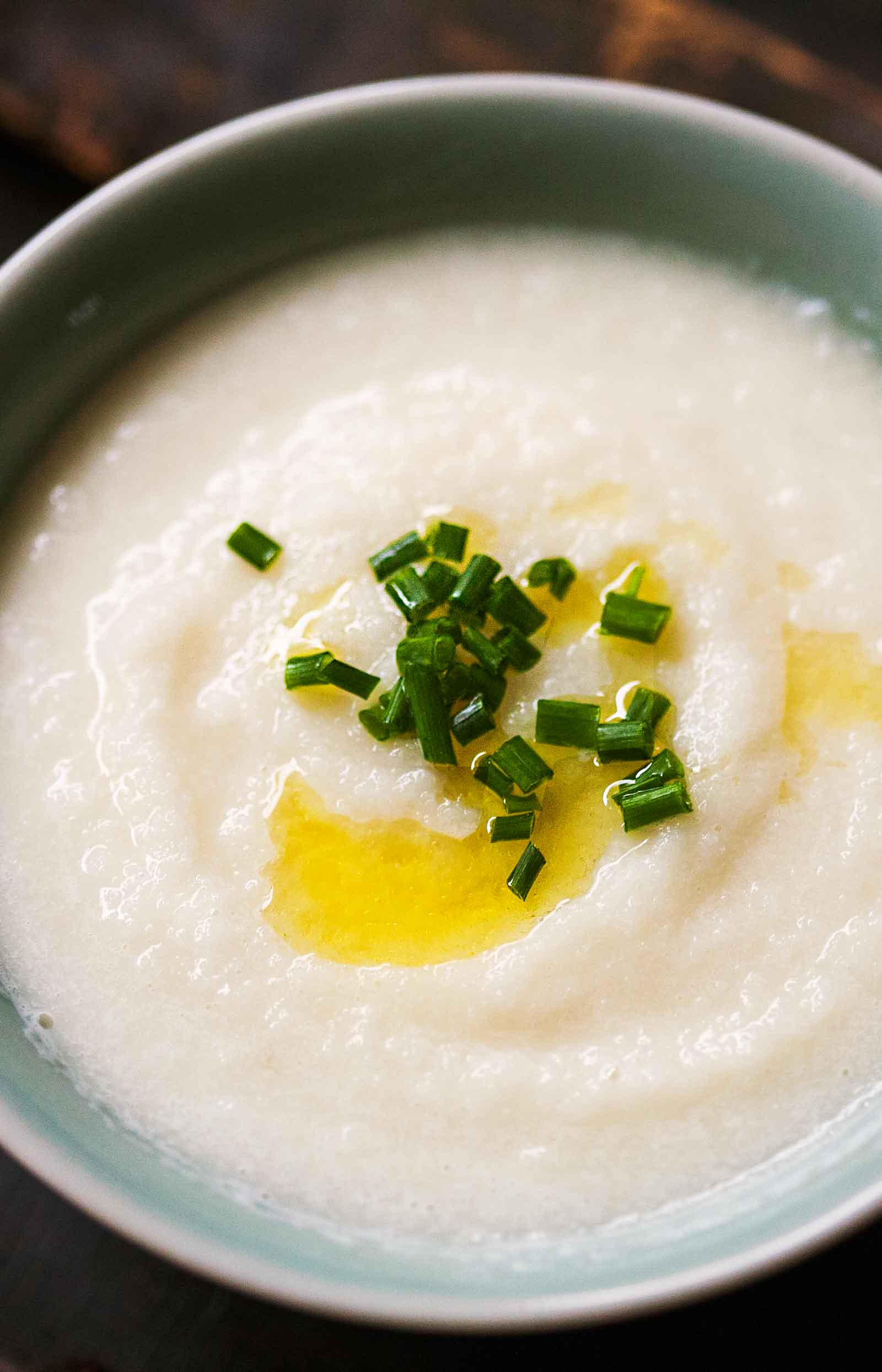 Photography Credit: Elise Bauer
Making soup doesn't have to be difficult, and if you are working with fresh, high quality vegetables, you don't even have to add stock.
This cauliflower soup couldn't be easier! Just chop up a head of cauliflower (see how here), blanch the florets for a few minutes, and then purée them with some of the blanching liquid, salt, and butter. Serve with olive oil and chopped chives.
Of course when you are working with so few ingredients, you have to make sure that each ingredient is as good as it can be. There's no place to hide if something is off.
What I love about this soup is that the cauliflower really shines through, and it's also pretty light, so it works well as a starter for other courses.
Ways to Adapt This Recipe
As is, this soup is simplicity at its best. But if you're in the mood for something a little more, try one of these ideas:
Cream of Cauliflower Soup: After blending, add cream, half-and-half, or whole milk to the soup to make it rich and extra-creamy.
Truffled Cauliflower Soup: To take this soup from simple to sublime, add a dash or two of truffle salt or truffle oil to the soup when serving.
Roasted Cauliflower Soup: Instead of blanching the cauliflower, toss the florets with olive oil and salt and roast in a 400°F oven until tender and charred in spots. Blend with vegetable broth or chicken broth.
Cheesy Cauliflower Soup: Add a handful or two of your favorite shredded cheese after blending. (Or try this version!)
Vegan Cauliflower Soup: Instead of butter, use good-quality olive oil.

How Long will This Soup Keep in the Fridge?
If you have leftovers, let the soup cool completely and then store in a covered container in the fridge for up to five days. Reheat gently on the stovetop over medium heat or in the microwave.
How to Freeze this Soup
This soup freezes very well and it's so nice to have some stocked in the freezer for dinner emergencies!
To freeze, let the soup cool completely and then transfer to freezer containers or zip-top bags (which you can freeze flat). Freeze for up to three months.
To reheat, warm the thawed or frozen soup gently over low heat on the stove, or warm in one minute increments in the microwave, stirring between each increment.
What to Serve with Cauliflower Soup
If you're serving this soup as the main course for a light meal, think about making some simple garlic bread or assembling a leafy green salad to serve along side.
This soup is also an easy side dish or first course to serve with a larger meal, like roast beef or roast chicken.
Love Cauliflower? Try These Recipes!
Updated December 20, 2018 : We spiffed up this post a little to make it sparkle! No changes to the recipe.
Simple Cauliflower Soup Recipe
Print
Ingredients
Method
1 Cook cauliflower florets in salted water: Bring 1 quart of water to a rolling boil in a medium-sized pot. Add 2 teaspoons of salt to the water.
Add the cauliflower florets, and cook until cooked through, about 4 minutes. Use a slotted spoon to remove florets to a bowl. Reserve cooking water.
2 Purée cooked cauliflower: Working in batches, fill a blender half-way with cooked cauliflower, add enough cooking water to the blender bowl so that it comes up a quarter of the way. Purée until smooth. You want the consistency to be that of soup, so if you need to add more water, do so.
3 Add salt and butter: or each blender batch, add salt and butter to taste (about 1/2 teaspoon of salt, and about a tablespoon or more of butter for each blender batch). Since you are using only lightly salted cooking water for a base, not stock, you will need to salt this more than you would otherwise.
4 Serve: Serve immediately into bowls. Drizzle olive oil over the top and sprinkle with chopped chives.
Hello! All photos and content are copyright protected. Please do not use our photos without prior written permission. If you wish to republish this recipe, please rewrite the recipe in your own unique words and link back to Simple Cauliflower Soup on Simply Recipes. Thank you!
Print
This post may contain links to Amazon or other partners; your purchases via these links can benefit Simply Recipes. Read more about our affiliate linking policy.