Rolled Stuffed Flank Steak
Butterflied flank steak that is marinated, rolled up with prosciutto, basil, Parmesan, and roasted bell peppers, and then roasted in the oven. Great for a party.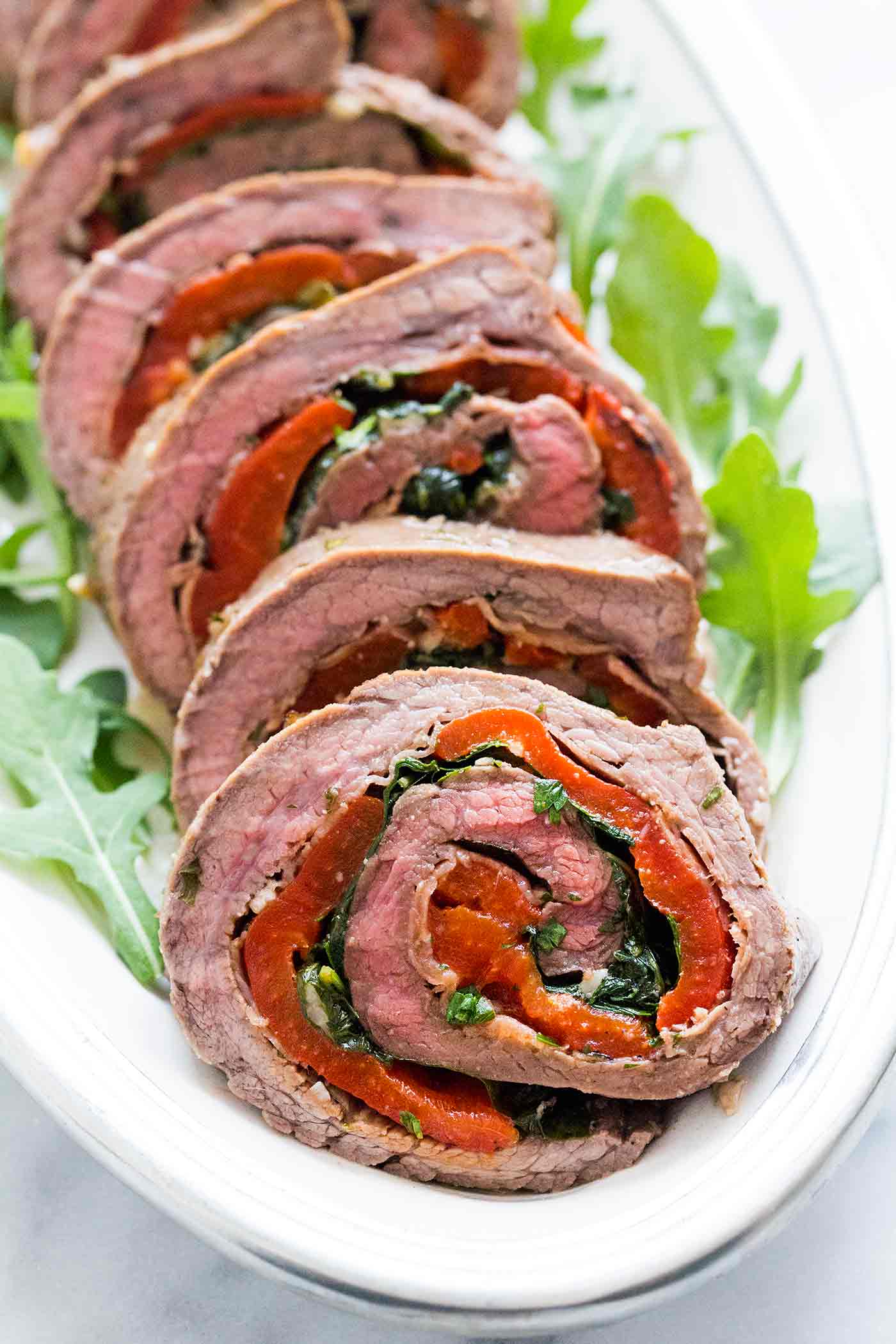 Photography Credit: Elise Bauer
This Rolled Flank Steak, Stuffed with Prosciutto, Basil, and Roasted Red Peppers, is one of our favorites for company and family get-togethers! This classic beef roulade makes a dramatic presentation.
You can do a lot of the work in advance — marinating, stuffing and rolling — and just put it in the oven about 45 minutes before you want to serve it.
Butterflying Flank Steak
To prepare the flank steak so that you can roll it up, you'll need to butterfly it, or have your butcher do it, so that it opens up like a book.
Butterflying flank steak takes a little bit of finesse, which is why we usually have our butcher do it for us, but it is doable. You'll need a sharp long knife and a steady hand.
Orient the flank steak so that the short end faces you, place your hand down on the steak and make a horizontal cut along the long side of the steak, cutting the meat almost in half, stopping when you still have about an inch to go. Then open it like a book!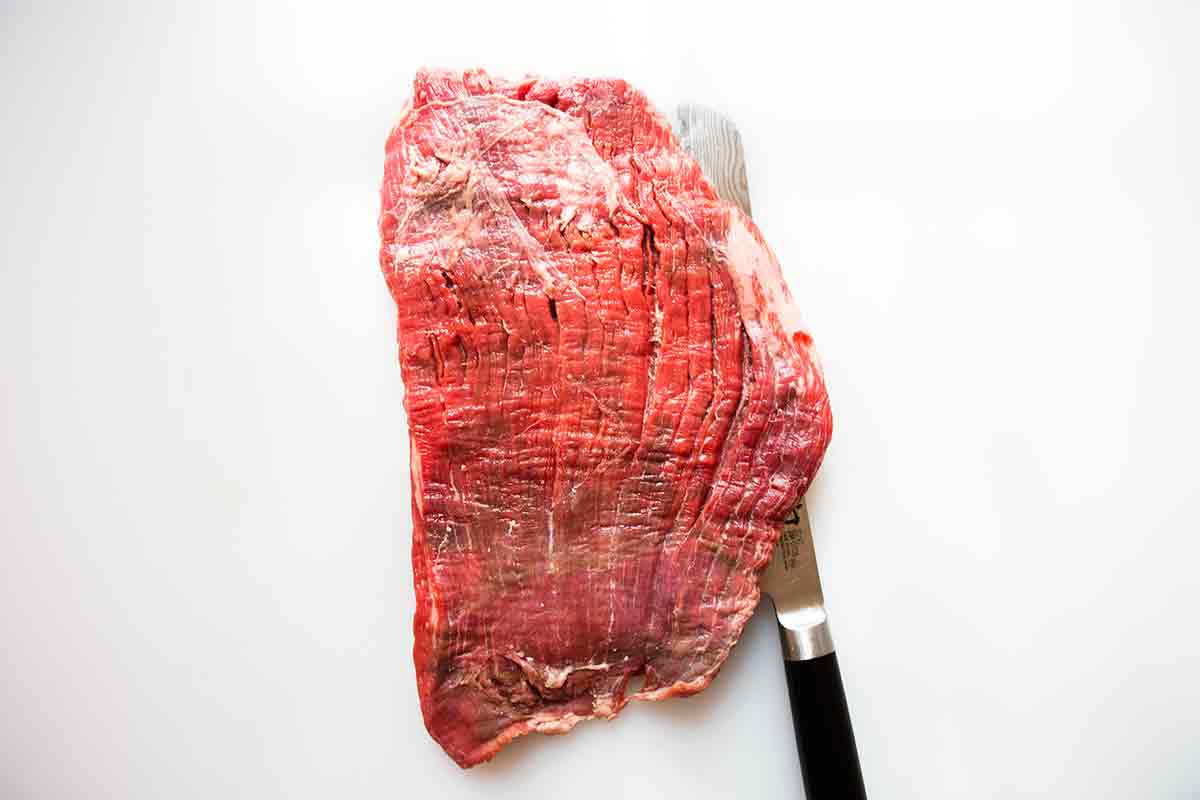 Flank Steak Marinade
After butterflying the steak we marinate it for a couple hours in a simple olive oil and wine vinegar marinade. The marinade has:
Extra virgin olive oil
Red wine vinegar
Garlic
Fresh parsley
Black pepper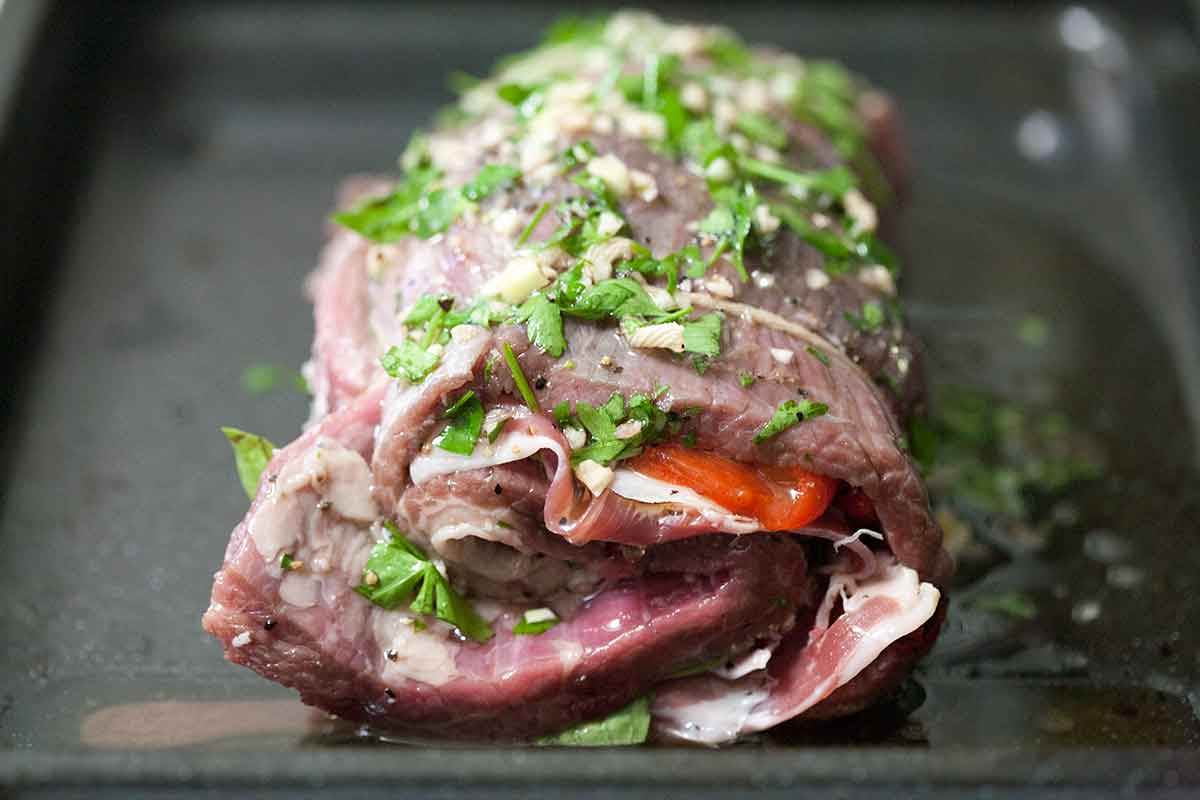 Roll up the flank steak with filling
Once the steak has marinated, you layer the inside of the flank steak with prosciutto, fresh basil leaves, Parmesan cheese, strips of roasted bell peppers, and parsley. Then you roll up the the flank steak with the stuffing inside like a jelly roll, and tie it up with string.
You can do this several hours in advance before cooking. The rolled steak takes only about 30 minutes or so to cook in the oven.
To serve, the steak is cut into rounds for a festive presentation.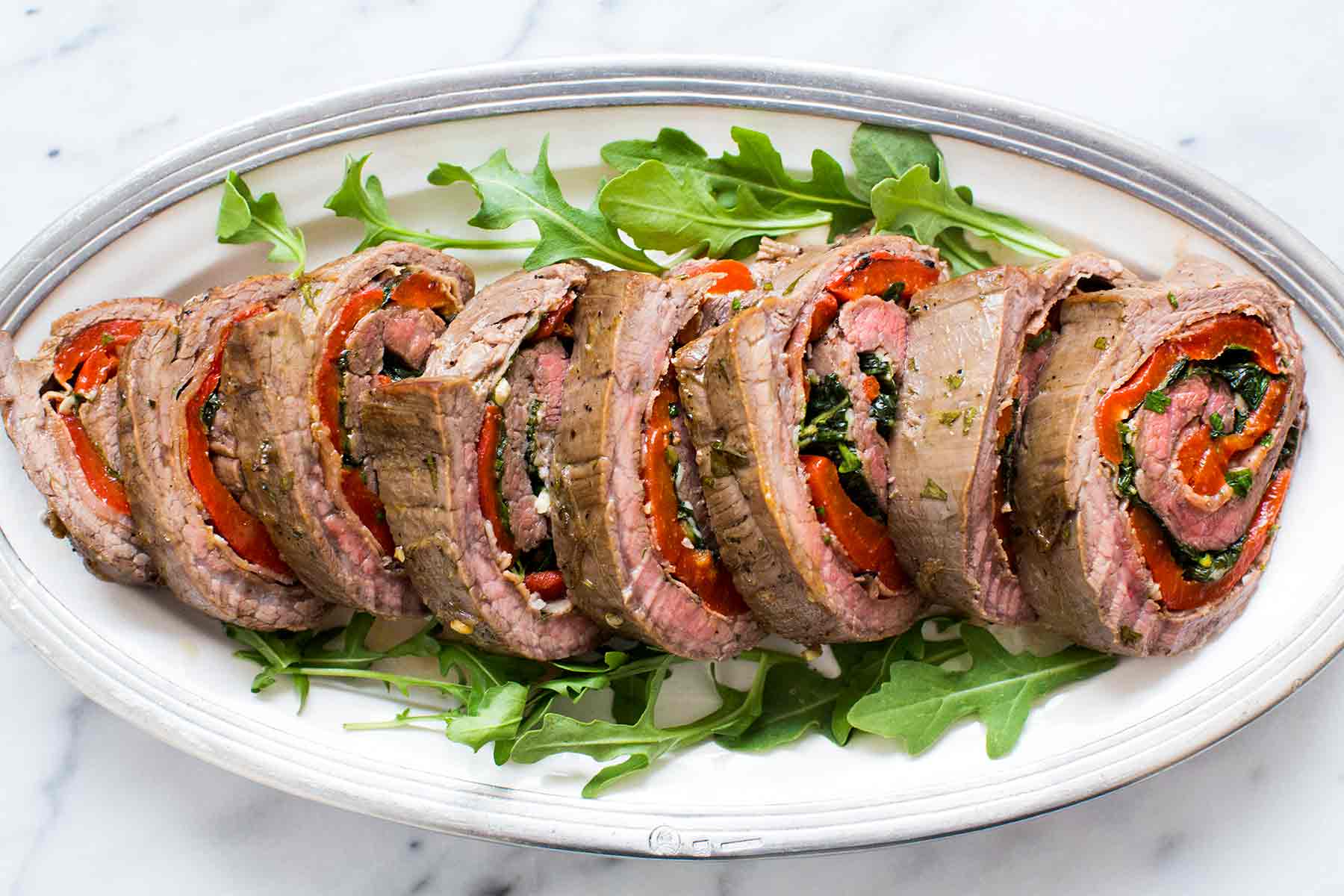 This recipe has been floating around the Internet for years. We found it in a magazine maybe 15 or 20 years ago and photocopied a clipping.
The likely source is a recipe for Italian Party Flank Steak that appeared in Parade Magazine in the 1990s. (Thank you to all of our commenters who also clipped the recipe and remembered the source!)
Updated December 19, 2018 : New photos and updated headnotes, minimal changes to the recipe
Rolled Stuffed Flank Steak Recipe
Print
Butterflying a flank steak can be a bit tricky. If your grocery store has a butcher, you can ask the butcher to butterfly it for you.
Trader Joe's sells a jar of roasted red peppers that work well as a substitute for roasting your own.
Ingredients
Marinade:
1/4 cup extra virgin olive oil
1/4 cup red wine vinegar
2 cloves of garlic, finely chopped
2 Tbsp chopped fresh parsley
1/4 teaspoon coarse black pepper
Flank steak:
1 flank steak (3/4 in thick, about 1 1/4 pounds), butterflied
2 red bell peppers
3 Tbsp chopped parsley
6 to 8 thin slices of prosciutto or other cured ham
24 medium sized fresh basil leaves
2 Tbsp grated Parmesan cheese
Freshly ground pepper to taste
1 bunch watercress or baby arugula for garnish
Method
1 Butterfly the steak: To butterfly the steak, orient it first so that the meat grain is running up and down in front of you. (The short edge of the steak is facing you.) Place your hand on top of the meat. Using a long, sharp knife, make a long, horizontal cut on the long side of the steak, cutting the meat in half, and going almost all the way across, leaving 1-inch at the edge uncut (the hinge).
The butterfly hinge should be in the same direction as the grain of the meat. (Choose the longest straightest side of the steak as the hinge side, and the roundest most curved side as the side to start the cut.)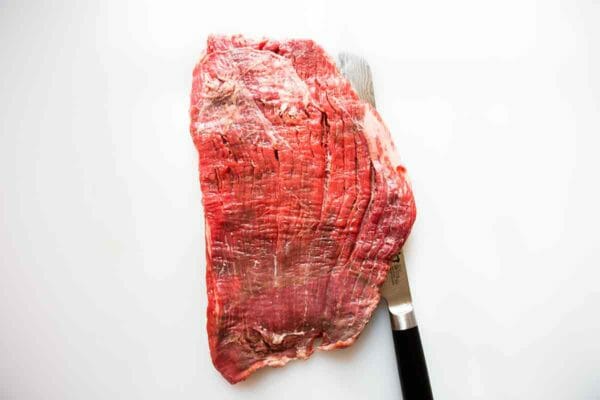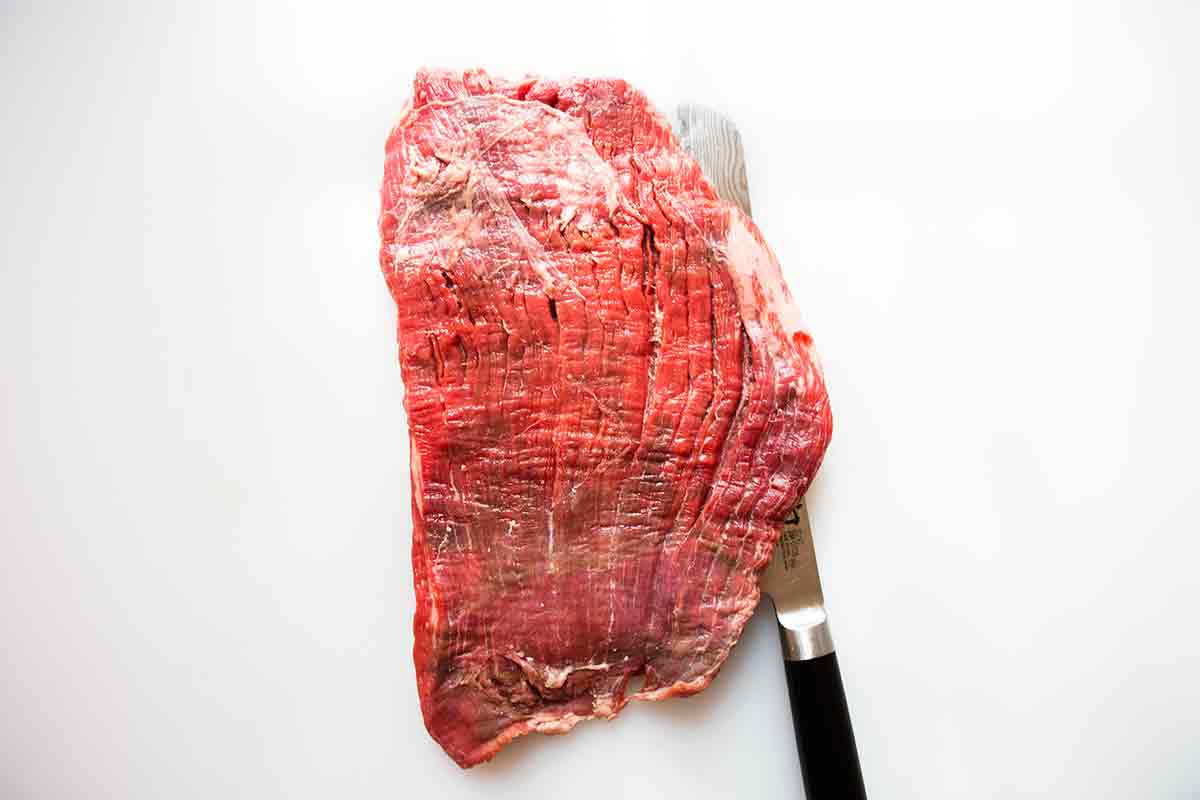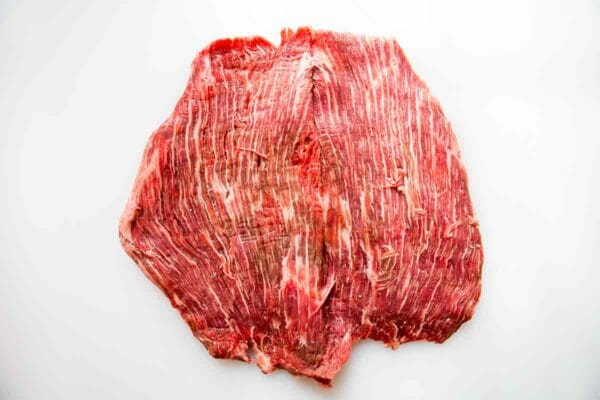 Open the flaps of the steak. You can even out the middle if you want so that the center is not as thick.
2 Assemble the marinade and marinate the steak for 2 hours. Make sure to coat the inside of the butterflied flank steak with the marinade as well.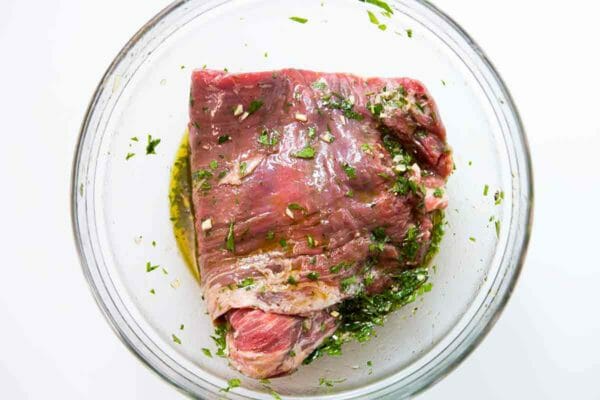 3 Roast the bell peppers: Cut bell peppers in half and remove the stems and seed pods. Rub the outside of the bell pepper halves with olive oil and place on a lined baking sheet, cut side down, under a broiler. Broil the halved red bell peppers until peel is black. Remove from the oven, place in a bowl and cover with a plate. After about 5 minutes, remove and discard the blackened peel.
4 Layer steak with red bell pepper, parsley, prosciutto, basil, Parmesan: Preheat oven to 350°F. Remove steak from marinade, reserve the marinade. Layer the steak with prosciutto slices, roasted red bell pepper, parsley, and basil leaves, leaving at least an inch bare at the ends. Sprinkle with Parmesan and pepper.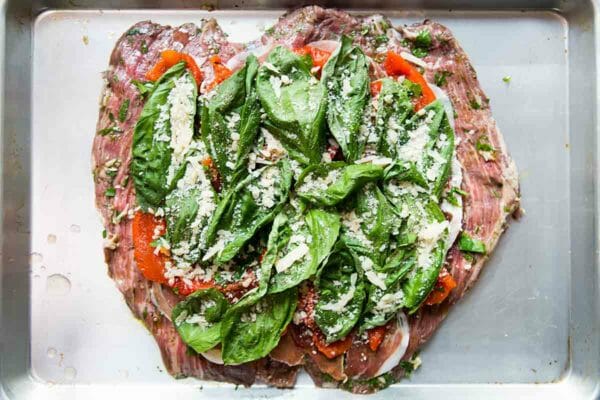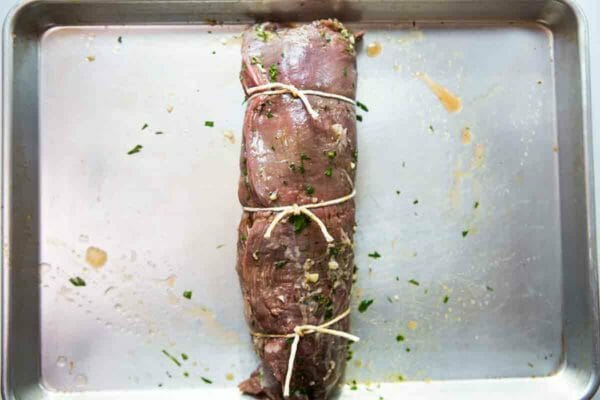 5 Roll up the steak: Starting with one of the long ends, roll meat up like a jellyroll; grain of steak should run length of roll. Tie in 2-3 inch intervals with kitchen string. Place in shallow baking dish and spread any remaining marinade over the top.
6 Bake: Bake at 350°F for 30 minutes. Let rest 15 minutes before serving. Cut into 1/2-inch to 1-inch thick slices, garnish with watercress or baby arugula.
Hello! All photos and content are copyright protected. Please do not use our photos without prior written permission. If you wish to republish this recipe, please rewrite the recipe in your own unique words and link back to Rolled Stuffed Flank Steak on Simply Recipes. Thank you!
Print
This post may contain links to Amazon or other partners; your purchases via these links can benefit Simply Recipes. Read more about our affiliate linking policy.