Easy sautéed spinach! The best way to cook delicious fresh spinach, with olive oil and garlic.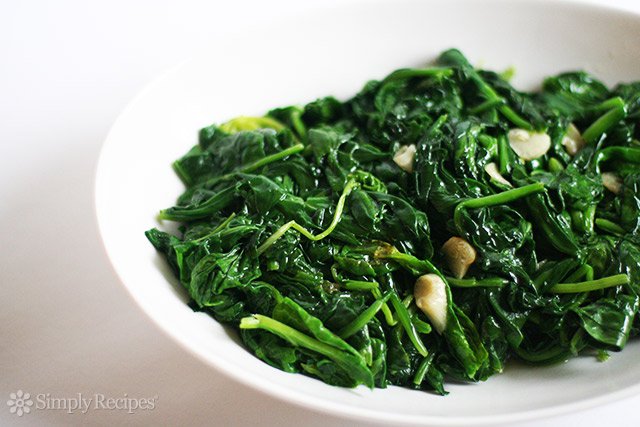 Photography Credit: Elise Bauer
'Cause I eats me spinach
Popeye was the best thing that ever hit the spinach industry. When I was a kid you couldn't pay me to eat lima beans or peas, but spinach? I begged for it; we all did.
Especially if it came from a can.
We wanted to be cool like Popeye, who could knock Bluto to Kingdom Come just by downing a can of spinach, which always conveniently found its way to Popeye's mouth when his situation was most dire.
Our parents worked hard to convince us that cooked fresh spinach was just as good, if not better than the canned stuff.
How To Cook Spinach
My father prepares spinach this way at least once or twice a week, usually made with fresh spinach from the farmer's market. According to dad he overcooked it for years, until he learned that you shouldn't cook spinach beyond the point that it just wilts.
Spinach releases a lot of water as it cooks, so my father's trick is to drain and dry the spinach leaves as well as you can, using a salad spinner if need be, before cooking them.
Then sauté some garlic in olive oil in a large wide pan, and add the cleaned, drained, and dried spinach leaves to the pan. Pack the pan with spinach, cover and cook for only a minute or two tops.
More great spinach recipes
From the recipe archive, first posted 2007.
Easy Sautéed Spinach Recipe
Print
Ingredients
2 large bunches of spinach, about 1 lb
Olive oil, extra virgin
3 cloves garlic, sliced
Salt to taste
Method
1 Clean and prep the spinach: Cut off the thick stems of the spinach and discard. Clean the spinach by filling up your sink with water and soaking the spinach to loosen any sand or dirt. Drain the spinach and then repeat soaking and draining. Put the spinach in a salad spinner to remove any excess moisture.
2 Sauté garlic: Heat 2 Tbsp olive oil in a large skillet on medium high heat. Add the garlic and sauté for about 1 minute, until the garlic is just beginning to brown.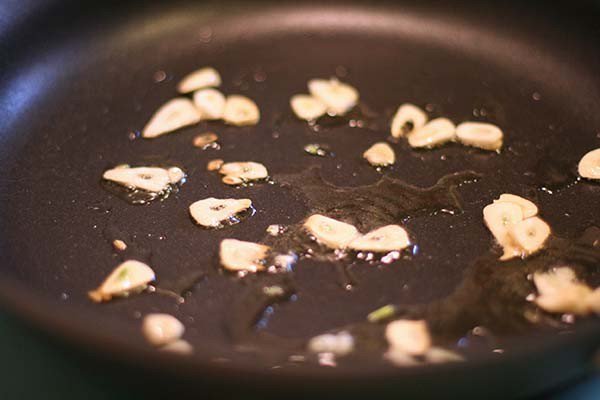 3 Add spinach to pan: Add the spinach to the pan, packing it down a bit if you need to with your hand. Use a couple spatulas to lift the spinach and turn it over in the pan so that you coat more of it with the olive oil and garlic. Do this a couple of times. Cover the pan and cook for 1 minute. Uncover and turn the spinach over again. Cover the pan and cook for an additional minute.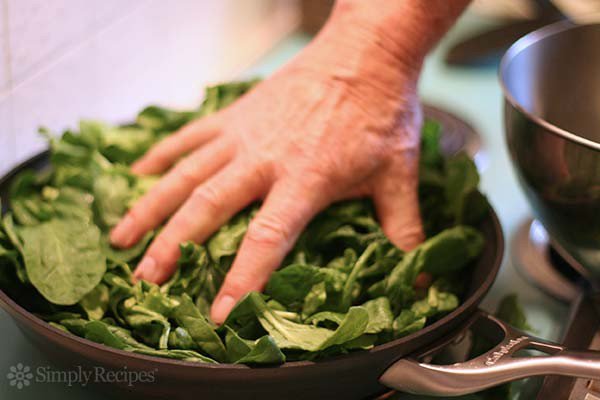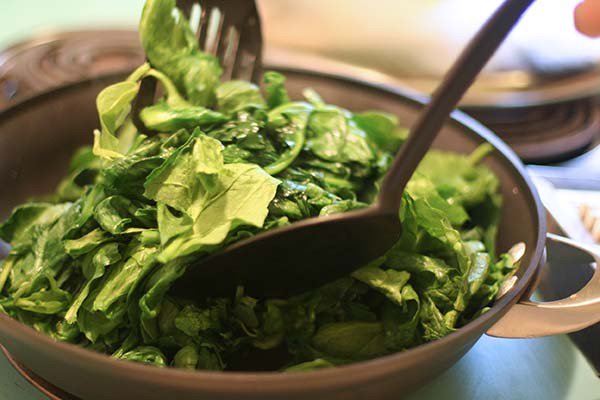 4 Remove from pan and drain excess liquid: After 2 minutes of covered cooking the spinach should be completely wilted. Remove from heat.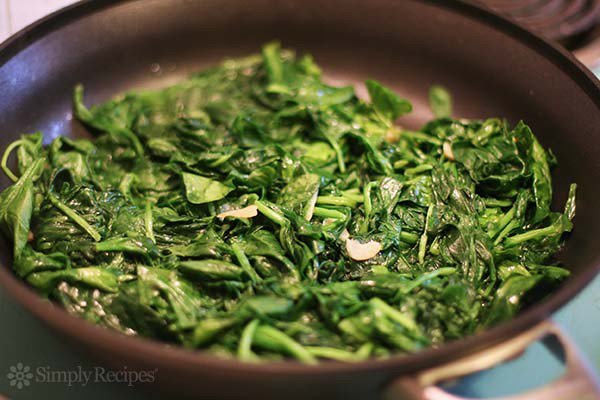 Drain any excess liquid from the pan. Add a little more olive oil, sprinkle with salt to taste. Serve immediately.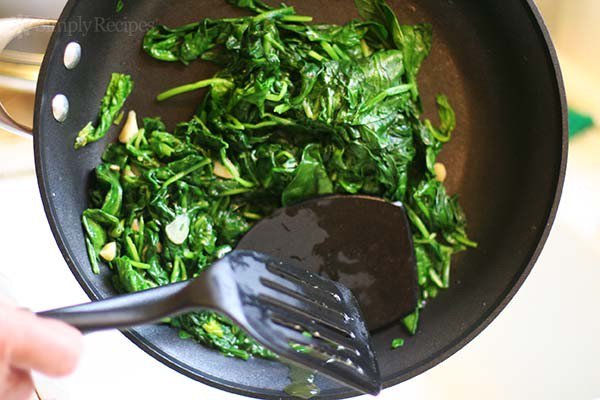 Hello! All photos and content are copyright protected. Please do not use our photos without prior written permission. If you wish to republish this recipe, please rewrite the recipe in your own unique words and link back to Easy Sautéed Spinach on Simply Recipes. Thank you!
Print
Products We Love
This post may contain links to Amazon or other partners; your purchases via these links can benefit Simply Recipes. Read more about our affiliate linking policy.